We use affiliate links. If you buy something through the links on this page, we may earn a commission at no cost to you. Learn more.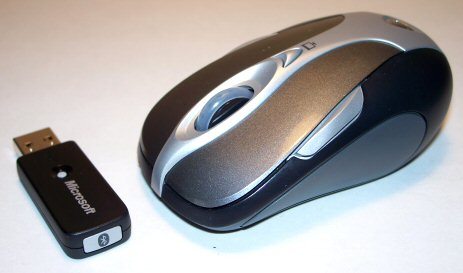 Like a lot of us, I travel for work fairly often, lugging my rotator-cuff rending Lenovo T60p (with extended life battery) and its builders-grade power brick through airports and hotels.  Because of this, I am rather fanatical about accessories that can help me save time, weight and space, both on my daily grind commute and on more adventurous voyages.  But, you may ask, does the Microsoft Wireless Notebook Presenter Mouse 8000 meet these goals?  Does the length of the product name correlate with the number of useful features?  Let's find out.
Below is an image of the items in the package.  Shown are the mouse itself (included batteries have already been installed), Bluetooth "transceiver," installation CDROM, quick-start booklet, product guide and a Windows Vista compatibility warning card (yikes!).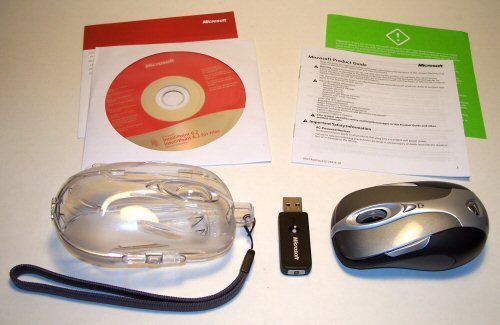 Size and Form Factor
After opening the package, I did a quick size comparison between the Microsoft Wireless Notebook Presenter Mouse 8000 and my average-sized, no frills Dell mouse, as show in the images below: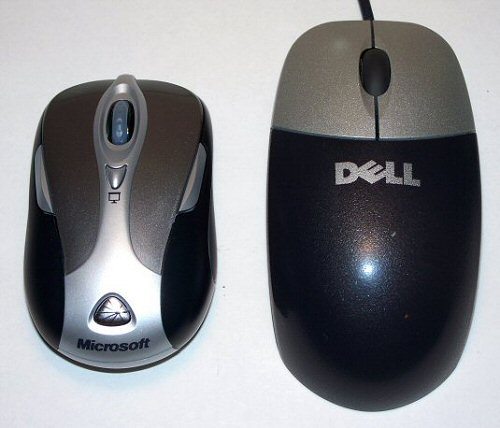 I have owned and used notebook mice before, and most were smaller than this one, so its size isn't particularly small.  However, the number of features that have been packed into this fairly small envelope are quite impressive.  Ergonomically shaped, with a comfortable form factor and rubberized side grips, it is also right- or left-hand capable for those ambidextrous among us (you know who you are).  Regarding the image below, for perspective my hands are average- to a bit small-sized adult male human hands.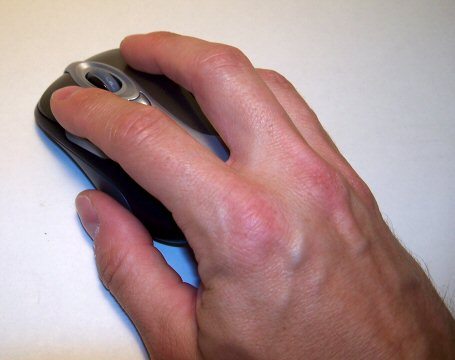 Features
First and foremost, yes, it's a mouse, with fairly typical mouse controls.  It has the standard right and left buttons but also has programmable side buttons that aren't always found on a notebook mouse.  It also has a scroll wheel, which has a nice, smooth feel.  Also, the mouse is wireless of course, using Bluetooth, and includes a USB transceiver.  However, if you have a computer with on-board Bluetooth capability, you don't need the transceiver if you want to access the basic mouse features.  I was able to get the mouse set up with my laptop's Bluetooth in a matter of a few minutes.  Easy peasy.
Now, let's look at some of the more non-standard features.  Here's a shot of both the top and the bottom of the mouse: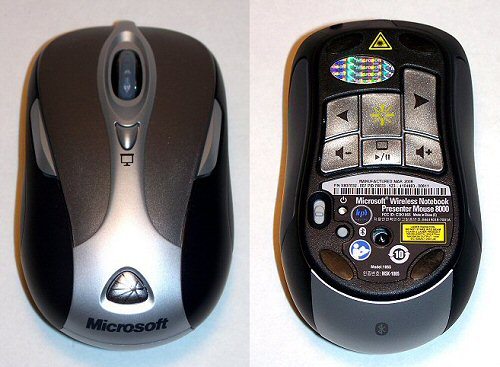 On-off switch?  Check.  Laser pointer?  Why, yes!  A handy feature for those of us who must do the dreaded "dog and pony show"  (AKA presentations) while on the road.  Continuing on this theme are a set of overlapping features that set this mouse apart for me.  On the top of the mouse is a button that switches between mouse mode and presenter mode.  And that's where the fun begins.  Hit this button and flip the mouse over.  Viola!  You're in presenter mode, which has controls that can be used to drive PowerPoint slideshows including separate buttons for 'next slide' and 'previous slide' as well as 'blank screen.'  There are also media controls for 'volume up' and 'volume down' and the 'blank screen' key doubles as media 'play/pause.'  Oh, and in presenter mode, the topside mouse controls double as 'digital ink' controls for annotating slides.  Slick.
Installation
To access the presenter and media controls, you will need to use the CDROM to install specific software, which walked me through the installation with relative ease.  Below are a few screencaps to illustrate.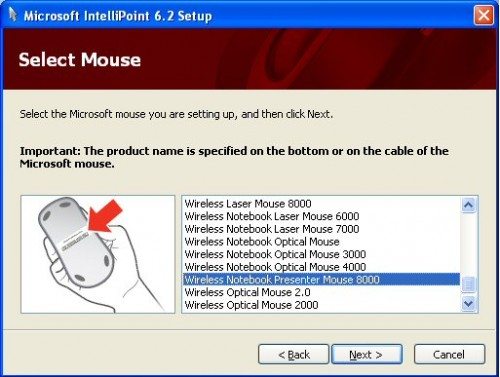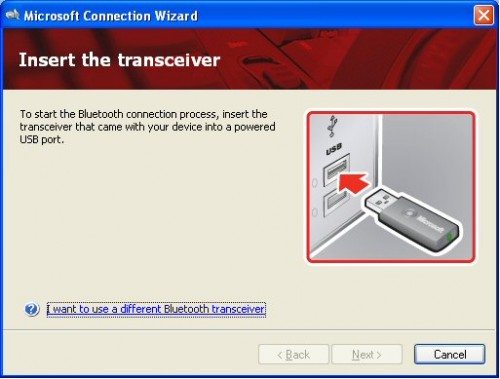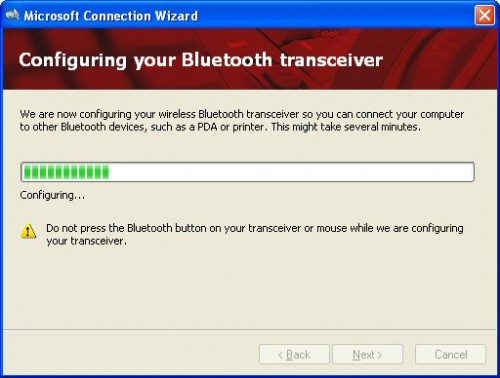 I found that once I had completed the setup with the transceiver,  I was able to disconnect it from the computer, then re-"pair" the mouse using 'My Bluetooth Places' and I was then able to use all of the mouse features, including the presenter and media controls without the transceiver.  Way cool!
Batteries
The mouse requires two AAA batteries which are included and can be accessed via a small pushbutton-released panel on the rear, as shown in the image below.  Battery life seems decent, but you probably need to switch the mouse off in order to best optimize the life.  My only critique here is that it might have been nice to be able to use rechargeable batteries and a USB cable to recharge it.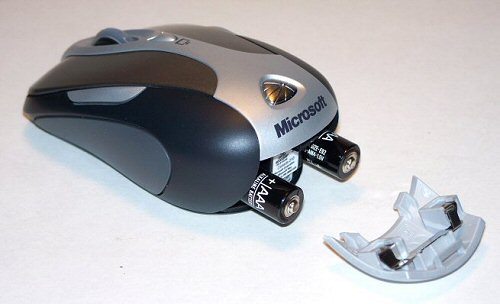 Case
So far, I am quite happy with the mouse itself.  The case is another story, however.  While I appreciate that the case design was intended to both protect the mouse (and transceiver) while being jostled about your bag on whirlwind excursions, I found the case to be rather…well, clunky.  However, size-wise, I suppose it really isn't much larger than a normal, full-sized mouse.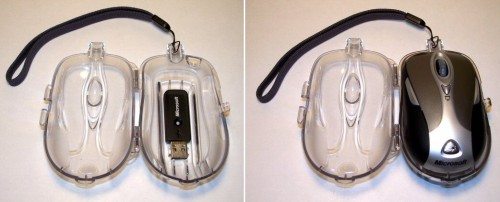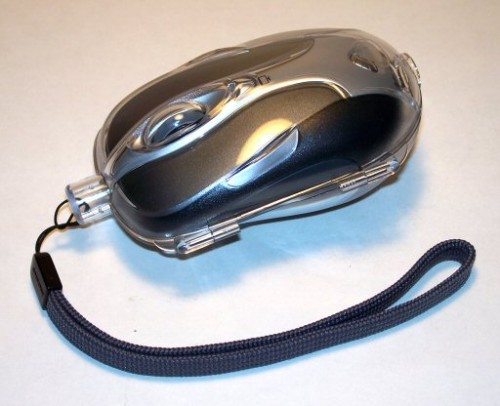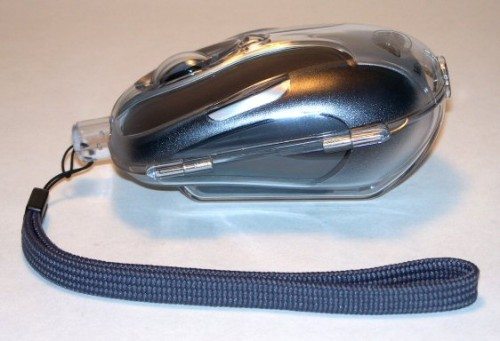 Conclusion
Overall, a very nice product.  Who knew Microsoft could do such a good job with hardware?  A bit on the pricey side, but for all of the features that are crammed into this little gem, I think the price is reasonably justified.   Incidentally, this mouse doesn't have to be used only with laptops; one of my co-workers uses it for his full-time desktop mouse.
Features list (items from the official website shown in italics, the rest I added to show the full list of features):
Presentation Controls
Media Remote
On/Off Switch
2.4 GHz Bluetooth with First Connect Technology
High Definition Laser Technology
Laser Pointer
Standard Left and Right Mouse Buttons
Side Mouse Buttons
Mouse/Presenter Mode Switch
Protective Case with Wrist Strap
Updates 03/13/15
Although I really liked this mouse, like all Bluetooth mouse products that I have used, the Bluetooth connection was very spotty unless using the supplied Bluetooth dongle. Unfortunately, I don't like to use Bluetooth dongles (why use one when your laptop or desktop has Bluetooth on board? That seems silly.) This mouse sat in my drawer at work and I haven't seen it for a while.
Source: The sample for this review was provided by Microsoft. Visit their site for more info.
Product Information
Price:
$79.97
Manufacturer:
Microsoft
Requirements:

Windows XP SP2+ or Vista, 45Mb free (Install 100Mb), CD Drive, USB port

Pros:

Small and compact
Good ergo form factor and feel
Combines several useful features into one device

Cons:

Batteries not rechargeable
Case is a bit big and clunky
Full product name is a mouthful to both type and say out loud