We use affiliate links. If you buy something through the links on this page, we may earn a commission at no cost to you. Learn more.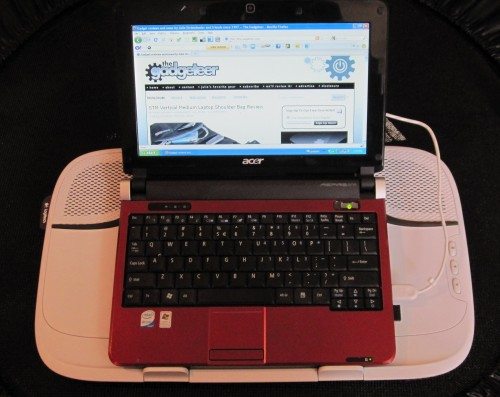 Do you like to sit comfortably on your couch and rock out to some good music while you check out The-Gadgeteer.com on your laptop?
Anyway, if you have trouble jamming to the wimpy speakers installed on most laptops then the Logitech Speaker Lapdesk N550 may be just what you need. This handy little device simply holds the laptop and provides speakers.  The power for the speakers comes from the computer itself, so there are no batteries to fuss with or plugs, just the USB plug that goes into your computer.
The sound from the unit is decent, and plenty strong, especially compared to the installed computer speaker.  I have a 10″ Acer netbook, and as you can see the computer is just starting to cover the speakers, so I wouldn't recommend this unit for use with a computer larger than this.  Logitech has quite a few products so I imagine they would have a unit that could accommodate a larger laptop.
The  laptop has a very comfortable cloth pillow type underside (see photo below) which sits very comfortably and securely on your lap.  I didn't find the unit slipping at all while using it.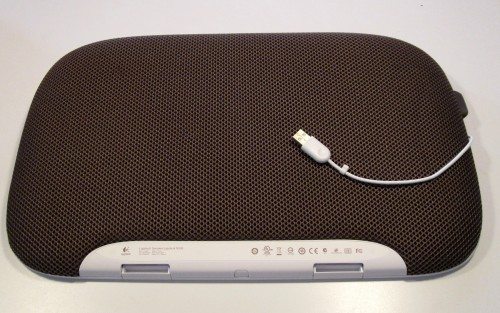 I checked online again today and found the unit for under $40 at several places.  This is well worth the price, as you could easily spend more than that for laptop speakers alone.  Similar units I have seen also come with a cooling fan, which this unit does not have.
The Lapdesk is simple in design.  There are only three buttons and a cord.  The three buttons are volume up, volume down, and mute.  The cord, or course is the USB cord.  My one fault in the design is this cord.  While they have a small clip on the cord that is supposed to allow you to clip the cord onto itself, the cord still constantly flaps around.  A better way to secure this cord would be helpful.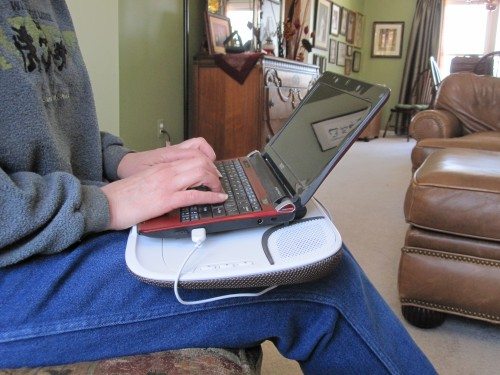 The unit fits very comfortably on your lap, with the keyboard at a convenient and comfortable height.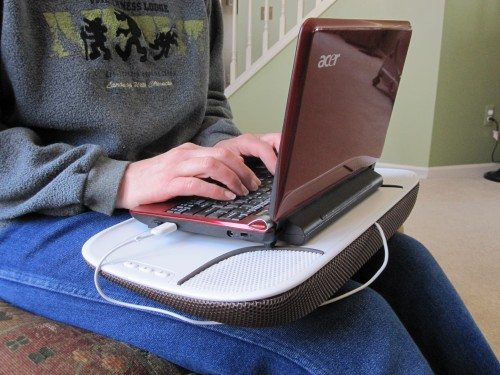 The buttons on the unit ARE on the right side, proving once again that there are too many "leftists" out there…..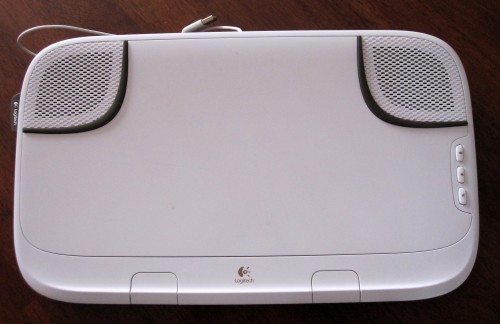 If you look at the bottom of this photo, you will see two small rectangles on the unit.  These are "flaps" that flip up to hold the computer in place.  You can see them opened up in the photo at the top.
This unit is especially nice for a simple laptop holder with speakers.  Things sure sound better through the Lapdesk than when just using the computer speaker, and for the low price, you can't beat it! Just make sure you check the size of your laptop!

Product Information
Price:
Found for under $40 online
Manufacturer:
Logitech
Pros:

Inexpensive
Decent sound
Comfortable and lightweight

Cons:

USB cord does not secure well and gets in the way