We use affiliate links. If you buy something through the links on this page, we may earn a commission at no cost to you. Learn more.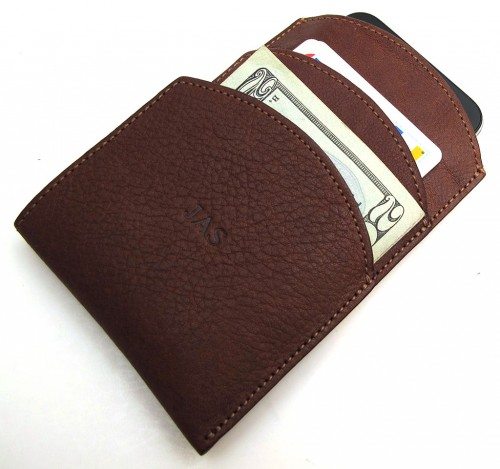 Here at The Gadgeteer, we have a thing for wallets and several of us are equally enamoured with the iPhone. So what could be better than the No. 50 Wallet for iPhone from Col. Littleton, which combines a leather wallet and an iPhone case into one front pocket holder? Let's see. Note: Some of the images in this review can be clicked to view a larger size.
Col. Littleton makes some wonderful leather products. I fell in love with their No. 5 Pocket for iPad sleeve that I reviewed a few weeks ago.
The No.50 iPhone Wallet uses the same dry milled leather that other Col. Littleton bags and cases use. It has a gorgeous grain and a buttery soft feel. The leather is American vegetable-tanned steer hide. The wallet is only available in one color, which is a very rich reddish brown.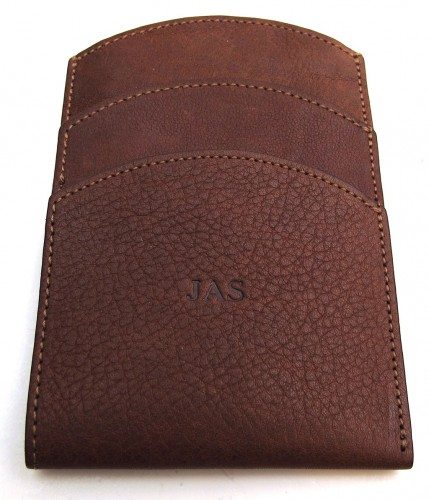 The design is pretty simple. There's a pocket in the back that is large enough for the iPhone 3, 3GS or 4. I was hoping my Droid X might fit, but no joy.
In front of the iPhone sleeve part of the wallet are 2 other slots. One for credit cards and one for folded money.
As you can see, this wallet has been personalized with my initials. Three letters can be added to any wallet for an extra $8.00.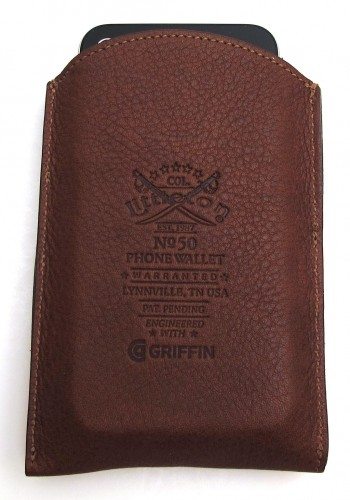 The back of the wallet is a stamped with the Col. Littleton logo and product info.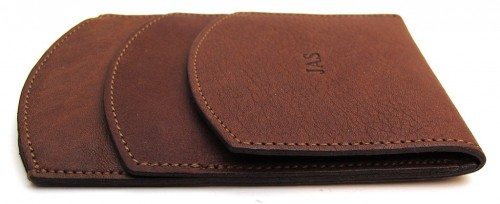 Here's a side view of an empty wallet. You can also get a good look at the nice even stitching around all the edges, for extra reinforcement.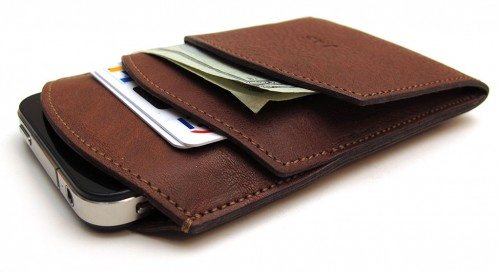 Here it is with the iPhone 4, a couple plastic credit cards and folded money. In this image, you can see that the iPhone sticks out slightly from the top of the sleeve. The credit cards really don't stick out. I just left them partially out for the picture. The folded money does stick out as shown though.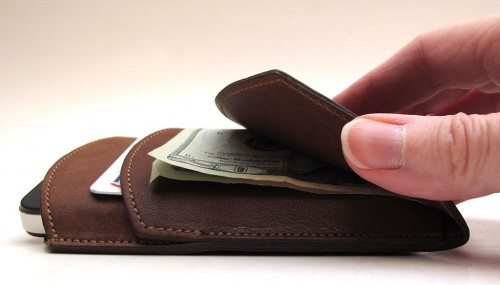 The folded money slot is open on one side to allow you to easily insert or remove the folded bundle of cash. I was a little worried about the fact that the money slot is open on 2 sides. My worries were unfounded though. Friction from the leather keeps the folded bills from falling out even when you only have one bill in the slot.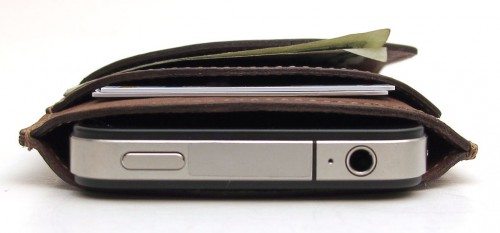 The No. 50 Wallet isn't overly bulky as far as cases go. But it can't hold a full wallet's contents. It's really designed for 2-3 credit cards and around 5 US sized folded bills.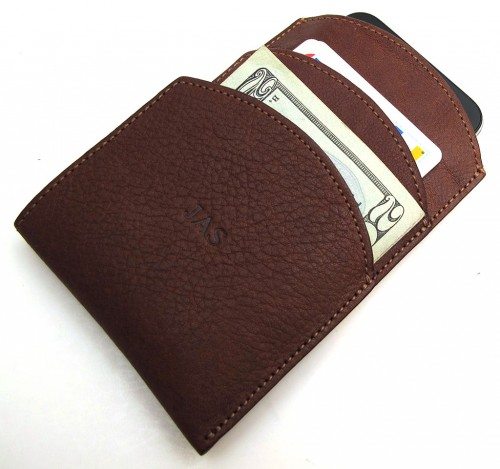 This wallet is meant to be carried in your front pocket. You definitely don't want to put it in your back pocket and sit on it. That wouldn't be good for your bum or the iPhone. It also means that most women probably will not carry this wallet in their front jeans pocket. We tend to wear our pants tighter than men do, so it won't fit well… and even if it did, it would feel really uncomfortable. I like to carry this wallet in my jacket pocket or side cargo pants pocket.
As far as materials, construction and overall beauty, Col. Littleton really knows how to make a quality product. This is a very nice wallet that has been constructed to last a long time and I could find no defects in workmanship. The only problem that I have with the No. 50 wallet is that it's difficult to remove credit cards if your phone is in the case. The iPhone causes the leather to stretch and tighten, so that you have to use your fingertips like tweezers to retrieve a card. Removing folded money is also slightly more difficult while the iPhone is in the case also more difficult to put the money back in the slot once you're done. Having to remove the phone each time you need access to cards and / or money can become tiresome. A remedy to this probem might be to make the phone sleeve a bit larger and include a snap tab to prevent the phone from falling out. This would also allow larger phones like the Droid X to fit in the sleeve. For this reason, I would probably not use this case as my primary wallet and phone case. I'd be more likely to use it for a quick trip to the store or during a lunch break at work, so I could combine my phone and wallet into one handy package.
What is your favorite way to carry your iPhone and wallet contents?
Product Information
Price:
$80.00
Manufacturer:
Col. Littleton
Pros:

Well made
Classic looks
Will hold folded money, credit cards and an iPhone

Cons:

Hard remove money and credit cards when iPhone is in the case