We use affiliate links. If you buy something through the links on this page, we may earn a commission at no cost to you. Learn more.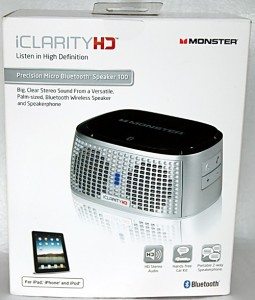 The Monster iClarityHD Precision Micro Bluetooth Speaker 100's name might be bigger than the speaker itself, but it packs a lot of sound into that small space. It also makes a fine hands-free audio bridge (speaker & mic) for your Bluetooth-enabled devices. It does this in an attractive and very portable package that will grind out sound for many hours on a charge.
Inside the Box
The box contains a manual, the Speaker unit, a USB cable (not shown – it's a standard USB cable!) and a carry bag. You'll need the manual for about 2 minutes, then you can stick with just the speaker unit and bag.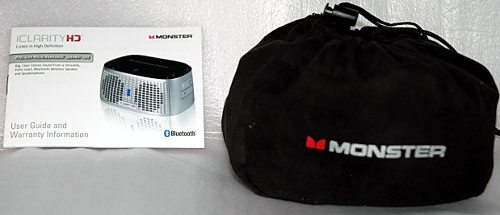 The speaker system is stereo, with what looks to be some "bass" porting at the top. The front facing speakers flank the brightest LED you'll ever see – more on that later!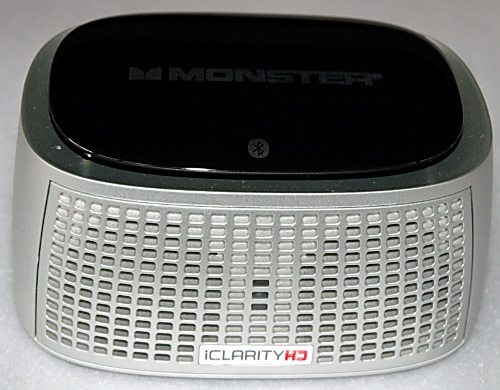 The back has the On/Off switch, a USB port for charging only (it charges off anything that provides powered USB) and a 3.5mm standard audio input jack if you want to go old-school wired.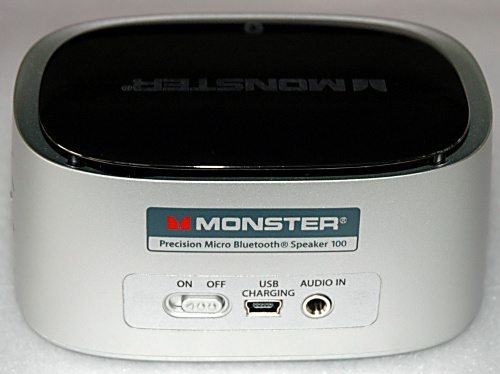 The right side has the power/pairing button, volume up/down, and "hands free" phone button.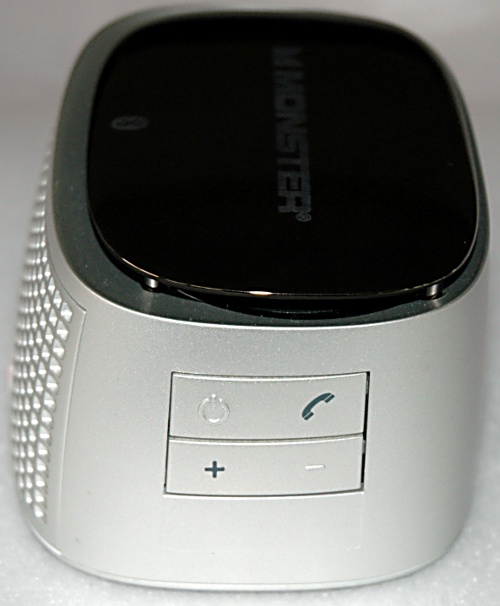 It looks pretty big until you put it next to an iPhone 4. This is pretty much a hand-sized unit. Small enough to toss into your gear bag/back pack/suitcase on a trip. It weighs in at about 8 ounces so it's not likely to weigh you down on a trip. The bottom (not shown) has 4 thin "feet" with good grip, so it will stay put when you put it down. This somewhat supports Monster's claim that you can use it as an hands-free device in your car, but it's probably not my first choice for that.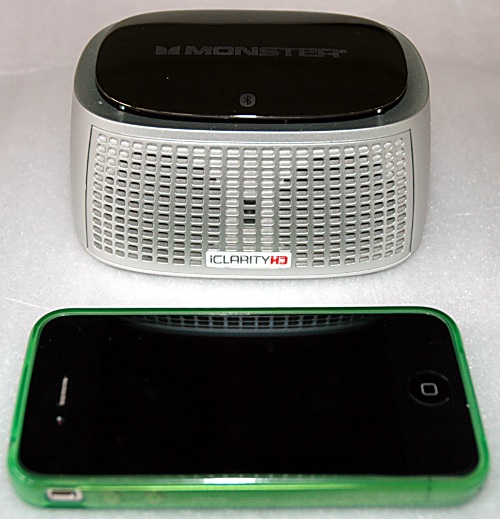 Pairing
Pairing is a breeze as with most modern Bluetooth devices. First, you put the iClarity in pairing mode by switching the power on, and then pressing and holding the power button on the side for many seconds until the front LEDs flash Blue/Red. At that point the iClarity will show up in the device list if you're looking for new devices. For example, in an iPhone it looks like this: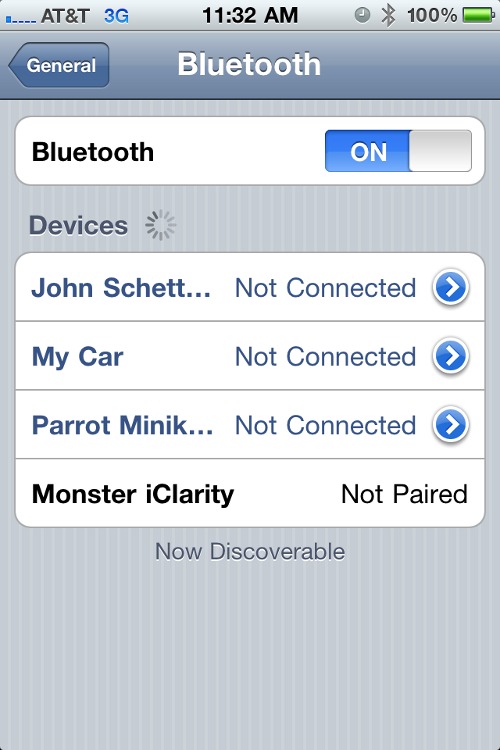 Tap that entry and the two devices will pair up.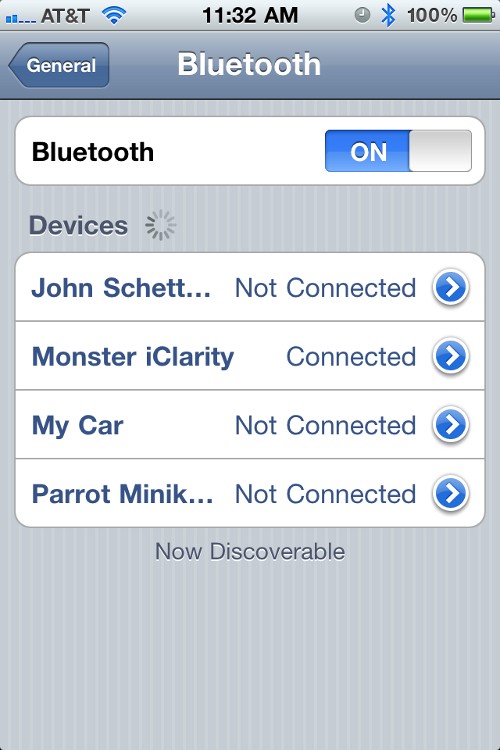 Pairing is similar on MacOS and Windows 7 – once in paring mode, selecting the iClarity in the list is sufficient to pair up the device. On all three OSes the device paired as a hands-free (speaker + microphone) device and as an audio output device.
It's not documented anywhere I could find how many devices the iClarity can partner with – I am up to three without problems. Typical Bluetooth headsets can partner with 4 or 8 other devices, so I expect the iClarity is similar.
Range is listed as the standard "low power" 33 feet. In testing at my home, I had no trouble staying connected up to, and if in line of sight even beyond 30 feet.
Playback
When paired, and connected, your iPhone will, by default, route everything through the iClarity speakers.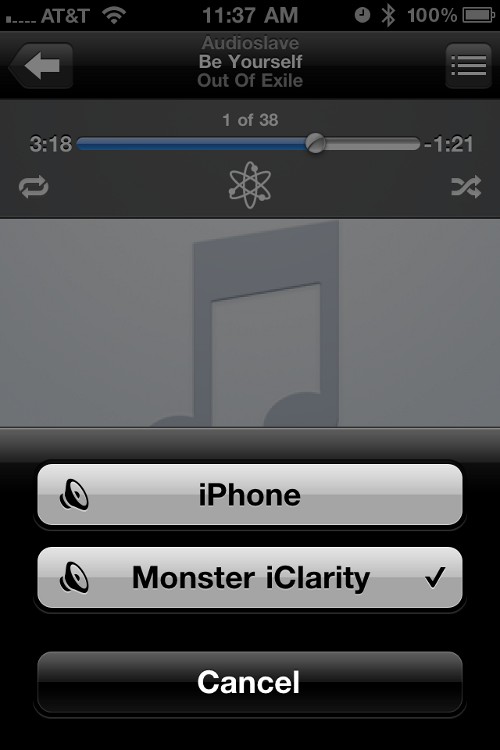 You can change that, of course! Incoming/outgoing calls also route to the speakers: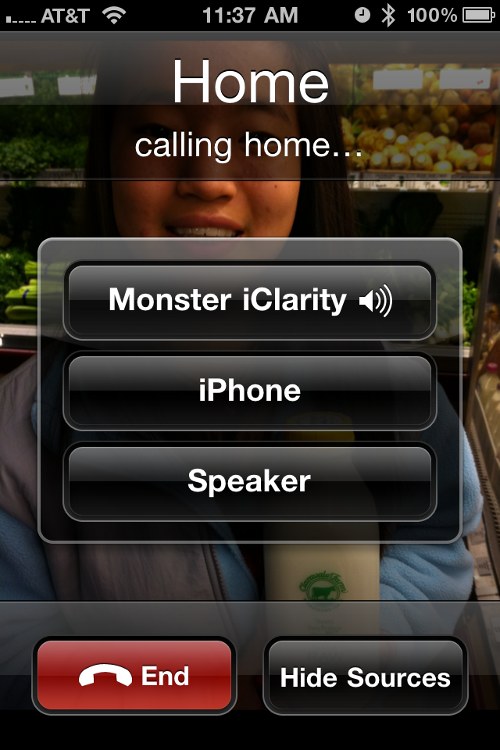 You can use the Speakerphone button on the iClarity in the same way as you would the accept/hangup/reject button on a Bluetooth headset. Press once to answer the call, press again to hang up, long press for reject call. The button placement on the side of the device makes for somewhat awkward "hands free" use – especially if you're driving in a car.
Mac/Windows too
The iClarity is a standard Bluetooth device, so for completeness I hooked it up to Windows 7 and MacOS. You can see that iChat is happy to use the iClarity as its speaker/mic in the shot below. You also get a good look at that incredibly bright front LED. Yes, it's always on when the device is on. Yes, it really is that bright.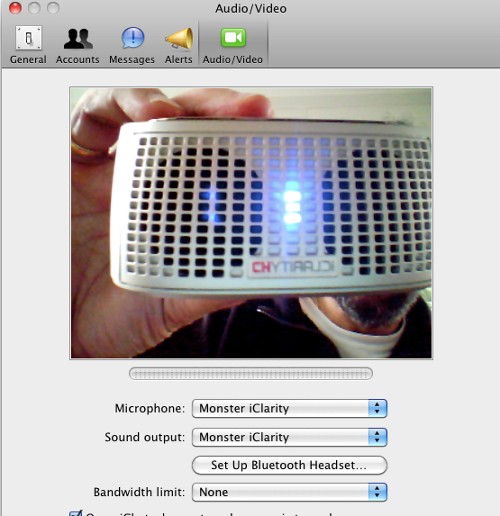 Sound Quality
Sound quality is subjective, and I have slight but measurable hearing loss to boot. That said, the iClarity will likely surprise you, in a good way, with its sound quality. Volume is certainly ample, the low end is reasonably well presented and the sound isn't too flat. You already lose a lot of range in sound when going over Bluetooth, but given the size of these speakers I wasn't shocked to find they sounded the same (to me, anyway) when hooked up via the 3.5mm jack vs. over Bluetooth.
These aren't 12″ drivers, and this isn't a 200 watt amp. Don't expect concert hall sound – expect sound about as good as high end "hifi" laptop sound, and you'll have a good idea of what you'll get. On the microphone side of things, it seems about the same – when testing the sound quality in a call, my spouse could tell the difference between the iPhone 4 speakerphone and the iClarity, but not in a bad way – both were clear. Similar testing between the built in mic in a MacBook Pro and the iClarity over iChat yielded the same results… the two sounded noticeably different, but neither was "better" or "worse".
Battery/Portable/Plugged
I can't really comment on the battery life – it's rated at 5 hours at full volume. I had the unit on all day partnered with a MacBookPro and it was still going after 9 hours of the odd beep, boop, and a few hours of soft music. I used it overnight to play white noise while plugged in to USB power – after an hour the LED switched from charging (annoying flashing blue) to charged (annoying solid blue.)
Wrapup
I like the iClarity, it's a highly portable Bluetooth system with good sound, and it's a handy hands free device for talking. The price is a little high (a set of battery powered wired speakers might run you $20, a Bluetooth headset $40, together half the cost of the iClarity) but it does pack a lot of functionality into a small space for that price. If you can use it with a few devices (or you're a road warrior) it's a compelling little device.

Product Information
| | |
| --- | --- |
| Price: | $119.95 |
| Manufacturer: | Monster |
| Requirements: | USB cable to charge, Bluetooth 2.0 device supporting Hands Free,Headset, and/or A2DP Bluetooth Profile. Tested with iOS 4.2/iPhone4, Windows7, MacOS Snow Leopard. 3.5mm audio cable required for wired connection. |
| Pros: | Simple pairing, great sound, small, light, USB charging, 5 hour battery. Includes wired jack. |
| Cons: | Insanely bright LED. Somewhat expensive. |