We use affiliate links. If you buy something through the links on this page, we may earn a commission at no cost to you. Learn more.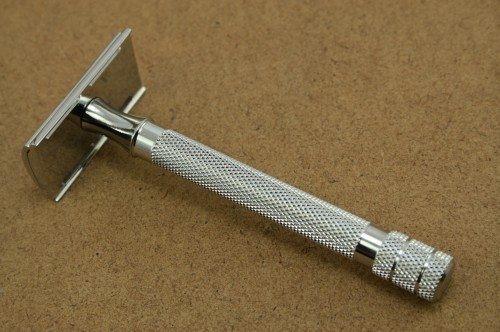 Shaving  each day is a chore that I do grudgingly.  To spice it up a bit I volunteered to review the Ikon Razor, which turned out to be a "back to the future" experience.  Shaving is not one of my top 10 fun things to do, but in the interest of providing the readers information and seeing if I could save money, I lathered up and offered my face as a test bed.  I was pleasantly surprised at what I learned.
When I was younger, the "safety" razor was the latest in a shaving appliance.  It looked similar to the  iKon, whch is called a sandwich razor, but the top opened like bulkhead doors and the double edged blade was slipped on from its dispenser and the handle was turned to hold the blade in place.  These are known as twist to open razors.  There were also some single edged razors and a few men used a straight razor.  I recall that electric razors were a novelty and the price put them out of my reach, so I was raised in the wet shaving fraternity.
Until I began this review, I thought that razors such as the iKon and double edged blades had gone the way of punched cards.  I was wrong!  Although I didn't find any double edged blades or razors that use them at retail, there appears to be a thriving business online of merchants addressing all your wet shaving needs.  Just search for wet shaving.
For the next couple of weeks, I used the iKon razor and the supplied blades exclusively.  I had previously been using the Gillette Fusion razor, because I got it for free in some promotion.  I had just run out of cartridges for it, so the iKon came at a good time.  I wasn't looking forward to paying up to $3 to $4 each for replacement cartridges.  Finally, my objective is not to start a religious war between the wet shave and dry shave groups.  Do what you feel comfortable with.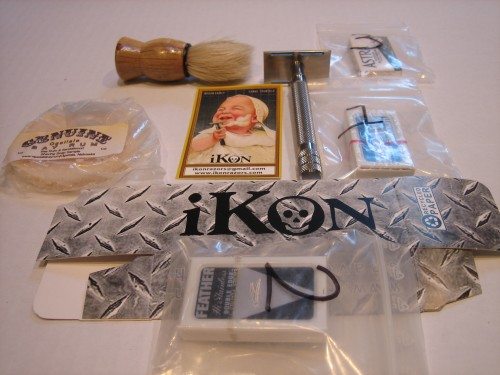 The shaving gear supplied included the razor, a shaving brush, some shaving soap and 3 different types of double edged razor blades.  The only thing I had to come up with, was a cup for the shave soap.  The razor itself is a solidly crafted device machined from stainless steel.  It has a nice "heft" and fits comfortably in my hand.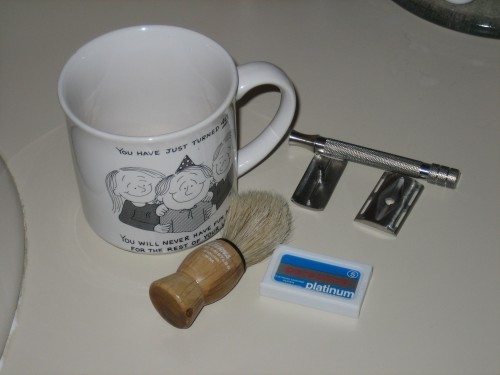 I got my gear together and as a precaution put 911 on speed dial.
Greg, the owner of  iKon was good enough to send me 3 different brands of blades.  I tried each of them for at least 5 shaves.  They all had something in common;  each blade was individually wrapped.  Because of  this I urge extreme caution when loading  the razor.  It is very easy to cut yourself when unwrapping the blades.
OK, I was ready to go and was considering doing a video of the whole process, but decided that no one needed to be subjected to my mug.  If you really want to see someone shave their face,  there are many YouTube videos for you to watch.
To make everything equal, I followed the same procedure that I've always done in the mornings, which is to take a shower and immediately shave afterwards while my face is still wet.  The only difference to the routine is that I now have to whip up some lather in the shaving cup rather than squirting it out of a can.  The rest is just a matter of smooth stokes over my bearded area and rinsing the razor occasionally.
I tried to remain objective, but let's face it, this is a very subjective matter.  For example, Greg from iKon recommends the Personna blades, but I found the Feather brand to be far superior.  It's alleged to be as sharp as a Samurai sword, but never having shaved with a Samurai sword I can't compare.  The first time I used the Feather blade, I had to take the razor apart because I thought I forgot to put a blade in.  It was that smooth!   It is very sharp so you will need to use aftershave because it does burn a bit, but I never once cut myself.
All the blades were fine and in my opinion, did a much better job than the Fusion razor .  How did I come to this conclusion?  Simple, I asked the women in my life;  my wife, daugther and grand daughter to caress my cheeks and their verdict was unanimously smooth as a…. (you get the idea).  Let's face it guys, if it were up to us we'd all be like the hirsute Grizzly Adams.  We shave to please others 🙂
As I mentioned, the receipt of the iKon razor came at an opportune time.  I was walking through Sams Club and was contemplating purchasing replacement cartridges for my Fusion razor when I noticed they were over $2.50 each.  I didn't buy them because some simple math showed them to be 5 times as expensive as the most expensive double edge blade which also happened to by my favorite, the Feather.  So, assuming I use one blade per week, the annual cost of  the Fusion replacements would be $130 while the Feather option is $26.  With the $104 savings one can easily recoup the cost of the $80 for the iKon razor in less than a year.
If you're not convinced, consider this.  If you purchase an iKon razor  it will last a lifetime and you can use many different brands of blades.  If you buy a cartridge razor it will break after a time and will have to be replaced.  You're also locked into the manufacturer's replacement blades.
I'm convinced.  The only reason I stopped using a double edged razor was because the major vendors stopped selling them, but now I'm back.   It may be a niche market, but if you look at the economics of using a double edge razor and the advantage of using multiple brands of blades, it has to grow.
Product Information
| | |
| --- | --- |
| Price: | $80 |
| Manufacturer: | iKonRazors |
| Requirements: | Hair to be removed from the body |
| Pros: | |
| Cons: | Blades only available via online stores |