We use affiliate links. If you buy something through the links on this page, we may earn a commission at no cost to you. Learn more.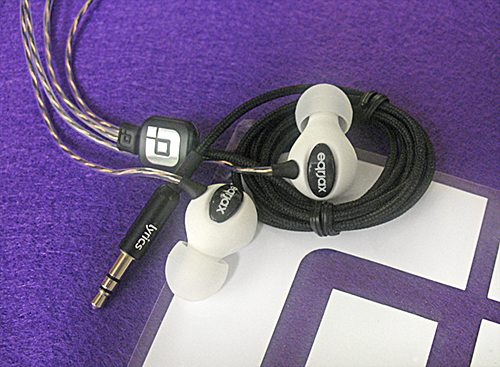 When you think of consumer earphones, what companies come to mind? Sony? Monster? Skullcandy? Truth is, there are a LOT of companies out there making earphones for your MP3 player – with many of them producing pretty good products. It's a huge market, so the choices are in the buyer's favor. As reviewer, one of my tasks is to educate consumers about what may be available that they either hadn't considered or maybe have never even heard of. I can just about guarantee you that one of those unheard of companies is Earjax. They are not one of the bigger names in earphones, but that could change for a couple of reasons.
Before we talk about the Earjax Lyrics earphone, I want to bring up one of the reasons that Earjax is unique. There are a lot of children who suffer from many hearing problems. Earjax has teamed up with the Starkey Hearing Foundation by donating a portion of sales to help fund a world-wide distribution of hearing aids to children who can't afford them. It's a mission that Earjax passionately stresses on their website.
You can get the details here: http://earjax.com/mission.php. And while that may be a worthwhile cause, it still comes down to the quality – aural and construction – of the earphone itself that determines whether it's worth your money.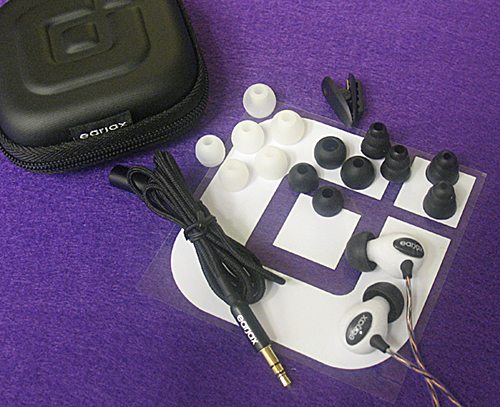 The Earjax earphones are trendy in both style and color choices, but much more understated than, say,  Skullcandys. Earjax makes five models in various price ranges  with a younger and more cost conscience customer in mind.
The Lyrics earphone that I'm reviewing is their most expensive model and, relatively speaking, isn't all that expensive. It's not cheap at $120, but if you do some searching, it can be found online for less. However, I was surprised by what is included with the Lyrics. You get a total of nine eartips in various sizes, a carabiner clip, miniplug extension cable, a very nice, zippered hard case and a removable tough cable wrap which helps keeps everything tangle free. When used, this cable wrap adds even more sturdiness to the case. A nice touch.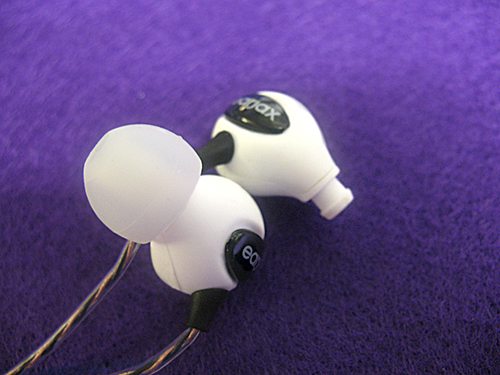 The egg-shaped Lyrics feel expensive with their non-slippery, rubberized surface. This can help them stay in place during sweaty workouts. And that egg shape fits into your outer ear. Overall comfort is pretty good. The cable is a hang down style which is see-through until it comes together at the Y connector where it is then covered in a black fabric. To reduce microphonics (that thumping sound you sometimes hear when you tap on the cable), I tried wrapping the cable around my ear, but I couldn't get e decent seal – which just killed the bass – so I gave up on that idea. However, microphonics is not a big problem with the Lyrics, anyway.
The Lyrics are a dynamic, mini-speaker designed earphone. Dynamic speakers lean towards a warmer, more bass-heavy sound, as opposed to the more clinical sound of an armature speaker. Usually the sizes of these mini speakers are either 8mm or 10mm. The Lyrics are a whopping 13mm. What this means is that they don't have to try very hard to achieve decent bass. Surprisingly, you would think then, that the Lyrics would be bass monsters. They aren't, and that's a good thing. The overall sound of the Lyrics is pretty uniform in the lows and mids while a tad weak in the highs. Since the highs are  recessed somewhat, there is little harshness in the bright spots. That's good, because harshness can become fatiguing and unpleasant over extended listening periods.
A case in point would be The Byrds song, "I'll Feel a Whole Lot Better," from their "Greatest Hits" album. This song is horribly recorded and very sibilant, but the warmth of the Lyrics tone this down to a tolerable level. Another example of this harshness can be heard in Al Stewart's "Roads to Moscow" from the  "Past, Present & Future" album, This heartbreaking, history lesson of a song features guitar picking complete with the squeaking sound you hear as fingers slide up and down the neck of the guitar. With earphones that accentuate highs, this can be teeth-grating. On the Lyrics, it just sounds authentic. I like that.
Paul McCartney's "Sing the Changes" from his Fireman side-project album, "Electric Arguments", is an aural attack that melds into a wall-of-sound. This song fares a little better on more accurate earphones, but it's still a pleasant listen. More accuracy is needed on the live Lou Reed track, "Intro/Sweet Jane" from the "Rock 'n Roll Animal" album. This powerhouse of an album opener begs for maximum, distortion-free volume. And while the Lyrics don't distort, the power is just not there in full force.
The warmth of the Lyrics sound is more appreciated on songs like "It's In the Rain" from the Enya album, "Amaratine." Her music is a sonic wash to begin with and here, it's perfectly suited to the Lyrics. "Cup of Kindness" from Emmylou Harris' "Stumble Into Grace" is quite bass heavy, as a lot of her later work has been. And since the Lyrics don't overdue the bass, it works. What could have easily been a chore to suffer through becomes an enjoyable listen.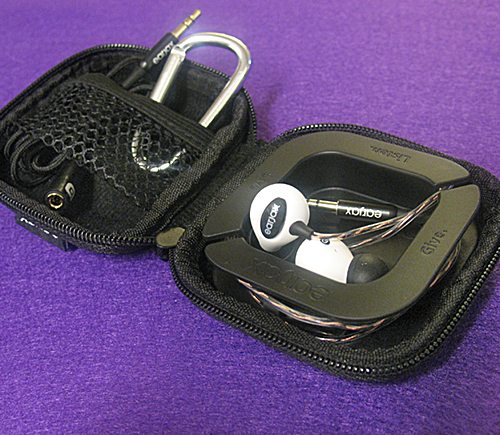 For the price, Earjax has produced an earphone that looks good, sounds very good, comes with a slew of extras and yet, they still manage to give some back to the hearing impaired. Not a bad way for a company to act, I'd say.
Product Information
Price:
$119.95 US (but can be found for less online)
Manufacturer:
Earjax
Pros:

Sound nice and warm
Fit well
Good seal for bass
Lots of extras
Great case

Cons:

Not as accurate as armatures
A little tricky to get good fit at first