We use affiliate links. If you buy something through the links on this page, we may earn a commission at no cost to you. Learn more.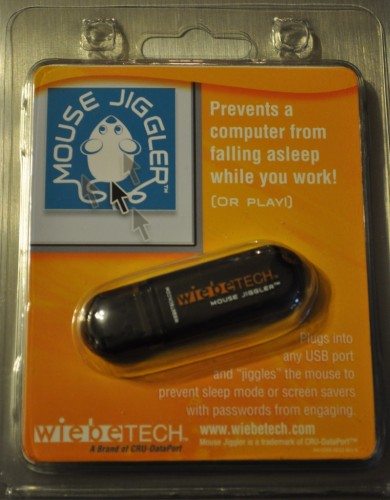 Up until a few weeks ago I could not fathom the need for a little device whose sole purpose is to move your mouse.  Then my company forced the active directory screensaver and password resume on my PC.  Even though that isn't my primary work computer, it was starting to drive me crazy having to log back in every few minutes when I wanted to use it.  Suddenly, the Mouse Jiggler was looking pretty darn good to me!  In just a few short days of use, the Mouse Jiggler from WiebeTech has become my most valued office accessory!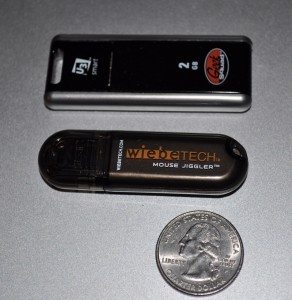 The Mouse Jiggler is manufactured by WiebeTech, a company specializing in desktop storage solutions as well devices for forensic analysis (one of their tools even made it into the last season of "24").   There are downloadable programs floating around the Internet that pretty much do the same thing, but this little guy has the advantage of being on a USB drive.  It requires no administrative rights to use and doesn't install on your computer; it's completely plug and play.
There are two versions of the Jiggler available, Fast and Slow, with the only difference being the speed of the mouse cursor movement.  The fast version moves the mouse quickly and constantly around the screen, making it good for practical jokes on a co-worker, but not really for work since you'll be battling the runaway cursor.  Luckily, I was sent the Slow version to review.  It moves the mouse so slowly in fact that for an hour or so after I first plugged it in, I was convinced it was defective.  It was only when the thought suddenly occurred  that it had been an hour and my screensaver had yet to go off that I realized it was working just fine.
On the manufacturer's product page the slow version steadily ticks a few pixels back and forth like a heartbeat.  However, in use the movement is much more subtle.  I stared at a still cursor for several minutes only to see a quick nudge in one direction, followed by another nudge back about a minute later.  I found no problems with taking control of the mouse and going about my work with the drive still plugged in.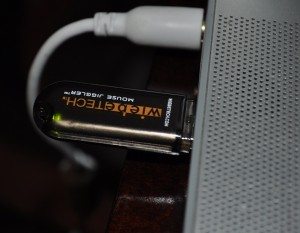 Once inserted into a USB port, the green LED light comes on, then flashes in accordance to the number of minutes it has been active.  It registers as a Human Interface Device (HID) on your computer and goes to work immediately.
I've tested it out on an iMac and Powerbook (both running OS X 10.6), a desktop PC running Windows XP, and a netbook running Windows 7 and the Jiggler performs flawlessly on each.  I pretty much just leave it plugged into my PC desktop all day long and have seen no ill effect (i.e. computer lock ups, Jiggler overheating, computer slow down, etc).  As a test, I left it in over this past long holiday weekend and when I showed up Monday morning the computer was still "awake"and the Mouse Jiggler was blinking happily away
I'm hard pressed to find any negative about this little guy.  To those who scoff about coughing up $17 when there are the free versions of the same gadget–WiebeTech agrees with you!  They're not telling you to hurry up and buy twelve, but to use what works for you.  The Mouse Jiggler won't be for everyone–but for those who don't have administrative access and need to prevent any computer from going idle for any reason, the Jiggler could be exactly what you're looking for.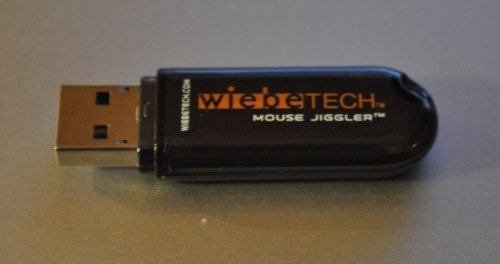 The Mouse Jiggler is available in both Fast and Slow versions for $17 through WiebeTech.
Update 12/4/14
I had absolutely no expectations with this when I initially reviewed it, but it's the gadget I've used every day since my initial review.  It has spend four years plugged into my USB almost continuously and it still functions perfectly.  Yes, it can probably be replaced by various scripts, but it's the convenience of having a plug and play device that I just love!  Highly recommended.
Source: The sample for this review was provided by WiebeTech. Visit their site for more info.
Product Information
| | |
| --- | --- |
| Price: | $17 |
| Manufacturer: | WiebeTech |
| Requirements: | |
| Pros: | PC & Mac compatible, does not require admin rights on computer, portable, works flawlessly |
| Cons: | |