We use affiliate links. If you buy something through the links on this page, we may earn a commission at no cost to you. Learn more.

When I first saw that Microsoft was putting in a retail store three doors down from one of my local Apple Stores, I was betting it was going to be a ghost town within the first week/month. I was skeptical Microsoft and its partners had anywhere near the draw Apple does. But this monolithic store opened last Thursday to quite a fanfare.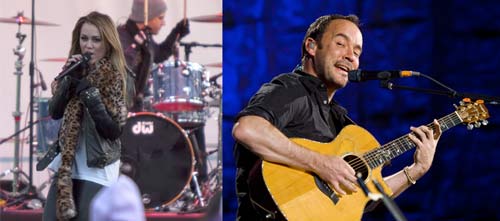 Microsoft, in its attempt to create a frenzy on its store's opening weekend, put on Miley Cyrus and Dave Matthews concerts to entice the hordes to flock. According to the media, Bellevue Square was the place to be this past weekend.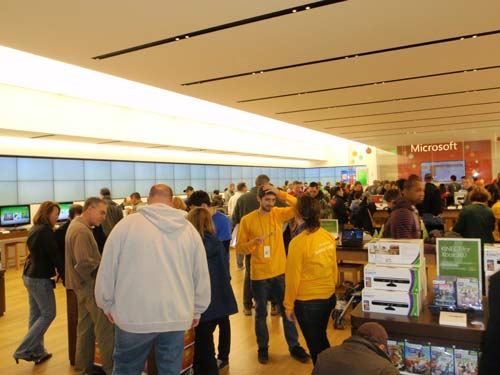 The Gadgeteer Kid and I went to Bellevue Square just as it opened this Sunday morning to beat the weekend/pre-Holiday crowds, get a few things, visit the Apple, MS and Lego stores, and get out before the insanity started. To my surprise, this is what the Microsoft store looked like ten minutes after the Mall opened…..crazy!!! The store might have opened before the rest of the Mall did (I should have asked), not sure.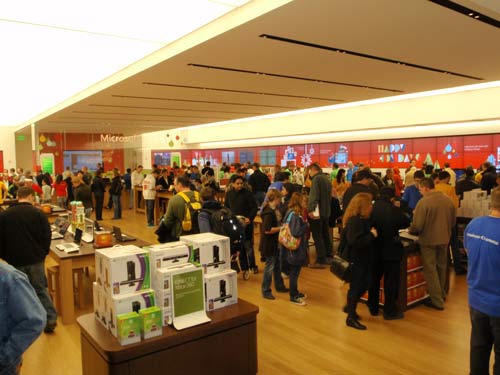 But either way, the place was packed and full of energy. Folks were buzzing around checking everything out and many people were walking out with something in their hands (purchases).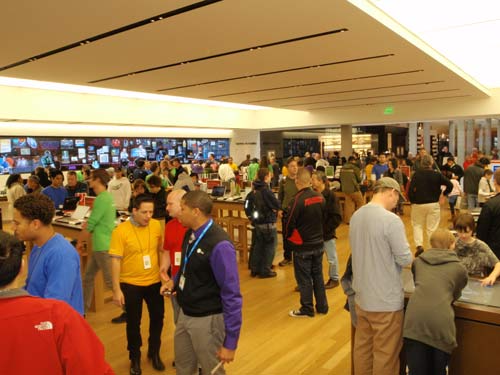 Microsoft's new store is very Apple like. There is no mistake their designers took many cues from the Apple Store. I do have to say, I like the added elbow room. Most of the time Apple Stores are packed to the brim and their limited square footage usually makes me feel a bit claustrophobic. But the Bellevue Microsoft Store is huge, nearly three times the space as its neighbor three doors down.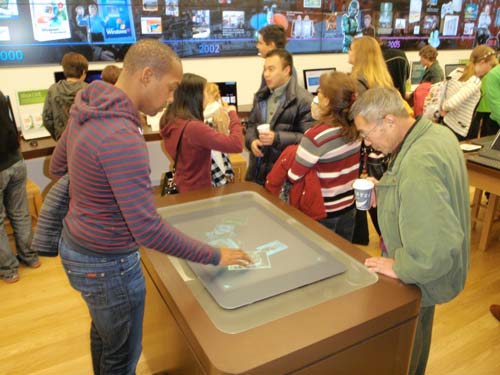 Microsoft stocked the place with the very best they have to offer. From large touch sensitive tables to Win7 smartphones to every kind of PC/laptop/netbook they could get a hold of. They even had a relatively large Kindle display as well.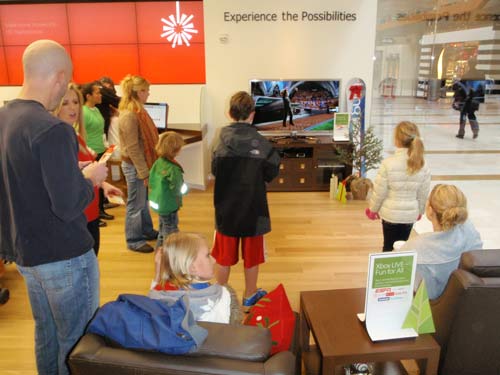 For added real-time fun, there is a decently sized video game playing area setup; emulating the average family room.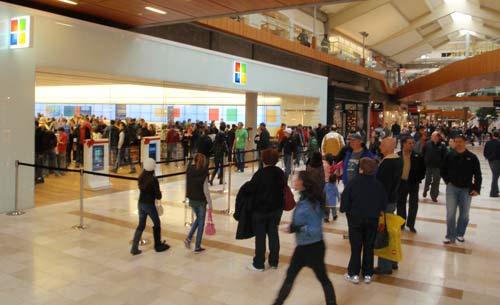 As we were finishing up at Bellevue Square and were heading to our car, we went by the Microsoft Store one more time. The place was so packed, employees had already started limiting entrance and a line had formed to get in.
Bottom line is that I was a bit too harsh in my original commentary about Microsoft creating brick and mortar retail spaces. If the first week is any indicator, it looks like the Store will do alright. Being in Microsoft's home town and very near an Apple store will most likely help their popularity, as well. The GK and I are definitely diehard Apple guys, but we too, will regularly kill time in the Microsoft Store while waiting for family members to get done shopping ;).