We use affiliate links. If you buy something through the links on this page, we may earn a commission at no cost to you. Learn more.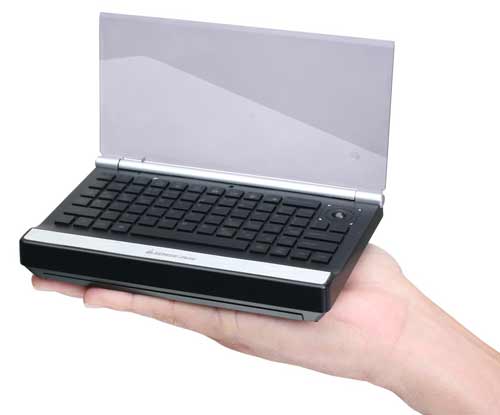 IOGEAR is introducing two 2.4GHz keyboards. The GKM581R is a full sized ergonomic on-lap style keyboard and the GKM571R is a mini keyboard with an integrated trackball and backlit keys. The keyboards require a small USB RF receiver and are compatible with both PCs and Macs. IOGEAR's GKM571R mini keyboard will be priced a $99.95 and the full sized GKM581R will be $89.95. Both will be shipping later this year. Full press release after the jump.
IOGEAR's 2.4GHz Wireless Keyboards Enable Comfy and Mobile Home Multimedia Navigation
An optical trackball, scroll wheel and convenient hotkeys make content management a breeze for IOGEAR's two CES Innovations 2011 Design and Engineering Award Honorees.
FOOTHILL RANCH, Calif. – November 11, 2010
– Continuing its pursuit of convergence through connectivity,
IOGEAR
today introduced two 2.4GHz Wireless Keyboards with built-in mouse functionality. Designed to accommodate different end users, the GKM571R is a palm-sized keyboard with LED backlight ideal for mobile content management in light or dark rooms. The GKM581R model is larger in form and ergonomically designed for on-lap productivity.
IOGEAR is also pleased to announce that both wireless keyboards are CES Innovations 2011 Design and Engineering Award Honorees in the category of Home Theater Accessories by the Consumer Electronics Association (CEA®).
Engineered for ergonomics, aesthetics and mobility, IOGEAR's 2.4GHz Wireless Keyboards with Optical Trackball and Scroll Wheel provide a comfortable solution for managing multimedia content up to 33 feet away, whether stationary or on the move. Media servers, home theater PCs or HDTV set ups can all be managed from lap or hand, no matter which direction a user is facing.
Integrating full mouse functionality was pivotal to IOGEAR so both keyboards feature built-in left and right mouse buttons and an optical trackball with 400, 800 or 1200 DPI selections for scrolling directly from the keyboard. To further ease navigation, there are  multimedia shortcuts (hotkeys) at the top of each keyboard for a quick transition between Internet Browsers, email, Media Player, volume control and more.
GKM581R
Using the human form as a model, IOGEAR's GKM581R all-in-one keyboard is designed with a slip resistant rubber bottom and contoured form to sit comfortably on laps of all shapes and sizes, eliminating awkward leaning and unnatural contorting. The wireless keyboard serves as an ideal productivity solution for PC to TV setups, as well as media center applications and game consoles like the PS3™ and Xbox 360.
GKM571R
Designed to fit comfortably in one hand, the GKM571R mini wireless keyboard is more compact and ideal for mobile content management in the home. An added feature is the LED backlight that allows for use in a dark room with the benefit of an auto on/off control for battery saving. The hand-held model also has an auto on/off lid that provides protection for the keyboard.
"By simply plugging in the included USB RF receiver, our 2.4GHz Wireless On-Lap Keyboard enables consumers to instantly navigate their preferred multimedia content from the comfort of their couch," states Bill Nguyen, director of marketing for IOGEAR. "With advanced ergonomic design and 2.4GHz technology, this keyboard is the optimal solution for enhancing any home entertainment setup. We are proud that CEA has recognized IOGEAR's contribution to the growing home theater accessories segment."
IOGEAR's 2.4GHz Wireless Keyboards will be shipping late in Q4, 2010.
MSRP of the GKM571R is $99.95. MSRP of the GKM581R is $89.95.
For further information on IOGEAR and its product solutions, please visit:
iogear.com
. Follow IOGEAR on
Twitter
, the
company blog
, and become a fan on
Facebook
for additional industry, company and product details.
About IOGEAR
IOGEAR, headquartered in Foothill Ranch, Calif., manufactures innovative Home Electronics and Information Technology solutions that enable convergence through connectivity. Founded in 1999, the company develops products that help integrate technologies, share resources, decrease clutter and energy consumption, and reduce electronic waste. IOGEAR distributes throughout North and South America, Europe and Asia.
The company emphasizes the conservation of natural resources to both employees and customers through its GREEN initiatives program and "Road to a Million Trees" campaign. In partnership with Trees for the Future, one tree is planted for every product purchased on the IOGEAR site or through an IOGEAR GREEN initiative partner.
(c) 2010 IOGEAR. All rights reserved. IOGEAR and the IOGEAR logo are registered trademarks or trademarks of IOGEAR. Other company and product names may be trademarks of their respective owners.