We use affiliate links. If you buy something through the links on this page, we may earn a commission at no cost to you. Learn more.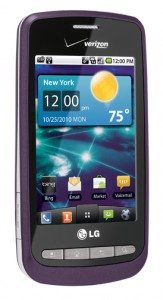 Verizon Wireless and LG Mobile Phones have announced the LG Vortex entry level smartphone which will be available starting November 18th. Available in Black and Violet, the Vortex is powered by the latest version of Android (2.2), with WiFi, 3G Mobile Hotspot capable, a built in 3.2MP camera, and a MicroSD slot. Not a bad set of features for an entry level phone that costs only $79.99 after a $100 mail-in rebate with a new two-year contract. Full press release after the jump.
VERIZON WIRELESS AND LG MOBILE PHONES CREATE A WHIRLWIND OF POSSIBILITIES WITH THE LG VORTEX 
LG Vortex, An Accessible Smartphone with Simple Solutions
 
BASKING RIDGE, N.J., and SAN DIEGO – Verizon Wireless and LG Mobile Phones today announced the LG Vortex™ will be available in Verizon Wireless Communications Stores and online at www.verizonwireless.com on Nov. 18.  The LG Vortex empowers first-time smartphone users to join and explore the growing Android world with 3G connectivity over the nation's largest and most reliable wireless 3G network.  With its sleek design, LG Vortex gives consumers easy-to-use access to a variety of applications that make life simple and keep customers at the center of their social universe.
 
Colors: Black and Violet
 
Key features:
·         Powered by Android 2.2 – Offers customers support for Google Mobile Services, including Gmail™, YouTube™, Google Talk, Google Voice and access to Android Market™
·         Preloaded with Bing Search and Bing Maps
·         3.2" touchscreen with tactile feedback for fast and accurate touch vibration response
·         Wi-Fi Connectivity
·         3G Mobile HotSpot capable
·         Virtual QWERTY keyboard with Swype technology installed
·         Bluetooth® 2.1 capabilities with support for Bluetooth Profiles Supported: Headset, Hands-Free, Dial-Up Networking, Object Push, Advanced Audio Distribution (stereo), Audio/Video Remote Control, Phone Book Access, and File Transfer
·         microSD™ card slot with expandable memory up to 32 GB
 
Additional features:
·         Customizable home screens with shortcuts to text messages, e-mail, apps, favorite social networking sites and widgets
·         Customizable to 5 or 7 home screens
·         Proximity sensor instantly locks touchscreen while talking on the phone
·         Pre-installed LG Apps, including My Status with Twitter™ for LG and Facebook® for LG
·         Visual Voice Mail capable
·         Skype mobile™ capable
·         Android Market – Choose from thousands of downloadable apps
·         Full suite of messaging options – Text, picture, video and voice messaging; corporate and personal e-mail accounts supported
·         VZ Navigator® capabilities – Access for customers to receive audible turn-by-turn directions to millions of points of interest and share the directions with others
·         3.2-megapixel autofocus camera and camcorder with flash that includes:
o    Five different camera resolutions and three different video resolutions
o    Macro Mode for detailed, up close pictures
o    Image editor with zoom, rotate, resize, crop, added frames and stamps
o    Customize brightness, white balance, shutter sounds, color effects and use self-timer
o    Optimize video quality with normal, fine or super camcorder settings
o    Video recording time up to 16 GB
 
Pricing and availability:
·         The LG Vortex will be $79.99 after a $100 mail-in rebate with a new two-year customer agreement.  Customers will receive the rebate in the form of a debit card; upon receipt, customers may use the card as cash anywhere debit cards are accepted.
·         LG Vortex customers will need to subscribe to a Verizon Wireless Nationwide Talk plan and an Email and Web for Smartphone plan.  Nationwide Talk plans begin at $39.99 monthly access.  Email and Web for Smartphone plans start at $15 monthly access for 150 MB.  Customers can track their data usage by downloading the My Verizon app available on Android Market or by logging on to their My Verizon accounts online at www.verizonwireless.com/myverizon.  For additional information on Verizon Wireless products and services, visit a Verizon Wireless Communications Store, call 1-800-2 JOIN IN or go to www.verizonwireless.com.   
 
(EDITOR'S NOTE: Media can access high-resolution images of the LG Vortex in the Verizon Wireless Multimedia Library at www.verizonwireless.com/multimedia.)
 
About Verizon Wireless
Verizon Wireless operates the nation's most reliable and largest wireless voice and 3G data network, serving more than 93 million customers.  Headquartered in Basking Ridge, N.J., with  more than 79,000 employees nationwide, Verizon Wireless is a joint venture of Verizon Communications (NYSE, NASDAQ: VZ) and Vodafone (LSE, NASDAQ: VOD).  For more information, visit www.verizonwireless.com.  To preview and request broadcast-quality video footage and high-resolution stills of Verizon Wireless operations, log on to the Verizon Wireless Multimedia Library at www.verizonwireless.com/multimedia.
 
About LG Electronics, Inc.
LG Electronics, Inc. (KSE: 066570.KS) is a global leader and technology innovator in consumer electronics, mobile communications and home appliances, employing more than 84,000 people working in 115 operations including 84 subsidiaries around the world. With 2009 global sales of USD43.4 billion, LG is comprised of five business units – Home Entertainment, Mobile Communications, Home Appliance, Air Conditioning and Business Solutions. LG is the world's leading producer of flat panel TVs, audio and video products, mobile handsets, air conditioners and washing machines. LG has signed a long-term agreement to become both a Global Partner and a Technology Partner of Formula One™. As part of this top-level association, LG acquires exclusive designations and marketing rights as the official consumer electronics, mobile phone and data processor of this global sporting event. For more information, please visit www.lgusa.com.  
 
About LG Electronics Mobile Communications Company
The LG Electronics Mobile Communications Company is a leading global mobile communications and information company. With its cutting-edge technology and innovative design capabilities, LG creates handsets that provide an optimized mobile experience to customers around the world. LG is pursuing convergence technology and mobile computing products, while continuing its leadership role in mobile communication with stylish designs and smart technology. For more information, please visit www.lgmobilephones.com.