We use affiliate links. If you buy something through the links on this page, we may earn a commission at no cost to you. Learn more.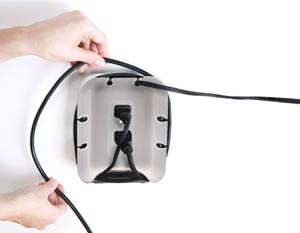 The Cable Collar is quirky's latest community-developed cord wrap product. If you're not familiar with quirky, it's a site where people can submit their product ideas and actually have them built and sold. The Cable Collar fits between a power adapter and a standard wall socket, providing a channel to wrap excess cord. As of this posting, the Cable Collar is in the pre-sale phase. It's priced at $6.99 and as soon as the threshold of sales is met, it will be manufactured and orders will be processed.
Would you use something like this in your house? I would only use it under a desk or where it wouldn't be seen.
Full press release after the jump.
Cable Collar, Power Cord Wrap, Hits Quirky's Online Store
collaboratively developed by Quirky's community
New York, NY, October 14, 2010 — Today marks the official release of Cable Collar — a community-developed cord wrap management tool that keeps your excess cable slack neatly wrapped up and in place.
The Cable Collar is a solution to those messy wires that pile up when excess cord and cable length is not being used. Quirky's clever design conceals power cords by keeping them wrapped around the outlet itself, leaving your home and office free from unnecessary clutter. No hardware or installation required; a plug is all you need to hold Cable Collar in place.
The Cable Collar's simple design is made of heat-resistant plastic that won't interfere with your appliance's electrical connection. Simply set it in place on any standard plug outlet and it can be used to wrap up to 24 inches of electric cable. There are six integrated anchors that hold your cables securely in place. Just plug in and wrap.
Following the success of Pivot Power, Cordies and the PowerCurl, the Cable Collar is the latest addition to Quirky's cord management line.
Cable Collar is the 57th product designed and developed by the Quirky community since Quirky's launch on June 2, 2009. Quirky gives everyone the chance to get product ideas out of their heads and onto shelves. Each week, Quirky's community collaborates to select and produce one new product idea. This week ends the development phase of Cable Collar, and it is now available for pre-sale in Quirky's online store for $6.99 (MSRP: $7.99).
Quirky engages participants to collaborate in every aspect of product creation — from ideation, design, naming, manufacturing, marketing, right on through to sales. Anyone can participate on Quirky.com either by submitting their own product idea for $10, or by voting, rating, and influencing other people's product ideas. Cooler still, 30¢ of every dollar generated from the sale of a Quirky product goes back to these influencers.
Every week, users post ideas on Quirky to be rated by the Quirky community. The community surveys the submissions during a seven-day evaluation period and selects one product to move forward into product development. Quirky's community then begins weighing in on everything from naming to logo selection to packaging through to prototype.
The final product becomes available for pre-sale in the Quirky online store (quirky.com/products). Once the product hits its pre-sale threshold, credit cards are charged, and the product goes into production and delivery. At this point, 30¢ of every dollar made from the direct sale of these products goes back to the community. "Community" in this case covers both the ideator as well as all people who voted, commented, and rated the project idea along the way.