We use affiliate links. If you buy something through the links on this page, we may earn a commission at no cost to you. Learn more.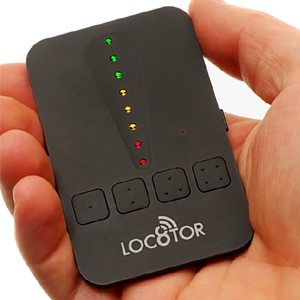 One my downfalls (so my wife tells me!) is that I constantly put things down, then can't remember where I've put them!  Take my car keys as a prime example.  I'll come in from work, put my keys down in my normal place (on the side of the unit in the kitchen), but when I go to find them the next morning, lo and behold, they're missing!  
They always seem to turn up in places where I know I wouldn't put them, so it's either my mind playing tricks on me, or indeed I do move them and then just forget where!  
Well, now I have a perfect solution for the problem – the Loc8tor Lite.  In a nutshell, with a press of a button the Loc8tor will guide you to your lost keys, mobile phone, cat/dog, radio-control aeroplane, tent… in fact, anything that you can attach one of the remote tags to!  
How does it work?  Well, I'll explain in more detail!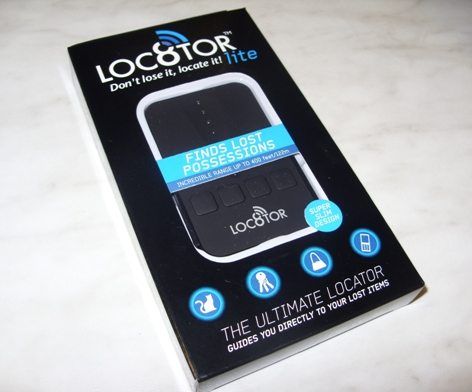 The Loc8tor Lite comes in a neatly packaged box, allowing you to see the unit itself.  The packaging also includes lots of clear information about the product and how it can be used.  
Once you get everything out of the box, you'll have the following items:  
1 x Loc8tor Lite Remote Control
2 x Loc8tor Lite Remote Homing Tags
1 x Holding Bracket with magnet
1 x Packet of keyring loops and adhesive tags (for the homing tags)
1 x Strip of labels (to write down which homing tag is attached to which item)
1 x Detailed User Guide
The keyring loops are very useful for attaching the remote tags to your keys and the adhesive pads are very sticky, so will stick to most surfaces.  The magnetic holding bracket can be used to keep the remote control attached to the fridge (or any other metal surafce) so you can ensure you never lose it!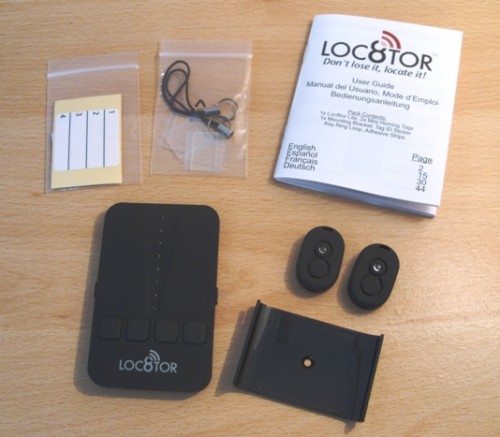 The Loc8tor remote, with a tactile rubberized finished, is very slim and light.  It's roughly the same size as a credit card, at 11 cm x 5.5 cm and a depth of less than 1cm, so it's very handy to slot into your gear bag, or even your pocket.  There are four buttons on the front panel;  you can register one tag to each.  Above the buttons you will see a range of LED lights, which light up (Red – Yellow – Green) when you press one of the buttons, giving you a visual indication of how close you are to your lost item.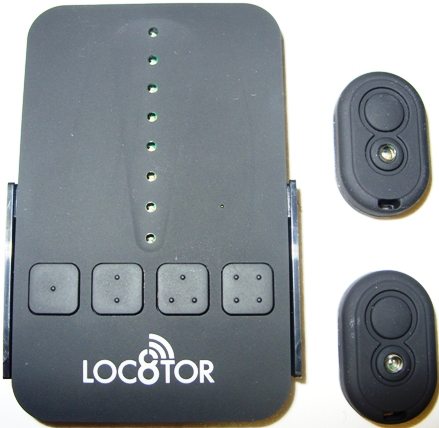 The homing tags, also with a rubberized finished, are very small and light, with a size of only 3.5 cm x 1.95 cm x 0.85 cm.  Therefore, you can easily attach them to most of your treasured items, such as keys, mobile handsets, briefcases, tents, R/C model aeroplanes, or even your beloved pet!  
Never miss one of our posts again. Sent MON, WED, and FRI with the latest gadget reviews and news!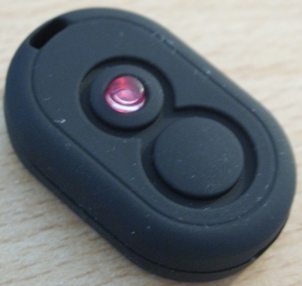 In order to use the homing tags you have to register (pair) them with the remote handset, which is a relatively straight forward process and takes less than a minute to do for each fob.   
Simply switch on the Loc8tor remote by pressing both side buttons, then place one of the homing tags close to the remote handset.  Then, press one of the four buttons on the front of the remote.  This will then register with the homing tag, after which you will hear a series of beeps confirming the registration.  Do the same for the other tag, remembering to choose button number two this time, then you'll have both tags registered with the remote handset.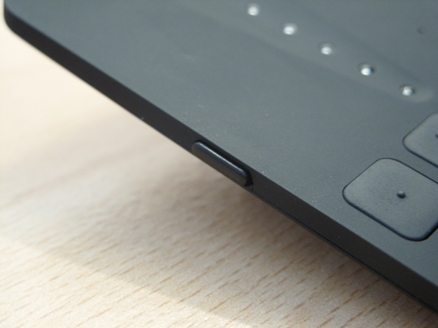 All you have to do now is decide which items you want to attach the homing tags to.  To locate the item again, simply turn on the remote control and press the corresponding button.  All going well, it should direct you back to your precious item, all the while emitting a series of beeps which get faster and higher as you close in.  The LEDs also light up nice and bright, giving a visual indication also.  Red means you're nowhere near, Yellow means you're getting close, and Green means you've found (or you're right next too) your lost item.   
The LED indicator is quite useful.  If you prefer, you can choose to switch off the audible beeps and stick with just the LEDs as an indicator.  I did however prefer to have the unit bleeping away, as well as using the LEDs.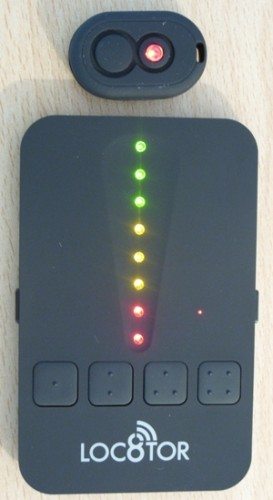 The manufacturer states that the Loc8tor has a range of 'up-to' 122m, which is quite impressive, however please note that this distance is based on 'line-of-sight' only, so expect the overall distance to be cut in half if you use it between walls/doors/buildings etc.    
For a simple test, I got my eldest child to take one of the remote tags and hide somewhere in the house.  Being the best at hide-and-seek, I thought this would be somewhat of a challenge for the Loc8tor, but once I completed a 360 degree circle, the remote indicated the direction I needed to walk.  I then found him (and the remote tag) in less than a minute!  
I also carried out a very useful test with my R/C Aerobird Extreme aeroplane, simply by attaching one of the remote tags to the top of the fuselage using one of the very sticky adhesive pads.  I flew the plane as normal, but then decided to suddenly land behind a row of trees.  Although I knew where I was (as I was where I normally fly) the remote control picked up the homing tag almost instantly and guided me towards where the plane had landed.  I think this would be very useful if I took part in any R/C competitions and didn't know the area very well.  Should any of my planes come down for any reason, the Loc8tor will make easy work in helping me find them again!  
Verdict  
I really like the Loc8tor Lite.  It's definitely one of the most useful tools I've been asked to review.  It's made very well, it's easy to use, and it looks good!  If the operational range could be extended, it could be even better!  Please note however, the Loc8tor isn't waterproof, so try not to get it wet!  
As mentioned earlier, you get two homing tags in the box;  you can buy another two more if you wish, so you can make full use of the Loc8tor Lite.   
Now, just try not to lose the Loc8tor remote control – there'll be no help should this happen!   
The Loc8tor Lite costs £67.99 ($107.57) and is available from Find-Me-A-Gift.  Thank you to Karen who sent me the product to review.
Product Information
Price:
£67.99 ($107.57)
Manufacturer:
Loc8tor
Retailer:
Find-Me-A-Gift
Pros:

Well designed
Easy to use
Very thin and light

Cons: