We use affiliate links. If you buy something through the links on this page, we may earn a commission at no cost to you. Learn more.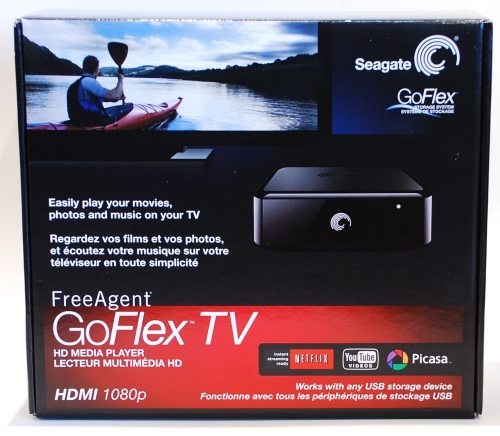 I've read reviews on The Gadgeteer for media players that hook up with your TV or home theater setup and let you view your home videos, pictures, movies, and even play your music files.  I've always been interested in them, but I've never had one of these devices.  I had looked into an Apple TV some months back, but they didn't do HD.  I liked the idea of the Apple TV because of the easy access to movies I could rent or buy for the device.  Recently, I'd been noticing that some companies making these devices were forming relationships with Netflix or other movie services, and my interest in media players was growing again.  When Julie offered the Seagate FreeAgent GoFlex TV HD media player, I was excited to give it a try.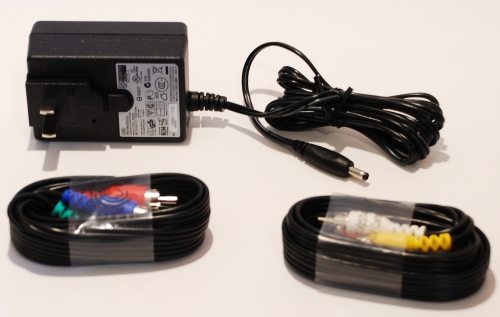 What's in the Box
FreeAgent GoFlex TV HD Media Player
Composite A/V cable
Component A/V cable
Power supply
Remote control
(Seagate's website says a Quick Start guide and a CD should be included, but there wasn't either in my packaging)
Specifications
Dimensions: 4.30in L x 5.91in W x 1.65in H (110mm x 150mm x 42mm)
Weight: 0.67lb (0.30kg)
Video file compatibility: AVI (Xvid, MPEG1/2/4, TS), MPG/MPEG, DVD (VOB, IFO) MP4/MOV (MPEG-4), H.264, VC-1 (WMV9), ISO, RM/RMVB, Motion JPEG, FLV, DivX HD
Audio file compatibility: MP3, WAV/PCM/LPCM, WMA, WMA Pro, AAC, FLAC, MKA, OGG, APE, Dolby Digital (AC3), DTS
Video resolutions: NTSC 480i/480p, PAL 576i/576p, 720p, 1080i,1080p
Computer system requirements: Windows® XP, Windows Vista®, or Windows® 7 operating system or Mac® OS X 10.4.11 or 10.5.6 or later operating system ;  available USB port
Video output: Composite video, component video or HDMI
Audio output: Stereo, S/PDIF Optical Digital Audio or HDMI audio
Network: Ethernet connectivity enables access of shared folders on computers and other devices connected to your network such as a GoFlex Net media sharing device, media server or a NAS
Wireless: Optional Wi-Fi adapter (sold separately), Wireless-N supported
Internet Services: Netflix, YouTube, Paramount, vTuner, Mediafly, Picasa, Flickr, Video feeds (RSS), Text feeds (RSS), Finance widget, Weather widget
(Note: Some of the pictures in this review are clickable for an enlarged view.)
My A/V setup is very simple.  I have a 60" Sharp Aquos LCD TV, a cable box, and a Sony Blu-ray player.  Other than TV programming through the cable connection, our entertainment has been mostly limited to the DVDs we currently own.  We don't often bother with our local DVD rental store because they have a problem with correctly checking in returned movies.  Our cable service allows us to rent On Demand movies, but we seldom do because of the often choppy, pixelated playback of these movies.  This poor playback of the On Demand movies can't be attributed to our bandwidth, because we have outstanding bandwidth for home service.  I was happy to see that the GoFlex was partnered with Netflix, and I hoped that the playback of those movies would be better than the On Demand movies.  We were ready to broaden our entertainment horizons!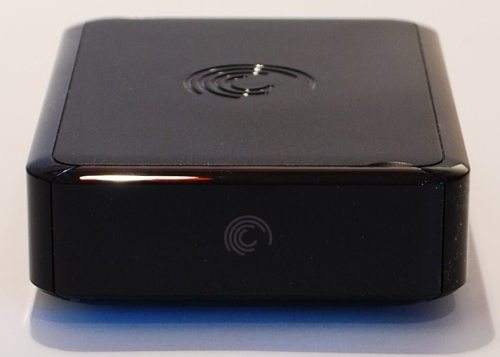 The GoFlex TV HD is a small black plastic box, some parts shiny and some matte.  There's only the Seagate logo and an LED on the front.  The LED is solid amber in standby mode, blinks amber while starting up, and is solid white when the unit is powered on.  If you find it distracting, you can disable the LED in the setup options.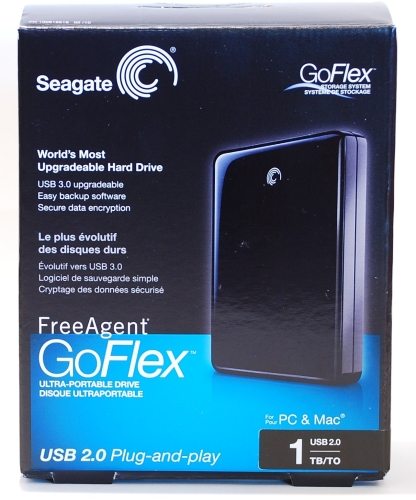 The GoFlex TV HD doesn't have any internal memory, so I was planning to use an external hard drive I had on hand with it.  When I received the package from Seagate, I was surprised to see that they had also sent a 1 TB Seagate FreeAgent GoFlex Ultra-portable hard drive.  The GoFlex Ultra-portable hard drive is also made of shiny black plastic, and it is even smaller than the GoFlex TV.  The hard drive comes with a connector cable that allows you to plug it directly into a USB port.  There is no power adapter for the hard drive; it is powered through the USB port.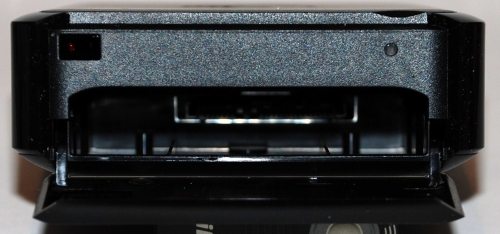 The GoFlex TV actually has an internal chamber (behind the hinged front cover) where you can install a GoFlex Ultra-portable drive, but the chamber is sized for a much smaller drive than the one I received.  The 1TB GoFlex hard drive is physically bigger than the smaller capacity GoFlex drives.  No problem, however, because the GoFlex TV has two USB 2.0 ports – one on the back, and one on the side.  I plugged the GoFlex Ultra-portable drive into the port on the back, leaving the more accessible port on the side available for plugging in USB flash drives, a digital camera, a digital video camera, or the like.

I did not receive the optional Wi-Fi adapter.  They were on backorder, so I bought an Ethernet cable and connected the GoFlex TV to my router.  Luckily my router and my TV are in the same room.  If you do decide to add the Wi-Fi adapter to your setup, you'll be happy to know that it supports wireless-N for best range and speed.

The GoFlex TV comes with composite and component cables, but no HDMI cable is included.  My new Sharp Aquos TV has a lot of HDMI connectors, so I bought an HDMI cable.  Now, I'm finally ready to go.  Or was I?
As I mentioned, my package didn't contain a Quick Start guide, CD, or manual.  I'm resourceful, so I went to the internet and found the most recent version of the manual and the Quick Start guide.  I hooked everything up in the order specified by the Quick Start guide.  No problems, until I came to the place where I was told to insert the CD.  I couldn't find downloadable software for the GoFlex TV on the internet, so I contacted Seagate customer service and was eventually told the Media Sync software (which allows you to automatically sync files on your computer with the GoFlex hard drive) was not available for 64-bit systems, and that the GoFlex TV device required no other software installed on the computer. 
I did find a trial version of Media Sync on the GoFlex Ultra-portable hard drive itself.  I connected the hard drive to my computer, installed the software, and ran it to copy my video files to the hard drive.  I found the copy to be rather slow, but I don't add a lot of files to my video directory.  I won't have to worry about needing a sync manager – I can just quickly attach the drive and copy over any new files as I add them if I want them on the Seagate's disk.  At the time I began testing the Seagate with my TV, I had copies of my home video files on both my laptop and on the hard drive attached to the GoFlex TV.  My music files and my picture files are only on my laptop.

The GoFlex TV comes with a remote control.  It is small, with only a few buttons.  There's a power button, Menu and home buttons (to quickly return to the home menu), a circular set of up/down/right/left/OK buttons to navigate the menus, video playback controls, volume controls, and video zoom buttons.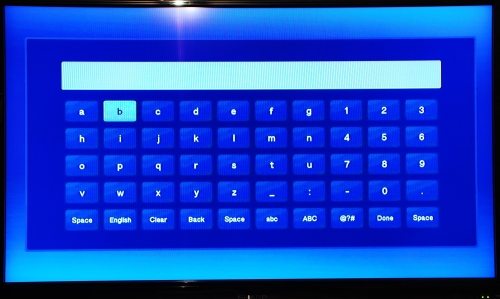 Some options will require you to input data.  There is an on-screen keyboard that you navigate and select letters with the remote control.  This option works well enough, but you can imagine it is slow.  You can attach a USB keyboard (wired or wireless) to the GoFlex TV using one of the USB 2.0 ports to make entering data much easier and faster.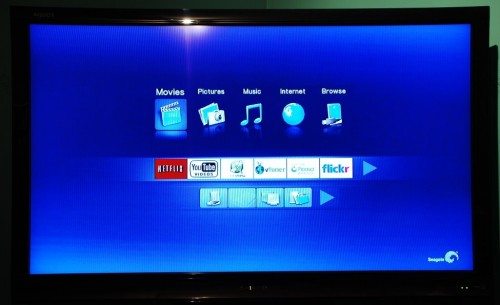 Finally, I'm ready to try out the GoFlex TV Media Player.  I selected the proper video source on my TV and powered on the GoFlex TV, and I was immediately connected.    The final option on the top row in the above image, Browse, lets you search the devices connected via the USB ports, and it lets you find computers on your network and setup shortcut connections for quick access to files stored on them.  I easily created a shortcut to my laptop by signing in once through the Seagate.  You can set up these shortcuts to allow free or restricted access to your files.  After defining the shortcut, you quickly and automatically get logged in to the network devices by browsing to your list of shortcuts.  I had to access the files on my computer through the Browse option or through the Network icon (looks like two computer screens) in the bottom row seen in the above image.  The "Movies", "Pictures", and "Music" options on the first row showed only the files on the connected hard drive.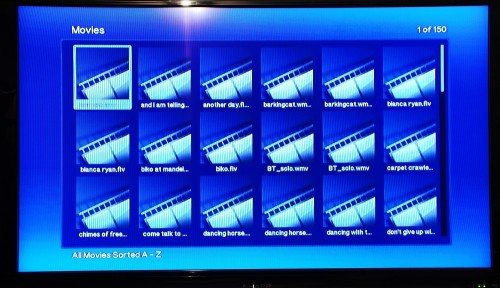 After I created the shortcut, I could see a listing of my computer's directories.  For music, picture, or video directories, you see an alphanumeric sorted list of icons like the one above.  I'll be honest and say I have no interest in playing music through my TV, so I gave that a cursory look.  I navigated using the menu control buttons, selected a song, and played it.  Music plays well, and information about the song and time remaining displays on the screen during playback.  I was able to play songs I had ripped from my CDs and songs I had purchased as digital files.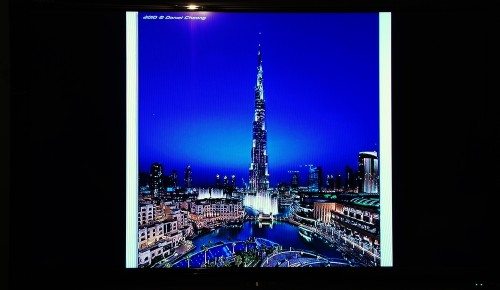 I'm also not very interested in looking at pictures on my TV screen, but you can view your photos in a slideshow while you're listening to your music, if you so desire.  Even high-resolution pictures taken with our Nikon camera could sometimes appear fuzzy when blown up to fit our 60″ TV.  The movie playback also works great with our home videos.  They played smoothly and cleanly.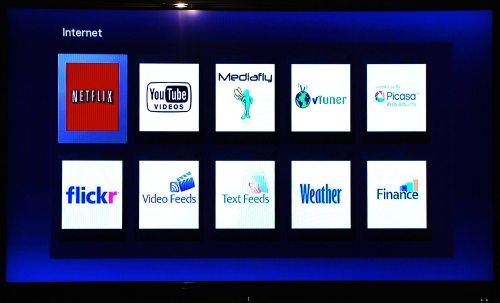 The "Internet" option takes you to the same options you see in the middle row of the home screen.  We'll talk about those options in more detail later.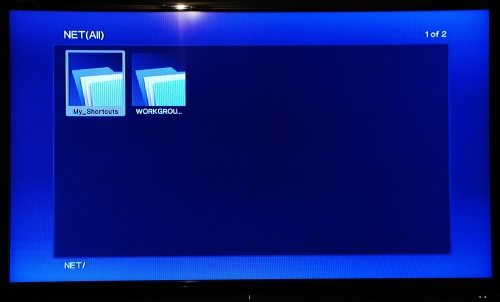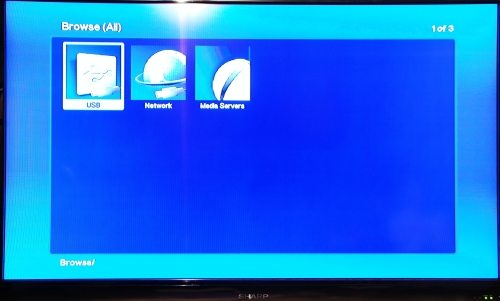 I found an HD movie trailer online and downloaded it to my computer.  I tried streaming it wirelessly from my computer, and it froze up a time or two during the first playback.  I tried playing it from my computer again on a different day, and it played perfectly.  When I copied the trailer to the GoFlex drive connected to the GoFlex TV, playback was smooth and uninterrupted.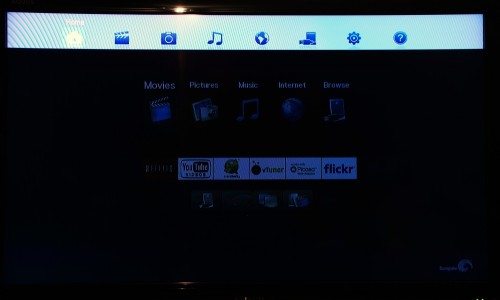 My TV can display information about the attached sources, and I was concerned to see that my video playback from the GoFlex TV was NOT in HD.  After all, I have a full-HD TV, an HDMI cable, and a GoFlex HD media player.  After a quick consultation of the manual I had downloaded from the internet, I realized that I needed to go into the setup function and select the appropriate video resolution for the GoFlex HD.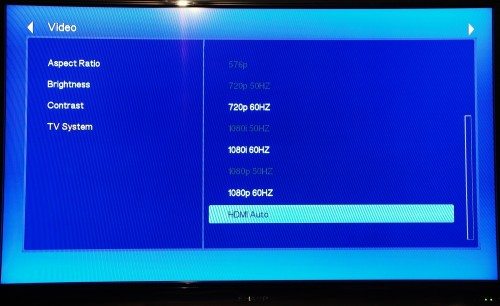 I selected HDMI Auto resolution, and my playback is now 1080p.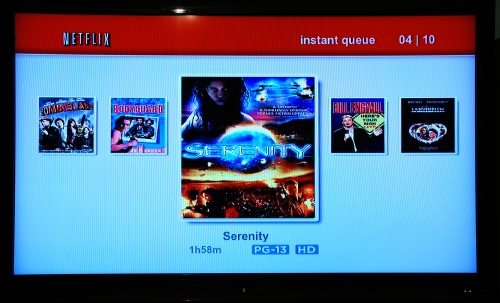 We'll finally discuss the Internet options.  I'm ready to try out the real reason I was interested in a media player – streaming movies from Netflix.  I created my Netflix account, activated my Seagate GoFlex, and was connected – just like that!  You can only play movies that you have already added to your Instant Queue at the Netflix website.  After a few minutes searching around the Netflix database from my computer, I had created an Instant Queue.  On the TV, you see a scrolling list of "movie posters", and the playing time and rating for each movie.  When you select a movie and press the OK button on the remote, you see a summary description of the movie, an option to rate the movie, and an option to remove it from your queue.  The only parental controls are those you set up for your Netflix account.  Once you select PLAY, you get a progress screen showing the movie retrieval which displays for a few seconds, then the movie starts.  We've watched several movies since installing the GoFlex TV.  Every single movie downloaded and played absolutely flawlessly.  There was no hesitation, no pixelation, no problems of any kind.  We won't be renting any more On Demand movies from the cable company!
Despite being listed in the online information, the Paramount video service isn't an option on my GoFlex TV.  YouTube videos can be accessed by several categories, including recently added, top rated, etc.  Or you can search for videos by name or sign in to access your account.  Mediafly lets you access popular videos or audio files, search, or sign in to your user account.  vTuner lets you listen to radio stations from around the world.   These functions were easy to use and worked well.
The Picasa picture service lets you search through and view public pictures, or you can access your account.  Flickr lets you search through photos, but there is no login option for your account.  These functions worked well, but some pictures didn't look their best blown up to fit the screen of our TV.
There are video RSS feeds for world or US news, business and technology, entertainment, and sports.  There are text RSS feeds from CNN News, NPR News, and BBC News.  There's a weather widget that shows information for pre-selected cities, or you can specify a zip code for your local weather information.  There's also a finance widget that shows you information for the Dow Jones Industrials and several pre-selected stocks; you can also add stocks to the list or delete stocks you are no longer interested in. 
There seems to be a little redundancy in the home screen options.  As I mentioned before, the "Internet" option at the top takes you to the exact same functions shown in the middle of the home screen.  The complete set of icons on the bottom row on the home menu are exactly the same options that are accessed through "Browse" at the top of the screen.  I don't mind this, though I wish I could re-order the sets of options.  I'd like to have Netflix on the top row, or at least be able to define it as my pre-selected option when I turn on the GoFlex TV. 
You'll be happy to know that the GoFlex TV's firmware can be updated.  Simply check the Seagate website periodically for downloads to keep your GoFlex TV up-to-date with the lastest version.
I found the GoFlex TV HD media player to be a snap to set up.  It's easy to connect the player to computers on your network, even when you use the on-screen keyboard and the remote to enter your information.  I was able to easily access and play files on my computer with few problems.  It's easy enough to copy any personal files onto the GoFlex Ultra-portable hard drive, and playback from there is flawless.  My favorite thing is the Netflix option.  It's a snap to connect to Netflix and select a movie from your Instant Queue.  Netflix movies worked perfectly – no choppiness, no pixelation, and no problems of any kind.  The only hiccough I had was because of the missing CD – that I didn't actually need.  I would recommend that the Quick Start Guide be amended to remove the CD installation step.  Quick Start also should tell you to go into setup and choose the correct output resolution for your home theater.  I recommend the Seagate GoFlex TV HD media player, and it will have a permanent place in my A/V setup.
I didn't mention the GoFlex Ultra-portable drive much in this review.  I'll be covering it, along with a 500GB version in more detail in an upcoming review.
The photo of the tall building shown on my TV screen is from the public pictures at Flickr.

Product Information
Price:
$129.99
Manufacturer:
Seagate
Pros:

Easy setup
Streaming, HD playback works flawlessly
Easy to access content from hard drives, USB flash drives, and cameras
Netflix access is easy and works perfectly

Cons:

Quick Start Guide steps include installing software that wasn't included nor needed
Can't sign in to your Flickr account
No HDMI cable included
Home screen options are a bit redundant