We use affiliate links. If you buy something through the links on this page, we may earn a commission at no cost to you. Learn more.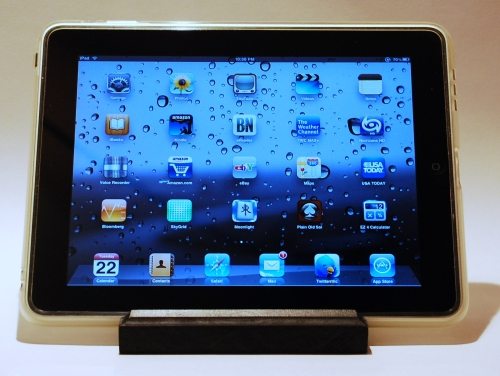 There are a lot of stands for iPads.  Some are metal, some plastic, some cheaper, some more expensive – some are even made by Apple.  A lot of them are bulky, which makes it hard to take them along in your gear bag.  While digging around looking for interesting news items, I stumbled upon the GroovyStand for iPad.  Since Father's Day was quickly approaching, I decided I'd order one as a gift for my husband.  Luckily, it arrived long before Father's Day, so I had a chance to try it out.
GroovyStands are made from a piece of wood, but I can't tell what variety.  There are four models and three finishes to choose from.  All models can hold the iPad in a portrait or landscape orientation. There are round or square GroovyStands routed to hold the iPad at about an 18 degree angle for easy viewing.  There's a GroovyWriter, which holds the iPad at a 45 degree angle for easy typing.  The one that intrigued me was the Groovy Dual – a square stand that has been routed with both angles.  You can use it as a viewing or a typing stand.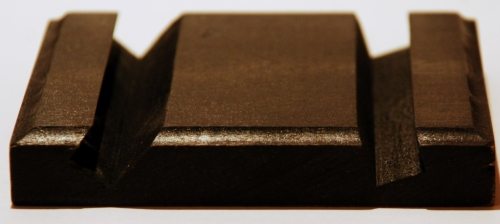 The problem I have with most stands on the market is they only work with a naked iPad.  I have my iPad in a Belkin Grip Vue case, and I only take it out when I'm trying out a case I'm reviewing.  My husband NEVER takes his iPad out of the Grip Vue.  The GroovyStands are available in the standard groove model, for the naked iPad, and the wider groove model, for iPads in a skin case.  I took a chance that the Grip Vue is a skin case, and I ordered a Groovy Dual in black.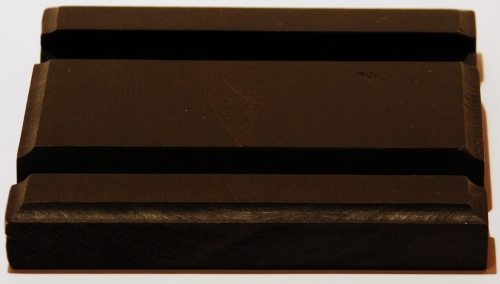 I was thrilled to find that the iPad in the Belkin Grip Vue fit perfectly in the GroovyStand.  However, it's not the most beautifully crafted item I've seen.  The wood hasn't been sanded quite as smooth as I'd like.  There are some little divots on the top of the stand.  It doesn't have a slick, shiny finish like I'd expect with a varnish.  The rough texture on the bottom may help stabilize it on slick tables, so I can live with the rough finish if it works well.  So how did it work as a stand?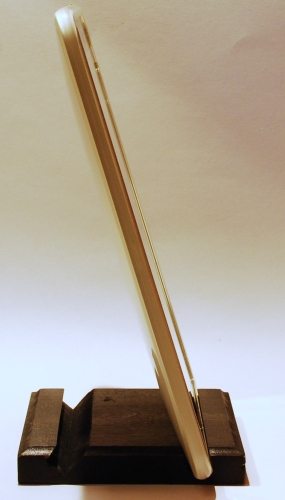 The 18 degree groove puts the iPad at a good angle for viewing the iPad when it's on a table.  The iPad is very stable in both horizontal and vertical orientations.  In addition to watching videos, I found this angle worked great when I was reading ebooks.  I think you might find this angle works better with standard height or taller tables.  If you are using a low surface, like a seat-back tray in an airplane, the 45 degree angle may work better for viewing.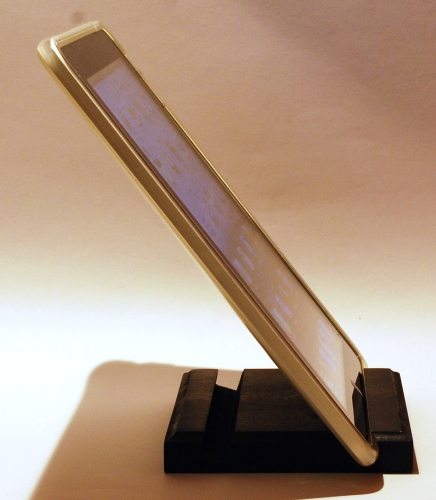 The 45 degree groove is designed to hold the iPad for easy typing in portrait and landscape orientations.  I could type at this angle, and I could see everything that I was typing on the iPad screen.  I do think a lower angle would have been more comfortable and felt more natural.  I felt that my wrists were a little too flexed back towards my arms at this angle.  However, the iPad was very stable in either portrait or landscape orientation while typing.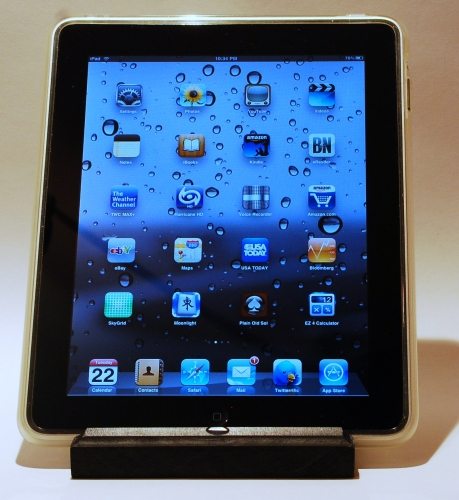 The Groovy Dual works great as an iPad stand for watching videos, reading, or even as a stand on a bedside table when using the iPad as an alarm clock.  Depending on your table height, either angle would work as a viewing stand.  Not everyone will find that the 45 degree mode works for typing, but you could use the Groovy Dual with a Bluetooth keyboard of your choice.  And, so long as the docking connector is exposed, you can use the GroovyStand as a charging/sync cradle.  It's only 5.5" X 4.75" X 1", so the Groovy Dual will fit in your laptop or gear bag. 
Butch loves his Father's Day present.  He uses it with one of the Bluetooth Apple keyboards for taking notes at work meetings, and he says it's a perfect setup.  I love it, too.  I'll order a second one for me – perhaps as a retroactive Mother's Day present.

Product Information
Price:
$14.95 for the standard groove; $18.95 for the wider groove
Manufacturer:
GroovyStand
Pros:

Very stable stand for iPad
Works with iPad in portrait or landscape orientation
Can be used as a viewing or typing stand
Small and lightweight
Inexpensive
Can work with iPads in skin cases

Cons:

Some people may find the 45 degree angle isn't comfortable for typing