We use affiliate links. If you buy something through the links on this page, we may earn a commission at no cost to you. Learn more.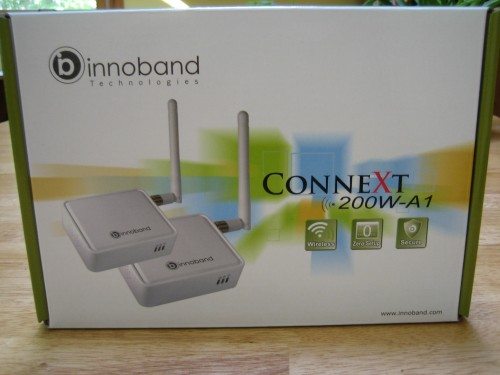 If you think you need to run ethernet cables from your router upstairs to a device downstairs, you might be in the market for the ConneXt 200W-A1 from innoband.  You can save yourself some grief and money using this wireless ethernet bridge.  It really doesn't get any easier than this.
Features:
Ready to go right out of the box.
Auto pairing.
High security and encryption pre-configured.
No new wiring.
Dedicated WiFi bandwidth not shared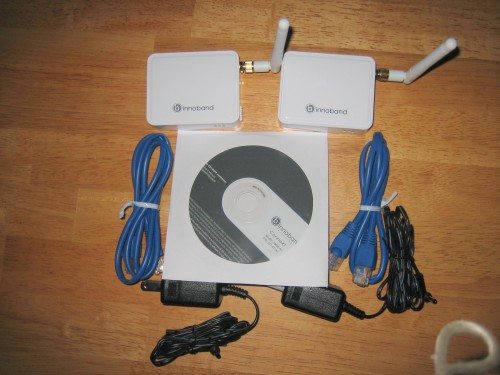 The package contains a complete solution for connecting your ethernet device to your router or switch.  The CD contains the instruction manual which is totally redundant and in my opinion unnecessary.  All you'll need to know is printed on the box.  Here's the verbatim text from the manual for installation:
Connect one end of the Ethernet cable to ConneXt 200W-A1, another end to your PC /notebook or Ethernet device.
Connect ConneXt 200W-A1's power adapter to an outlet.
Connect your second device following step 1 and 2.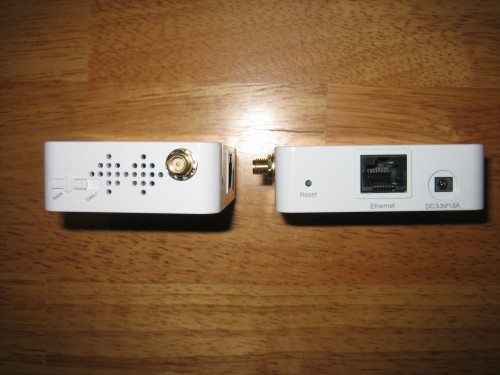 There's not much to the device.  Aside from the jacks there is a switch on the units that selects the mode of operation.  The default is set to relay mode, which enables  the units to connect a device via a router/switch to the internet.   When switched to direct mode, it allows connection of two devices directly.  For example, you can hook 2 Xbox 360s together.  In both cases,  wireless WPA2 encryption is always on.  There are also 3 indicating LEDs on the front showing status.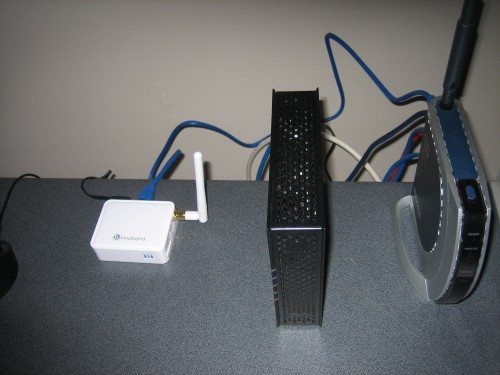 Here's how I hooked up the ConneXt 200W-A1.  On the second floor of my house I plugged one unit into an ethernet port on my router.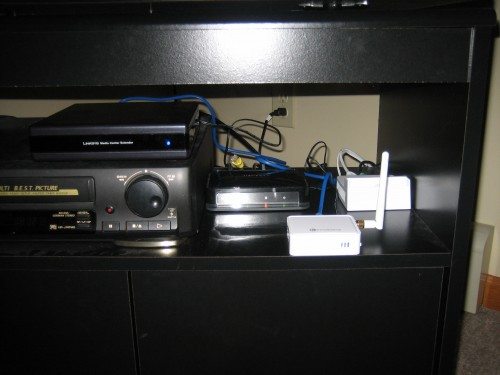 Downstairs and about 40 ft. distance, I connected the other unit to the ethernet port on my DMA2100 Media Center extender.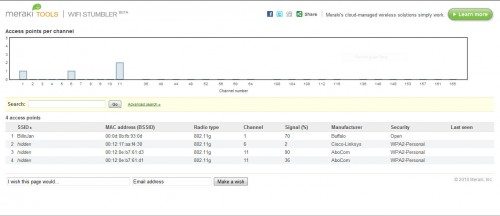 I wanted to see how the units were recognized on the network, so I ran WiFi stumbler, with the above results.  Access points 3 and 4 are the ConneXt units.  You'll notice that they are WPA2 encrypted and apparently use channel 11.   I really didn't do any scientific speed testing, however, using the media center extender, I was able to watch standard def video and stream music with no problem.  Be aware, this device uses 802.11G technology, so streaming HD is not going to work.  Also, you'll want to use it as a single access point.  Putting a switch on the box could be done, but there isn't enough bandwidth to support traffic on your LAN.  I like to think of the device as wired WiFi.  I also connected my Laptop via the ConneXt to the router.  Again, I had no problems and throughput appeared the same as when using the Laptop's WiFi.
The obvious question is "why would I need this if my devices are already WiFi enabled?"  In my setup, the media center extender already has 802.11N built-in, so the ConneXt unit provides no advantage.  However, if you have a network enabled device that doesn't come with WiFi  (TV, DVD player, game console) , using the connect saves the expense of the normally optional WiFi adapter or having to run ethernet cable from the router.  It also  simplifies setup because there are no settings and passwords required.

Product Information
Price:
$79.99 at Amazon
Manufacturer:
innoband Technologies
Requirements:
Pros:

Easy for even a technophobe to install.
No software or settings required.

Cons:

Needs to be 802.11n
A bit pricey