We use affiliate links. If you buy something through the links on this page, we may earn a commission at no cost to you. Learn more.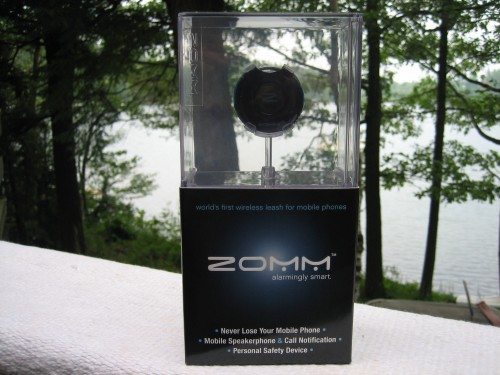 Do you need a device that lets you know when you've forgotten or misplaced your smart phone? ZOMM thinks you do, and they've added the capability of a speaker phone, panic alarm and emergency assistance dialer.
Here's what the ZOMM is described to do:
Wireless Leash that notifies you whenever your ZOMM and mobile phone separate anywhere from 30 to 120 feet.
Call Notification Device that will vibrate, flash its lights, then ring when you receive a call on your mobile phone.
Speakerphone that enables you to answer calls on-the-go.
One-Touch PANIC Alarm that alerts people around you when you are in distress.
One-Touch Emergency Dialer that dials emergency assistance with a single button press when connected to your mobile phone.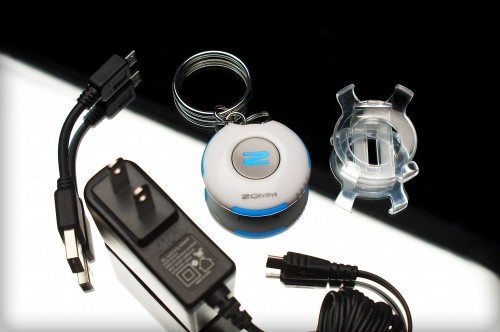 In the package are the ZOMM device [comes in white or black], belt clip, key chain, charger, update cable and quick start guide. If you want a more comprehensive manual, you can download it from their web site.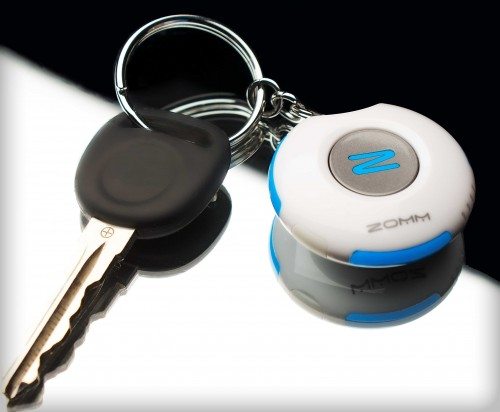 The device features a back-lit button and three alert lights along the edge. There is also a micro USB port [for update cable and charger], microphone and on the back side a speaker.
The first step for the review was to charge the device , which I did. The quick start guide advises you to activate the device online using the supplied cable. Unfortunately, I was spending a couple of weeks at a vacation home that doesn't have Internet access, so I had to skip that step. Fortunately, activation isn't required to use the device.
To use the ZOMM, it is necessary to pair it, via bluetooth, to the phone you'll be keeping track of. It was easy enough to do, following the directions in the guide. Lastly, I "connected" the ZOMM to my phone.
The main function of the device is to alert you to the fact that you've strayed from your cell phone. In my tests I've found that the separation distance before it alarms varies greatly and is dependent upon what's between the phone and the device. At one grocery store, I was more that 200 feet from my phone before I received an alarm.
I began using the unit with the supplied belt clip. This became very exciting when after the first day the device disappeared. I seems that while I was getting out of my car, the seat belt caught on the device and pulled it from the belt clip. I discovered the missing ZOMM after I went into the house and turned off my phone and expected an alarm. When it didn't happen I panicked, thinking this would be my shortest review. I retraced my steps and sure enough, the ZOMM was on the floor of my vehicle. Interestingly, I didn't hear it until I opened the car door. It's not that loud. Moral to the story; if you buy this device, use the supplied keychain, which is what I did from then on.
The ZOMM also acts as a hands free speaker phone. I used this feature several times and decided it's of limited value. Firstly, I had to retrieve the ZOMM from my pocket when receiving a call [ remember it's on my keychain] and then look like a dork as I talk to my keys. I opted to just grab the phone off my belt. However, using the phone proper will disconnect the ZOMM and then I would get an alarm which had to be silenced. Only one bluetooth device can be connected to my cellphone at a time.  Don't all cellphones have a speaker phone anyway?
The ZOMM also acts as a panic alarm. This can be activated by pressing and holding the center Z button for about 10 seconds. This will sound a loud ( the manufacturers term) alarm and will continue for 10 minutes or until the Z button is pressed. I tried the panic alarm on several occasions and it didn't appear to cause those around me to take notice.
Before checking out the emergency call feature, I found Internet access and activated my device. The main feature of activation is to register your email and more importantly it gives you the opportunity to change the phone number that will be dialed when using the emergency call feature. The device comes with a default of 911 and I really didn't want to test that out, so I changed it to my home number.
To activate the feature, you hold the Z button until the panic alarm sounds and then keep holding it until you hear "Dialing emergency assistance". The ZOMM then calls the programmed number through your connected cellphone. The person answering the emergency call will hear "This is an emergency call, do not hang up. If the caller does not speak after this recording, send emergency assistance to this phones location immediately."
OK, the ZOMM works as advertised, but I'll be sending my unit back. I cannot justify spending $80 to tell me I've misplaced my cellphone. My situation may be unique because I only buy prepaid phones and have never paid more than $25. If I lose one, which so far hasn't happened, I'll buy another. If I leave it somewhere, I'll go back and get it. The ZOMM device requires that you remember to turn it on, so why not just remember to take your phone with you. It also requires that I turn it off when I get into my car, otherwise I can't connect to my Ford Sync system.
For those of you with the $500 smart phones, you can buy loss/damage insurance for about $5/month, or you can buy the ZOMM and listen to the alarm as the taxi speeds away with a big part of your $3000 2 year investment in the back seat. I know which way I would go. As for the other features, if I was threatened, I'd rather carry something more substantial than a buzzer and as for the emergency dialing, if I can hold the ZOMM button for the 20 seconds required, I'm sure I could dial 911.
Product Information
| | |
| --- | --- |
| Price: | $79.99 |
| Manufacturer: | ZOMM |
| Requirements: | |
| Pros: | |
| Cons: | Seems superfluous, expensive |