We use affiliate links. If you buy something through the links on this page, we may earn a commission at no cost to you. Learn more.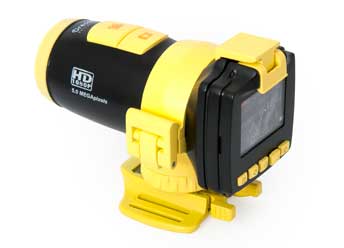 You can get extreme with Oregon Scientific's new HD all terrain video camera. The ATC9K can go with you skydiving to suba diving. It's an easy-to-use, waterproof and shock-resistant camera that can be strapped to a helmet, handlebars, surfboard, or snowboard. It features 1080p HD video, shoots up to 60 frames per second, has 130 degree wide field of view and captures 5-megapixel photos. It is also compatible with a GPS plug-in (sold separately with availability in October) that enables PC-users to map their location, speed and distance traveled on their computer during playback using Google Maps or Google Earth. It's available now for $299.99. They are currently running a contest too. Details after the jump.
Through September 30th, ATC fans can get in on the action by uploading their own videos to Facebook and sharing the mud, sweat, and glory of their own outdoor conquests.  From dirt-biking to sea kayaking, the ATC9K can capture it all – even up to 65 feet under water.  Video submissions that meet contest terms and conditions will be narrowed down to the top five videos.  The winning videos will be selected by a panel of judges and prize packages include one Grand Prize package valued at $750 and one Runner-up prize package valued at $350.