We use affiliate links. If you buy something through the links on this page, we may earn a commission at no cost to you. Learn more.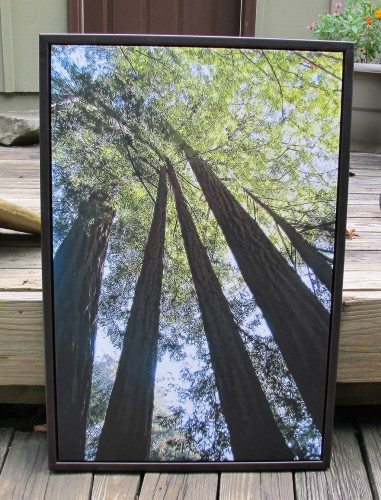 Even though I probably take over a 1000 pictures a month with my digital camera, I don't consider myself a photographer. I don't really know the ins and outs of F-stops, aperture, ISO or any of that other photography jargon that the pros know. All I know is that I like snapping pictures, either macro shots for my reviews, shots of my crazy cat Max or outdoor shots. When the people at CanvasPop contacted me to see if I might like to try out their service, I thought it would be an excellent way to take an original image and turn it into a framed piece of art for my newly remodeled basement living room. The remodel isn't quite done yet, but I'll be ready with the art when it is. Let's take a look at what CanvasPop was able to do with my image.
Note: Several of the images in this review can be clicked to view a larger sized version.
First of all, I should come clean and say that the image I used for this review wasn't snapped by me personally. 🙂 It was actually taken by my partner Jeanne when she took a short trip to Muir Woods near San Francisco California, while I was attending MacWorld two years ago. Muir Woods is an ancient Redwood forest that provides excellent photo opportunities.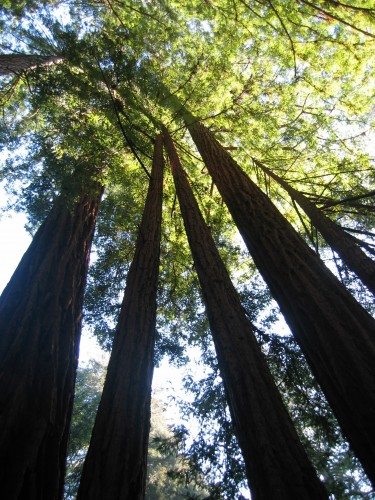 This is the original picture that used for the review. It was shot with a Canon PowerShot S45 at a resolution of 1704 × 2272.
The first thing you do is choose the layout for your image.

They offer 2, 3 and 4 panel styles, where your image is split into sections. I decided to go with a single panel style.
The next step is to upload your digital image to CanvasPop's website. It's is very easy and if you don't have a digital image, they can scan your picture if you mail it to them.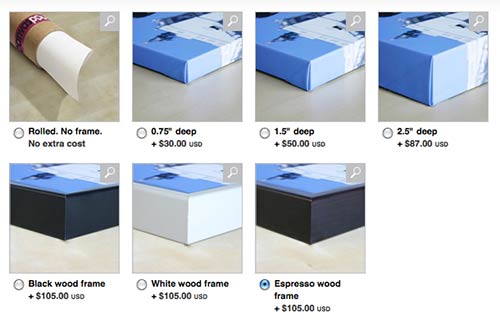 Then you choose the canvas size and frame type. CanvasPop will take any type of image, any resolution and print it on an actual canvas, with or without a frame. I decided to go with a 20 x 30 inch print size ($99) and an Espresso wood frame, which was a $105 option. They offer a large selection of sizes and the ability to use a custom size from 8 to 38 inches by 10 to 76 inches.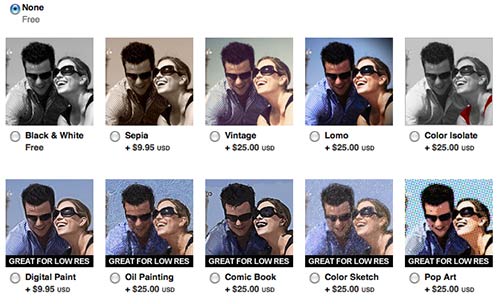 Once uploaded, you can choose from different effects to apply to the image, or no effect at all. Since my original picture was not an extremely high resolution image and I planned to blow it up to 20 x 30″, I thought it best to do something to it to help make it stand out better. So I decided to go with their digital paint effect which is a $9.95 option.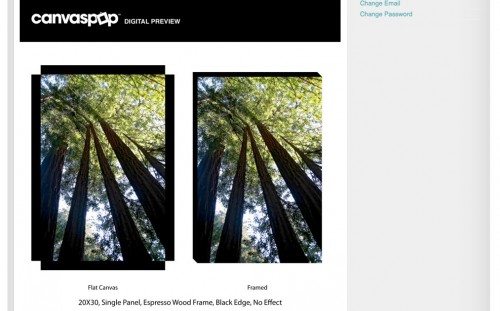 You don't have to worry that an effect will turn out wonky because they can send you proofs through email so that you can see what you're getting before you place the actual order. I did run into a slight what the heck moment though when I received the proofs in my inbox… If you click the image above, you'll see what I received. As you'll notice, you can't even tell what the effect has done to the image because they only send small thumbnails. I had to email them and ask for a larger version of the proof. I would have thought that would be a no-brainer to do that by default. I guess not. That said, they did get me the larger version within a couple of hours.
That's really all there was to it. I confirmed the proof and placed the order on a Friday and received an email the following Wednesday that the print had shipped. I then received it in a securely packed box the following Tuesday.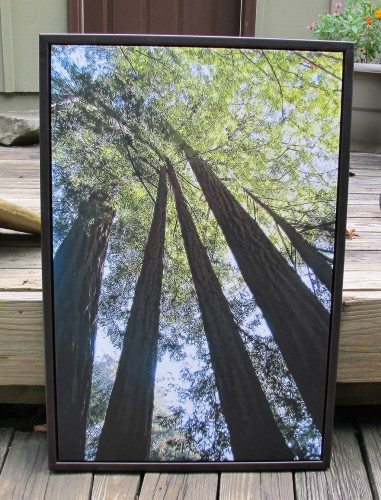 Here is the finished product. What do you think? In my opinion, it turned out great and is going to look perfect in my basement.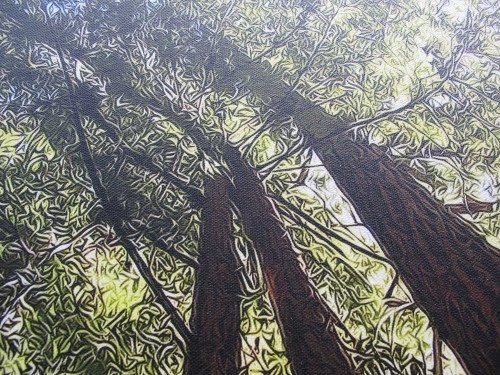 Here is a close up of a portion of the canvas. You can see the cool digital paint effect that was done to the original image. I really like it. Jeanne wasn't sure about it when I showed her the proof. She wanted me to order it with no effects at all. I'm glad I talked her into it using it though. I don't think the original image would have looked that good blown up to that size. It would have been fuzzy.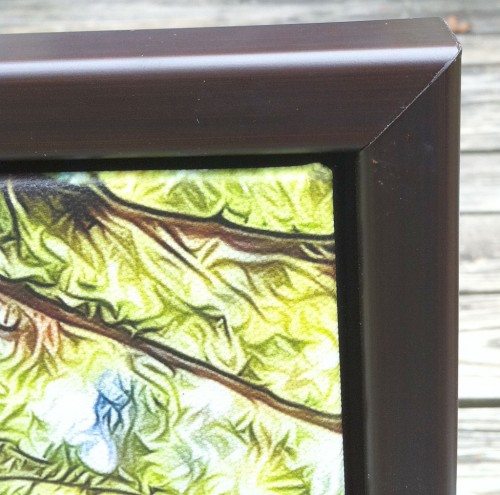 Here you can see a close up of the wrapped canvas in the frame.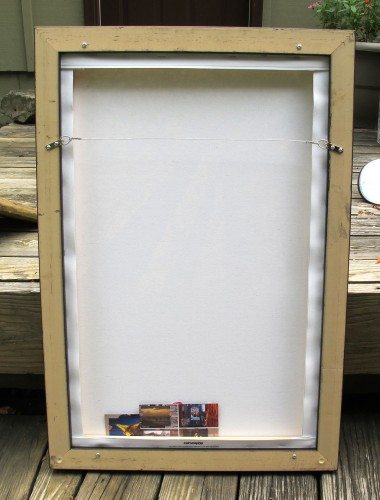 Here's a back view. I'm not sure what type of wood the frame is made of. It's pretty heavy. It could be pressed wood for all I know. The wood grain pattern on the front does look to be some type of overlay. That said, It looks really nice.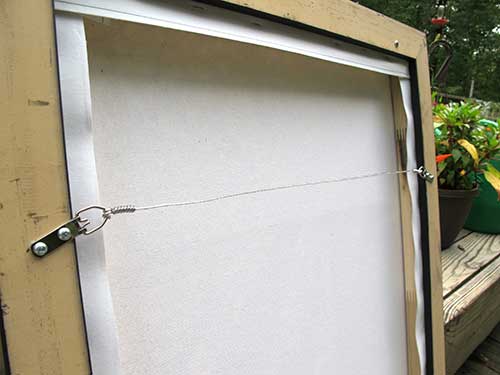 This is a close up of the hardware used for the hanger. I absolutely can't wait to get this hung up downstairs. I'll add an image to the review as soon as I do. We're hoping to have remodel completed by the end of August. 🙂
This 20 x 30 framed picture from CanvasPop was over $200, which isn't cheap by any means. But it turned out great and just the fact that it's something original and snapped by our camera, makes it special. It's also good to know that if you're not 100% satisfied with your purchase they will either reprint it for you, or give you your money back. They also offer a lifetime guarantee against cracking, fading or bubbling. I'm very happy with the result and am already looking through my pictures to see what I want to make next.
Product Information
Price:
Varies depending on size, frame and effects
Manufacturer:
CanvasPop
Pros:

Easy ordering process
Fast email support
Nice quality print
Heavy frame

Cons:

Emailed proofs were too small to see detail