We use affiliate links. If you buy something through the links on this page, we may earn a commission at no cost to you. Learn more.
This review is going to be short and sweet.  The 10″ Flak Jacket from Levenger is a protective sleeve for a netbook and – you guessed it! – the Apple iPad.  It's a simple product made to do a simple job – protect your device.  How does it perform?
The Flak Jacket is actually made by Higher Ground.  The only branding on the Flak Jacket is the embroidered "mountain range" logo on the front and back and one on the rubbery zipper pull.  The outside (front and back) is made of ripstop nylon panel on a heavy knit fabric.  The sides and bottom are the ripstop nylon fabric.  The interior is the black knit fabric from the exterior.
The 10″ Flak Jacket is designed to hold a netbook up to 10″, but it also works well for an ereader device or the iPad.  I'll be using it with my iPad.  The exterior dimensions are 11.5″ wide X 8.38″ tall X 1.25″ thick.  This is not a flimsy neoprene sleeve.  The Flak Jacket is padded with shock-absorbing polyurethane foam (LRPu) and reinforced with 2-ply plastic corrugated sheets on each side.  There is also a cushioning frame of the LRPu foam along sides and bottom of the case.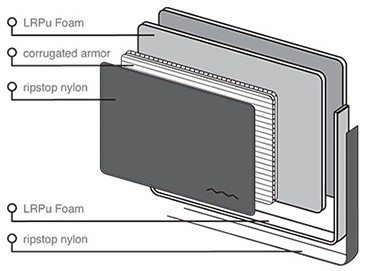 The 10″ Flak Jacket is compact, and it's just right to protect my iPad when I'm travelling light.  The sleeve will fit into many of my purses, and it handily fits into a messenger bag or laptop bag.  My iPad in its Belkin Grip Vue case fits inside the Flak Jacket with some room to spare.  The 10″ Flak Jacket is a welcome addition to my ever-expanding collection of iPad cases and covers.

Product Information
Price:
$30.00
Manufacturer:
Higher Ground
Retailer:
Levenger
Pros:

Reinforced and protective
Compact
Well made

Cons: