We use affiliate links. If you buy something through the links on this page, we may earn a commission at no cost to you. Learn more.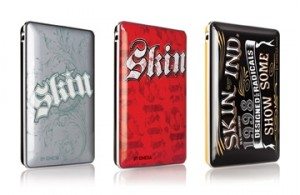 If you've been worried that your portable hard drive isn't fashionable enough, then Iomega has come to your rescue with their new Skin line of USB drives. They are offering three unique designs and 500GB capacity. These drives offer Drop Guard protection feature that helps protect the drive when dropped from up to 51″. The drives also include Protection Suite software that offers backup and anti-virus software. All three Skin Hard Drive models retail for $119.99 each. Full press release after the jump.
Iomega Shows Some Skin with Exciting New Portable Hard Drives
***
Three Hip, Unique Designs for Expressing Your Own Style And Storing All Your Videos, Photos and Music
Make Colorful New Drives More than Just Your Parents Portable Storage
SAN DIEGO, June 21, 2010 – Iomega, an EMC company (NYSE: EMC) and a global leader in data protection, today announced the launch of the exciting new line of Iomega® Skin™ branded Hard Drives, three different 500GB* portable hard drives that pop with unique designs and colors that scream, "Who says portable storage has to be boring?"
In conjunction with the popular Skin Industries, one of the leading alternative "Sports Fashion" brands in America today, Iomega's new Skin Hard Drives feature three compact personal storage models with custom Skin-branded graphics that stand out in a burst of hip culture compared to anything else in the hard drive market today.
"The new Iomega Skin Drives exude an alternative personality with eye-catching Skin Industries graphics that demand the attention of anyone who doesn't accept the status quo, who zigs when others zag, especially when it comes to the look and design of their digital devices," said Jonathan Huberman, President of Iomega and the Consumer and Small Business Products Division of EMC.  "Iomega's new Skin Drives deliver that kind of excitement in a lightweight, compact design with the quality features people expect from Iomega, including industry-leading ruggedness to protect your data and a top-tier software suite bundled free of charge with every Skin Hard Drive.  That's an unbeatable personal storage combination for tech-savvy students and young professionals alike."
Iomega Skin Hard Drives
There are three different models in the new Iomega Skin Hard Drive line.  All three models are USB 2.0-powered 500GB portable hard drives.
The "Radical" Skin Hard Drive model has a retro Skin-branded printed logo design on a black top with a vibrant yellow base, creating a look that stands apart from any other portable hard drive.
The "Red Hot" Skin Hard Drive model features a "Skin" Swipe logo printing on a red top with a black base, creating a definition of hip and hot for today's young iconoclastic computer user.
The "Knock Out" Skin Hard Drive model has a dark, mysterious aura with a "Skin" Gothic logo design on a silver top with a black base.  One look at this portable hard drive beauty and envious friends and co-workers could be down for the count.
Al Borda, CEO of Skin Industries, said, "We continue to build on the lifestyle tradition of Skin Industries. As the CEO, I like to think ahead and focus on the future in everything we do for the company.  With the release of the exciting new Skin hard drives and joining with Iomega, this is another step forward for Skin to become more than just a clothing company."
The new Iomega Skin Hard Drives will be featured in a July window display at J&R Music and Computer World's flagship store on Park Row in New York City.
"Young people today are looking for something different in everything they buy and use," said Rachelle Friedman, President and Co-CEO, J&R Music and Computer World, downtown New York City.  "At J&R, we're always looking for unique and exciting products for our customers.  Iomega's new Skin portable hard drives not only have personality and style compared to other hard drives in the market today, they also deliver on the functionality that's required of a quality portable hard drive – plenty of space for music, photos and videos, as well as rugged, dependable and easy-to-use.  Put it all together and the new Iomega Skin Drives are a great new addition to J&R's computer peripheral offerings."
Self-Powered Drives with Plenty of Room for Lots of Multimedia Files
All three of the new Skin Hard Drives are perfect for slipping into a laptop bag or pocket to take anywhere your laptop goes.  Best of all, the USB interface on the Skin Hard Drives require no external power supply.  Just connect the included USB 2.0 cable to your Skin Hard Drive and your laptop, netbook or desktop and you are ready to store and share photos, music, videos and more.
To appreciate how much data can be stored on a new 500GB Iomega Skin Hard Drive, users have enough capacity to hold up to 200,000 photos, over 125,000 songs or more than 190 hours of video**.
As Rugged as You Wanna Be!
All three of the new Skin Hard Drives feature Iomega's standard Drop Guard™ protection, which helps guard the drive from accidental drops of up to 51 inches on to industrial carpet – or 40% better than the industry average.
Iomega Protection Suite Software Included Free With New Skin Drives
Included free of charge with all three of Iomega's new Skin Hard Drives is the Iomega Protection Suite, a one-stop portfolio of backup and anti-virus software giving users added protection for their photos, videos, music and other files.
The Iomega Protection Suite includes:
A complementary 12 month subscription to Trend Micro™ Internet Security for the PC, or Trend Micro™ Smart Surfing software for Mac.

Iomega QuikProtect: backup software for simple scheduled file-level backup of data to hard drives and network-attached storage devices (for Windows and Mac desktops and notebooks).

Retrospect® Express software: backup all of your data plus applications and settings (for Windows and Mac desktops and notebooks).

MozyHome™ Online Backup service: Convenient online backup service with 2GB of online capacity for free (unlimited online storage for $4.95/month).  MozyHome Online service allows you to restore your most important data from any computer with internet access, at any location in the world.
All of the software elements in the Iomega Protection Suite are accessible via easy download to Skin Drive owners.
Pricing, Availability and Warranty
The new Iomega Skin Hard Drives are available today in the U.S. at select retailers, etailers and at www.iomega.com.  All three Skin Hard Drive models retail for $119.99 each.  (Pricing is U.S. suggested retail.) Iomega's new Skin Hard Drives also will be available next month in select European markets.
Iomega's new Skin Hard Drives include a 3-year limited warranty (with registration).
For more information on the new Iomega Skin Drives as well as Iomega's complete line of portable and desktop direct-attached hard drives, please go to www.iomega.com.  Be sure to learn more and discuss Iomega's new products on our social media sites found at www.iomega.com/social.
About EMC
EMC Corporation (NYSE: EMC) is the world's leading developer and provider of information infrastructure technology and solutions that enable organizations of all sizes to transform the way they compete and create value from their information. Information about EMC's products and services can be found at www.EMC.com.
About Iomega
Iomega Corporation, a wholly owned subsidiary of EMC Corporation headquartered in San Diego, is a worldwide leader in innovative storage and network security solutions for small businesses, home offices, consumers and others. The Company has sold more than 425 million digital storage drives and disks since its inception in 1980. Today, Iomega's product portfolio includes industry leading network attached storage products for the home and small business; one of the industry's broadest selections of direct-attached portable and desktop external hard drives; and the ScreenPlay™ family of multimedia drives that makes it easy to move video, pictures and other files from the computer room to the livingroom. To learn about all of Iomega's digital storage products and managed services solutions, please go to the Web at www.iomega.com. Resellers can visit Iomega at www.iomega.com/ipartner.
NOTE: This release contains "forward-looking statements" as defined under the Federal Securities Laws.  Actual results could differ materially from those projected in the forward-looking statements as a result of certain risk factors, including but not limited to: (i) adverse changes in general economic or market conditions; (ii) delays or reductions in information technology spending; (iii) our ability to protect our proprietary technology; (iv) risks associated with managing the growth of our business, including risks associated with acquisitions and investments and the challenges and costs of integration, restructuring and achieving anticipated synergies; (v) fluctuations in VMware, Inc.'s operating results and risks associated with trading of VMware stock; (vi) competitive factors, including but not limited to pricing pressures and new product introductions; (vii) the relative and varying rates of product price and component cost declines and the volume and mixture of product and services revenues; (viii) component and product quality and availability; (ix) the transition to new products, the uncertainty of customer acceptance of new product offerings and rapid technological and market change; (x) insufficient, excess or obsolete inventory; (xi) war or acts of terrorism; (xii) the ability to attract and retain highly qualified employees; (xiii) fluctuating currency exchange rates; and (xiv) other one-time events and other important factors disclosed previously and from time to time in EMC's filings with the U.S. Securities and Exchange Commission.  EMC disclaims any obligation to update any such forward-looking statements after the date of this release.
# # #