We use affiliate links. If you buy something through the links on this page, we may earn a commission at no cost to you. Learn more.

Not only do I love pocket tool kits, I have a real need to carry a variety of tools with me at work. Not just the pliers and screwdrivers common on most multi-tools, but other tools as well. I was pleasantly surprised by Doc Allen's Versatool.
I got my first Versatool from a local hardware store and used it extensively for a couple years until I lost one of the parts. Recently, I found the website and ordered myself another.
Doc Allen's Versatool is an interesting design- a 1/4″ socket holder is mounted on a sturdy metal oval. It comes with a 1/4″ socket to hex bit magnetic adapter. The adapter has crosshatching etched into the side so you can use it alone for a low-torque driver.
It also comes with an extension bit for hex drivers, and 22 assorted hex bits- slotted, Phillips, and Allen (with some duplicates. See the note at the end.) All of this fits neatly in a small zippered pouch with a simple belt loop.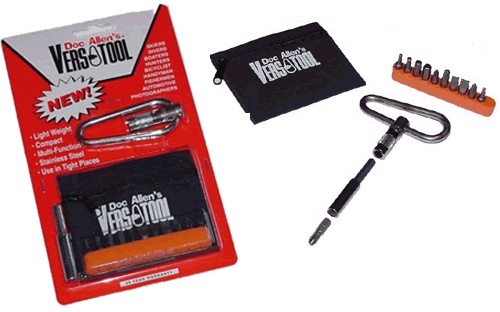 So, what is the big deal? The genius of the system is the oval loop- there are two small dimples on it that let the main adapter lock into a couple places- on the big end of the oval for maximum length and decent torque, along the middle of one side for medium torque, or near a short end for high  torque.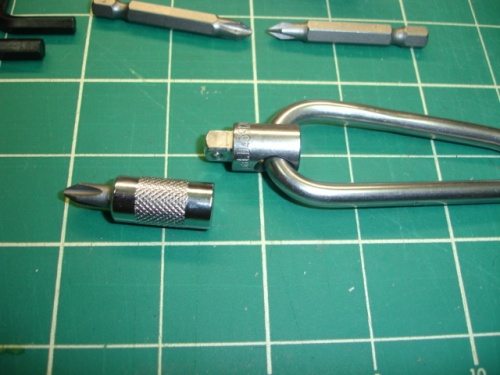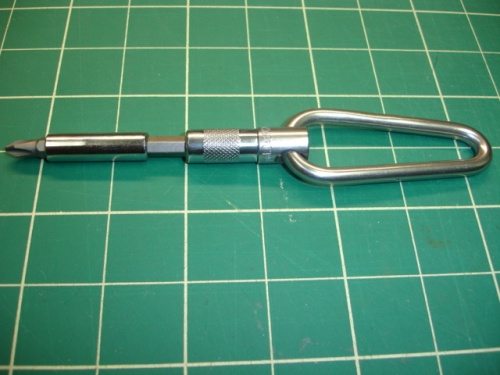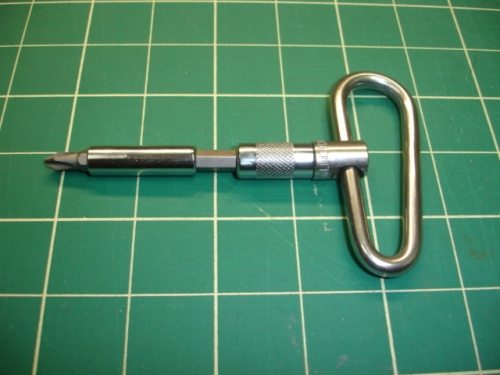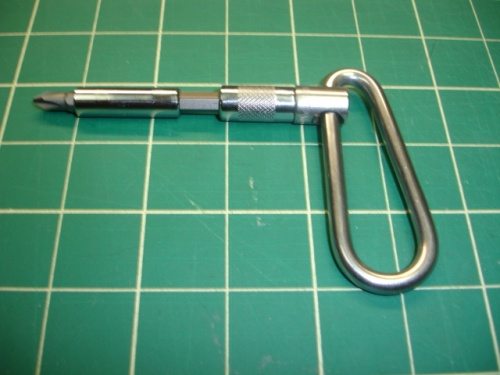 Combine this torque with the ability to hold any hex bit or compatible tool, or any 1/4″ socket or compatible tool- like extensions or adapters. There are whole sections of the hardware store that has stuff that will fit this well-designed tool.
I customize mine by tossing a few common sockets (3/8, 7/16, 1/2″), long #1 and #2 Phillips bits, and swapping out some of the included bits to meet my work needs better. This pack, my Leatherman Juice multi-tool for the blade and pliers (I like the small size of this version), and a few other easily pocketable tools, and I am set without carrying much weight at all. You can customize yours for photography, computer repair, biking, boating, making, or whatever just by swapping parts.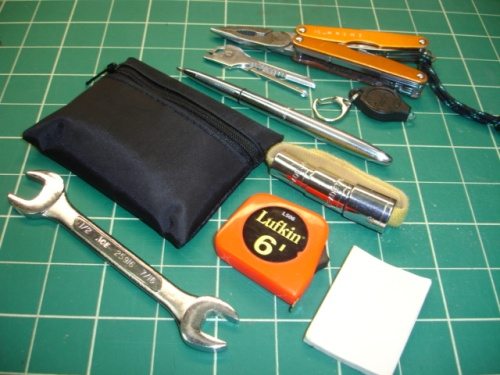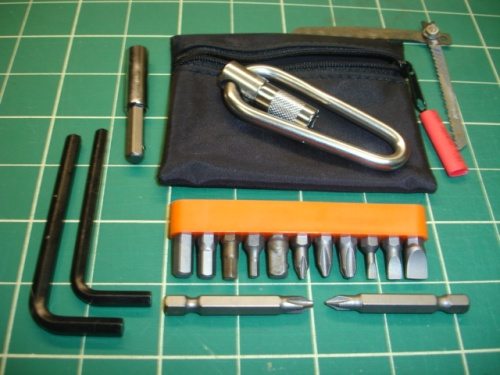 In use, this pocket tool is both more comfortable than many multi-tools, and works more like the full-size tool analogs than most pocket-size tools do. The dang thing is nearly indestructable- laughing at the Gadgeteer Creak Test and made of high quality materials- hence A 99 year warranty on the ring and attached driver.
The biggest downside is one all multi-tools and pocket tools share- screws and fasteners are often buried, surrounded, trapped, etc. and can be tough to deal with using these sorts of tools. I carry a pair of long Phillips bits to help when I run into recessed screws, etc. for this very reason. But no tool works in every situation!
So… a tool set that is only about the size of a wallet, can handle almost any screw, fastener, or bolt you throw at it (with the right bits and sockets), and has a great warranty?  Get one, you'll love it! Hint- this tool is available from a few sites, but if you get it from the main site, it only runs $12.95 and just $2.50 for s&h, and they ship quickly. Thats less than some other sites even without s&h fees!
Note: The site seems to indicate that the package includes one set of bits, but I got two with mine, 22 bits total, including duplicates. They did not know I was going to review the tool when I ordered it so it may just be some good customer service or a thank you for going to the main site.