We use affiliate links. If you buy something through the links on this page, we may earn a commission at no cost to you. Learn more.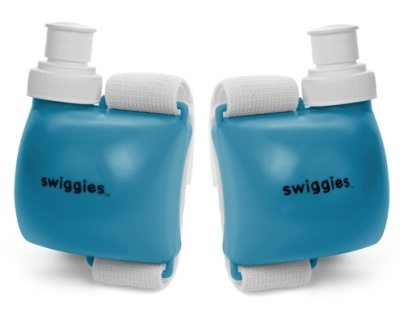 As a long distance runner, I always take a drink out with me when running, especially as I know that I should be well hydrated before, during and afterwards.  I've tried many different types of drinks bottles, from straight forward sports bottles, to the more specially designed running varieties.  However, regardless of which bottle I use, after a few miles into my run, I always end up switching the bottle constantly between my hands. This is where Swiggies drinks bottles are just that little bit different!
Each bottle has an elastic strap which allows it to be worn on your wrist, thus eliminating the need to carry a water bottle in your hand.  They can be worn either under or over your clothes, however if they're filled with icy cold water, Swiggies can cool your wrists, thus helping to prevent overheating.
The initial design of Swiggies was aimed more at runners, but as they're extremely versatile they can be used in a wide variety of sports and activities, such as:
Walking
Fishing
Cycling
Gardening
Sailing
Or even in hospitals (for example, when the patient is unable to grasp a bottle)
Each bottle, produced using FDA approved, food grade, BPA-free plastic can hold 200ml of water (or your favourite drink) so you can be sure that you remain hydrated throughout your activity.   Plus, they're also freezable and dishwasher safe.
For a pair of Swiggies, prices start from £12.65 ($18.50 approx) and include delivery.