We use affiliate links. If you buy something through the links on this page, we may earn a commission at no cost to you. Learn more.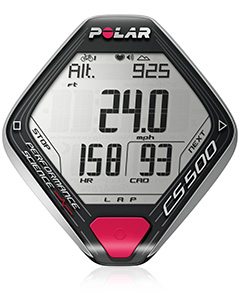 Polar has launched the CS500 cycling computer.  It is the first cycling computer to offer touch screen operation with a sleek, extra-large display screen. The CS500 provides data such as speed, distance, cadence, heart rate and calories burned along with other key info. An optional wireless DataLink accessory (which includes Mac compatibility) enables Cyclists to upload their workouts to the web. You can also check out the CS500 in action, in a new video from Polar. Price starts at $319.95. Full press release after the jump.
Polar Introduces CS500 Cycling Computer, First to Feature Rocker Switch Operation and an Extra-large Display
 
New Wireless "DataLink" Accessory Includes Mac Compatibility, Enables Cyclists to Upload Workouts to the Web in Seconds
 
Lake Success, N.Y. (April 13, 2010) – Polar (www.polarusa.com), the leader in heart rate monitoring and fitness assessment technology, today announced the launch of the CS500 – a new cycling computer that is the first in the market to offer rocker switch operation and a sleek, extra-large display screen. The CS500 is also compatible with the wireless Polar Power Output Sensor W.I.N.D., which provides the rider with cycling power, enabling the highest level of professional training.
 
Event riders have long desired cycling computers with simpler button-pushing and a display screen with large, easy-to read digits – especially at high speeds. The CS500 meets these demands with two exclusive design features. First, with an extra-large and aerodynamic display – the CS500 offers outstanding visibility, and allows more information to be viewed on the screen, creating a data-rich, cycling computer. Second, the diamond-shaped handlebar unit sits on a pivoting, two-way rocker switch. When cyclists want to change the screen to view different data, they no longer have to take their hands off the bars – they simply use their thumb to lightly tap the left or right side of the CS500, and the screen instantly flips to reveal a different set of performance data. With this unique design, cyclists can better concentrate on their ride.
 
"With the CS500, Polar is revolutionizing the way cyclists view, track and monitor their data," said Jeff Padovan, President of Polar USA. "From design to functionality, cyclists can train at a higher level with features including the industry's first two-way rocker switch that allows users to easily view data and rich feedback such as speed, cadence and power. Additionally, the option to add accessories separately gives the cyclist the flexibility to customize their training based on their changing needs."
 
Designed with competitive riders in mind, the CS500 combines the precise and leading Polar heart rate technology with advanced cycling features. The CS500 tracks speed, distance, cadence, heart rate, calories burned, incline, altitude, ascent and descent and temperature. Up to four different data points can be displayed on the extra-large screen and using the auto-lap splits feature, miles automatically roll-over and cyclists can see a snapshot of their data per lap. To simplify training at the right level and help cyclists get a better workout, the exclusive Polar OwnZone® feature provides a personalized, target heart rate recommendation on how hard to ride.
 
When paired with the Polar Power Output Sensor W.I.N.D., a separate accessory, the CS500 can track high-level cycling data such as power output. With power meter compatibility – available at an affordable price – the CS500 can evolve with a cyclist, as they become more advanced and their training needs expand.
 
The CS500 synchs with polarpersonaltrainer.com, which is a free, online training journal, where cyclists can easily set goals, track progress, analyze results and challenge friends to a common goal. After a workout, data is uploaded to the site via the DataLink, a new wireless communication device from Polar, which includes Mac compatibility. The DataLink plugs into the USB port on a computer, and automatically detects the CS500 in the room, instantly uploading new workout files to a user's personal profile. In conjunction with the CS500, polarpersonaltrainer.com has been redesigned with new, cycling-specific features, such as "Training Load," which helps cyclists make smarter decisions by interpreting how hard a specific workout was, and advising when you have recovered from the previous workouts.
 
Utilizing Polar W.I.N.D. technology, the CS500 eliminates the issue of data drop-outs or cross-talk between cycling computers, as the powerful, 2.4 GHz transmission signal ensures disturbance-free training. The new Dual Lock Bike Mount, made of reinforced composite metal, guarantees sturdy, rock-solid attachment to the bike, making it ideal for both road and mountain biking. The CS500 can easily be customized and used on up to three different bikes, and also features a "Drink Reminder," prompting cyclists when hydration is needed during a ride.
 
To see a video of the CS500 in action and its unique functionalities, visit the Polar USA YouTube Channel.
 
The CS500 is available as a base set, or bundled with a cadence sensor. The base set includes the handlebar unit, WearLink W.I.N.D. fabric chest strap, CS speed sensor W.I.N.D., and Dual Lock Bike Mount, and is available for a suggested price of $319.95. The CS500 cadence set is available for a suggested price of $359.95. The Power Output Sensor W.I.N.D. is available as a separate accessory for a suggested price of $359.95. The DataLink is also available as an accessory, for a suggested price of $54.95. All products are available online or at specialty stores.