We use affiliate links. If you buy something through the links on this page, we may earn a commission at no cost to you. Learn more.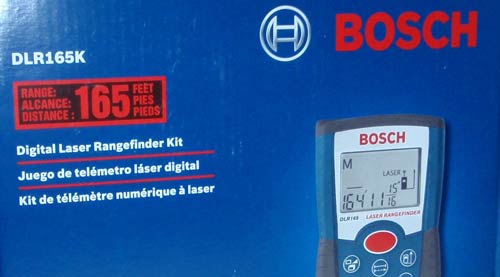 Many things we review here at The Gadgeteer are devices somewhere between tech-toy and tech-gadget or accessories meant to protect, carry or power those devices. All perfectly well and good, mind you….most of those (still) make my tech-geek heart a flutter. But, other than iPod speakers or noise isolation earbuds, few assist me in my other passion; fixing up old houses, home improvement projects, working on the yard, etc.  The Bosch DLR165 digital laser rangefinder is a great gadget-tool, designed to replace your old tape measure in a multitude of construction applications.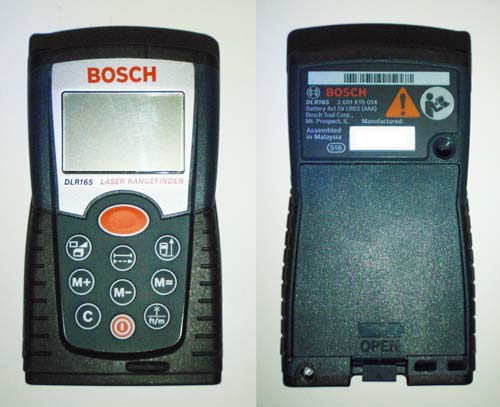 My initial impression of the DLR165 was that it was a slick/high-tech tape measure. Allowing you to measure distance quickly and easily without the hassle of stretching a tape across a room or whatever distance you are looking at. But after playing with it I come to find out, it can do a great deal more. Once you figure out how to use some of its more complicated capabilities, it can take care of the burdensome/heavy-lift calculations that are potentially needed during construction efforts; standard length (A to B), area (A x B), volume (A x B x C), continuous length (adjusts while moving), and indirect length (Pythagorean theorem (a2 + b2= c2)) plus being able to add or subtract measurements as you go (M+ or M-, just like a calculator).
Measuring Modes:

Length
Area
Volume
Continuous
Indirect Length
The DLR165K, where the 'K' stands for kit; includes instructions, batteries, belt case, strap/handle, and the the range finder itself.
Features
Precision Laser Measuring Technology – Laser beam does both pointing and measuring
Pocket-Sized Only 4″ tall
Four Measuring Reference Points – Back, front, swingout extension pin for measuring from inside corners or channels, or center of optional tripod
Three Measurement Systems — Feet and inches, decimal feet, and metric
Length, Area and Volume Measuring Capability
Continuous Measurement Mode — Measurement automatically adjusts when walking-off distances
Continuous Laser Mode — Reduces the number of key strokes when making rapid sequence of measurements
Indirect Length Measurement Mode — Calculates inaccessible distances that cannot be measured directly due to obstruction or lack of reflecting surface using Pythagorean theorem (a2 + b2= c2)
Limited 3-Year Warranty
Ergonomic Soft-Grip Area — For sure grip and comfort
Specifications
Accuracy: +/- 1/16″ (1.5 mm)
Battery Life: Approximately 30,000 Individual Measurements
Dimensions: 4″ x 2-15/16″ x 1-1/4″ (100 mm x 68 mm x 32 mm)
Laser Class: 2
Laser Diode: 635 nm, < 1mW
Measuring Time, Max: 4 sec.
Measuring Time, Typ: < 0.5 sec
Power: 4 AAA Batteries
Range: 2″ – 165′

On the front of the DLR165 are the laser and distance sensor. The rear has a swing out extension pin for measuring from inside corners or channels. The rangefinder has four measuring points of reference; front, center, rear, and end of the extension pin. The device can measure between two inches and 165 feet with an accuracy of 1/16″. The measurement appears on the display almost instantaneously. Distances can be displayed in three systems of measurements; feet and inches, decimal feet, and metric.

The device has an ergonomic form and is lightweight, much lighter than a quality tape measure. Bosch includes a very simple but functional belt holder for the measuring device. Allowing the rangefinder to be at your side whenever you need it, much easier to get on/off your belt than the typical clip of your tape measure.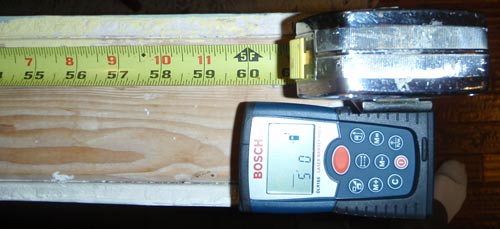 I have found the DLR165 laser rangefinder very accurate (using a standard tape measure as my reference). As you can see, both are measuring exactly 5 feet. I compared the two in several scenarios, all of which showed within 1/8″. That difference can easily be attributed to human error (especially over longer distances).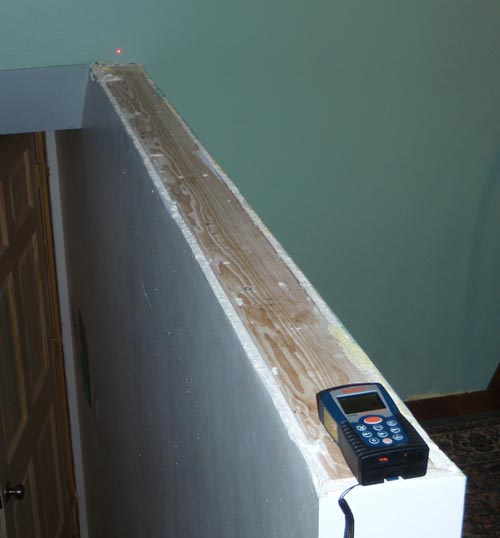 The DLR165 rangefinder is ideal for measuring distance with some sort of backstop (aka a wall or side of a hill or building). It would be difficult to measure a board for cutting or plotting out an area of land to put a foundation.

Unless you have someone to hold something at the desired point of measure for the laser to hit. That limitation not withstanding, this compact, lightweight, highly accurate rangefinder will be a great benefit to many future construction projects.
Product Information
Price:
MSRP: $291 (online for around $100)
Manufacturer:
Bosch
Pros:

- Highly accurate laser range finder
- Lightweight
- Compact
- Able to calculate area, volume, and indirect length

Cons:

- Expensive (compared to a typical tape measure)
- Difficult to measure board-length