We use affiliate links. If you buy something through the links on this page, we may earn a commission at no cost to you. Learn more.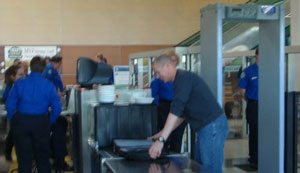 ….to consider an iPad.
I travel quite a bit for my day job, not as much as some but definitely more than most. Let's face it, 99% of the time going through security is a hassle; removing your shoes, small amounts of liquids in a plastic bag, no water bottles, laptop out of your bag in its own gray bin, etc. In an incredibly swift decision (a rare occurrence in the Federal government), US Transportation Security Administration (TSA) has announced that Apple's iPad is security-friendly. Unlike your laptop, your iPad is allowed to remain in its briefcase/sleeve/portfolio as it pass through the X-ray machine.
It might take a while for this guidance to trickle down to all of the rank & file TSA agents. So, you may still be asked to remove your iPad from its bag. But if this decision stands the test of time (who knows TSA can always change their minds), it will be nice to have one less logistic to worry about while slugging your way through the airport.