We use affiliate links. If you buy something through the links on this page, we may earn a commission at no cost to you. Learn more.
Remotes – like socks – tend to venture off into a vast abyss that no mere mortal can discover…either that or we forget to check under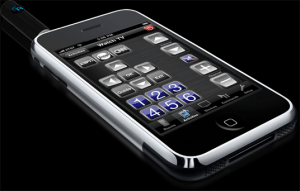 the cushions.  You can buy all the remote control cradles you'd like, but if you would prefer to consolidate the process, you might be interested in the RedEye mini from ThinkFlood.  A simple dongle plugs into the headphone jack of your iPhone (or iPod touch/iPad), transforming the device into a fully functional, universal remote control.  Operating from up to 30′ away, the RedEye mini can be programmed to suit the user's needs – including its controls.  Users have the option of using touchscreen buttons, Apple's multi-touch gestures, and accelerometer controls (e.g. – flicking the iPhone forward to change the channel).  The best part?  It's only $49.00!
[Courtesy of Engadget]