We use affiliate links. If you buy something through the links on this page, we may earn a commission at no cost to you. Learn more.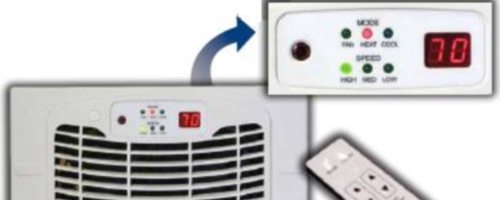 I reviewed an earlier model of the AirFlow Breeze and was not greatly impressed, but the addition of a temperature sensor in the 'Ultra' model makes a big difference. Let's take a look.
Airflow Technology's Breeze Ultra is a unit you place in a floor, wall, or ceiling vent then plug in to help move more air. Because it has a temperature sensor, it only comes on when the furnace or air conditioner is on, and you can set the temps that turn it back off.
It uses 2 low-voltage fans (bigger than, but similar to what you would find in a computer) to move the air relatively quietly. It claims 32-35 decibels, the level of a 'soft whisper'. I am not sure it is that quiet- you can hear them running from several rooms away, but it is a much softer noise than the other Breeze I tried. According to the website, they cost less than $5 a year to operate, which seems reasonable.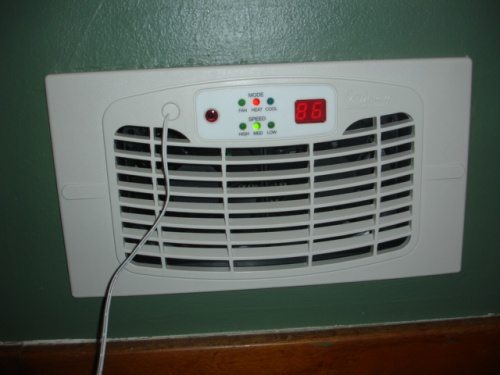 Installation is similar to the other Breeze, but it only comes in one faceplate size (almost 8 x 14″). The screw holes are still not pre-drilled (this time this makes some sense since it offers 2 hole options) and it still uses your old screws (yuck). You plug in the power jack through the face plate and adjust the length of cord you want to leave out (a nice touch) and seal the hole with a plug. It also includes a blank plug if you can plug it into AC from the back.
Once plugged in, you program the settings using the included remote. Programming is easy and well-explained. I do rather wish that you did not need the remote- that the main buttons were available on the unit, but I suppose that would be tricky if it were floor or high mounted. The remote is small and well-labeled.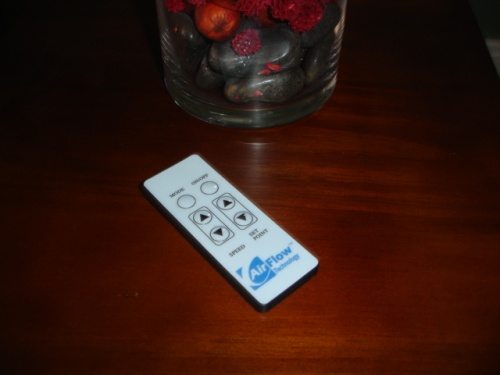 LEDs show mode (nicely color-coded for heat, cool, and fan only), fan speed, and the pre-set temperature to turn off at. The unit turns on when it senses the heat or a/c on, and you tell it when to turn off. I wish the display showed what temperature it was now instead. The LEDs are rather bright and I covered them with masking tape. After all, I saw what I set it to and can hear when it is on, so they are not telling me much useful and I already have enough LEDs shining in my house.
So… after not being impressed with the non-Ultra Breeze, how'd this one work?
Significantly better. This time, it was heating instead of cooling and this time I felt OK letting it run for several days unattended since it was not going to be blowing cold air all of the time. The room feels more comfortable… not by a ton, but it definitely seems to have taken the 'chill' out of the air. My favorite seat is next to a leaky old front door we have struggled to seal for years and I generally need a jacket and blanket to be comfy. With the Ultra running, I can omit one of those. My wife sits in a naturally warmer (but not 'warm') part of the room and feels a difference as well.
Would I pay $89.95 for the differences? I think it is cheaper than raising the temps a few degrees for a season, but I think other options would give our particular situation more 'bang for the buck'. I suspect the results would be more significant in a better insulated home than in our old drafty place.
Bottom line- we have a lot of options to help stretch our heating and cooling dollars, and you have to find the ones that work for you. The AirFlow Technologies Breeze Ultra will make a big difference in a lot of situations.
Product Information
Price:
$89.95
Manufacturer:
AirFlow Technology
Pros:

Easy to install
Low cost to operate
Easy to install and program

Cons:

May not help enough in some situations