We use affiliate links. If you buy something through the links on this page, we may earn a commission at no cost to you. Learn more.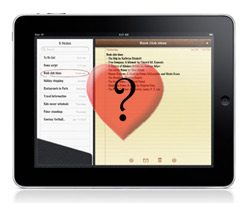 With our wait for the iPad half (or a third) over, how many of you have reconsidered purchasing Apple's iPad? Deciding it is too much of a niche product, you'd never use it, spend your money on one of the new MacBooks (aka a real computer), wait to see what other devices come to the tablet party, etc??? Part of me believes Steve & Company missed the mark not having the iPad ready to sell the first day or week after the announcement…..when the frenzy was at its peek and the long awaited, mythical tablet device magically appeared. If Steve's 'one more thing' was the fact that the iPad was available that day, the insanity at your local Apple store would have been historic. But as we all know, a two to three month wait for most tech devices can definitely cause them to loose momentum.
When I ask friends if they are going to buy the iPad, most have switched from 'you bet' to 'I want to see what you think of it' or 'I want to play with it at the Apple Store first'. So, I guess my question to you all is: are you still leaning forward on purchasing an iPad or going to wait/pass on it (and if so why)?