We use affiliate links. If you buy something through the links on this page, we may earn a commission at no cost to you. Learn more.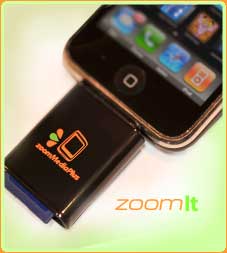 With the release of the iPad, Apple also announced a number of accessories, including one that would allow users to connect a SD card to the device.  This left a number of us scratching our heads, wondering why this accessory wasn't already on the market, allowing us to do just that with an iPhone or iPod Touch.
Enter zoomIt, a new product from Zoom Media, who claim that their device will allow you to access video, music, and other files on SD media directly from your iPhone or iPod Touch.
Details on the site are scarce, but if this is something that appeals to you, head over to their site now… pre-orders will get a $10 discount off of the regular price of $60 per zoomIt, and the first 250 orders will also receive a free 4GB SD card.