We use affiliate links. If you buy something through the links on this page, we may earn a commission at no cost to you. Learn more.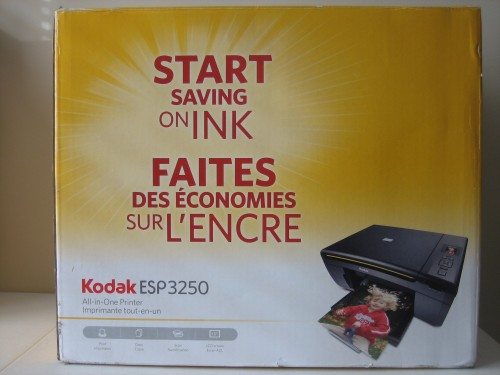 I've never been a fan of the All-in-One concept, believing that it was at best a compromise between flexibility and footprint. I've also been increasingly frustrated with the money I've spent on ink cartridges for my Canon printer. The Kodak ESP3250 printer is advertised to address my concerns, and with this review we'll find out if that's true…
The ESP3250 can be used as a standalone copier and photo printer as well as a connected unit.  The specs from Kodak are:
Print speed
borderless KODAK Lab Quality 4 × 6 in. photos in as little as 29 seconds;
documents up to 30 pages per minute in black and 29 pages per minute in color
Print sizes
standard-size borderless photos up to 8.5 × 11 in. (US letter size), 210 × 297 mm (A4 size);
standard-size documents up to 8.5 × 14 in. (legal size)
Supported Memory Card Formats print without a computer using memory card slot—Secure Digital (SD)/Secure Digital High Capacity (SDHC), MINI SD, Multimedia Card (MMC), MEMORY STICK (MS)/MEMORY STICK PRO (PRO)
Paper capacity holds a maximum of 100 sheets (20 lbs) or 20 sheets photo paper (minimum paper size 4 x 6 in. to a maximum paper size 8.5 x 14 in.
Display 1.5 in. LCD (color)
Ink cartridge compatibility KODAK Black Ink Cartridge (10 Series), KODAK Color Ink Cartridge (10 Series)
Scan and copy specifications
Scanning
CIS optical scanner, 1200 DPI at 24 bit;
scan multiple pictures simultaneously and software will create separate image files automatically;
scan documents and photos up to 8.5 × 11.7 in.;
scan and edit your documents with optical character recognition;
Copying
copy speed 30/29 cpm (black-color)
one-touch color copy without a computer;
copy documents or photos with one button;
20–400% scaling or fit to page and make up to 99 copies at a time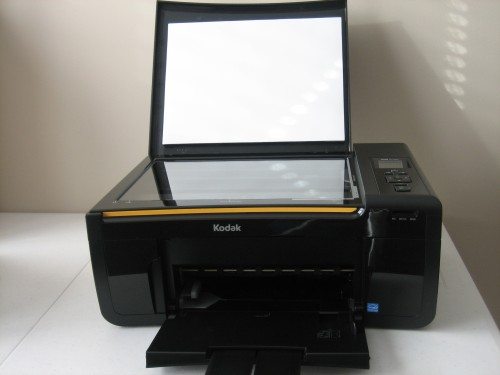 A frontal shot shows the paper tray, scanner glass, card reader and the control panel.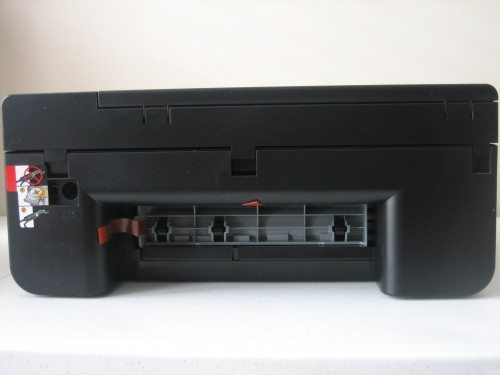 Around back are the connections for the power brick and USB cable.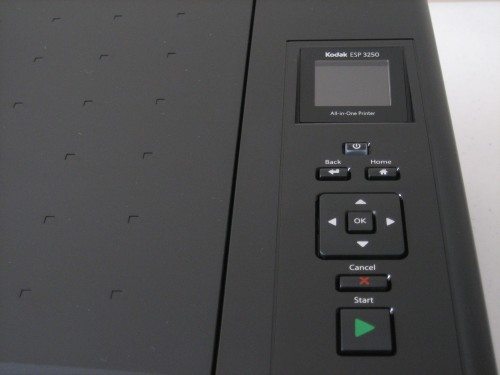 A closer look at the control panel.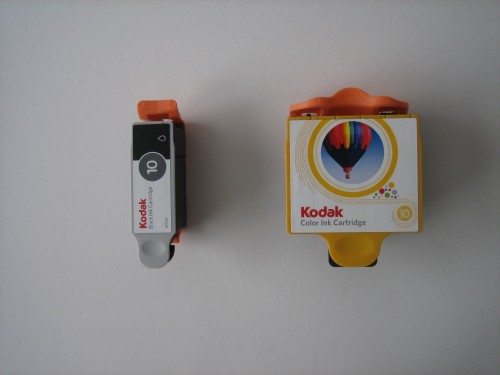 The unit comes with one B&W and one color ink tank.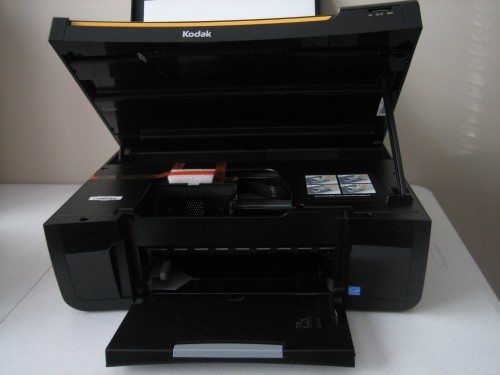 Printer maintenance is accomplished by lifting the scanner top which allows access to the ink tanks and print head.
Because the ESP3250 can be used without a computer I did my testing in stand-a-lone mode first.  To be truthful, all 3 of my home systems decided to fail at the same time and I didn't have anything to use for the tests, so while waiting for the delivery of a new laptop I played offline.
Setup is simple.  I consists of taking off ALL the packing material and installing the print head and ink tanks.  This is the first printer I've used that has a separate print head.  There is no mention in the literature of the life-cycle of this piece, only that it needs no regular maintenance unless the user is informed by Kodak to replace it.
The first thing I did was make a copy of  a color document.  The process was simple and intuitive.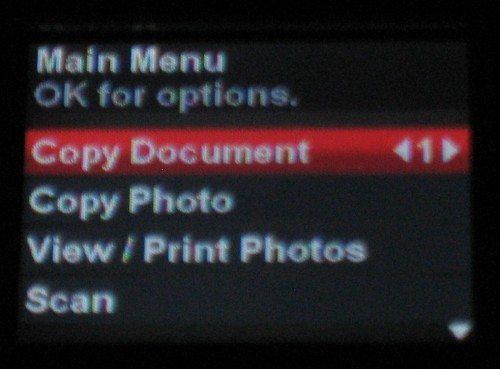 The 1.5″ LCD provides the menu and options for performing several tasks.  To copy, select the number of copies, color or B&W and zoom factor.  The default is to copy 1:1 in full color.  Press the start button and you have a faithful reproduction of the original.  The ability to make an offline one button copy is better than the way I have done it.  I no longer have to have the PC on with a scan utility running and then have to print the result.  I'm starting to like this All-in-One concept.
You can also print photos from memory cards offline.  I took an SD card from my Canon SD400 and plugged it in to the printer.  A thumbnail of each photo is automatically available on the color LCD and from here you can select those which you wish to print.  Setup options include paper size, color or B&W print and number of copies.  The resultant prints were very acceptable to my eyes and again the convenience factor of working offline is the selling point for me.  If you have the 3250 connected to a computer, you can transfer the photos to it, although I would think it would be easier to use a card reader or do as I do and have it done automatically with an Eye-Fi card.
Upon receiving my new laptop, the first thing I did was to install the Kodak printer software which includes the drivers and the Home Center Application.  Again, this was a simple task and it installed with no problem on Windows 7.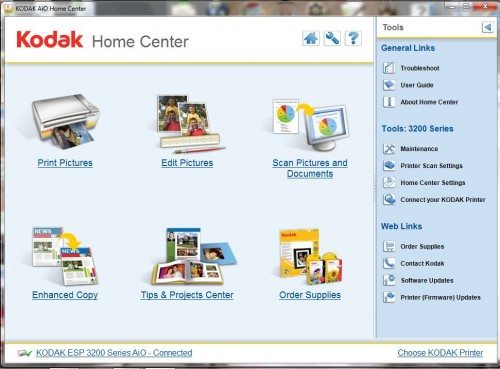 Using the Home Center affords you more flexibility in dealing with your documents and photos and of course enables their use with other applications.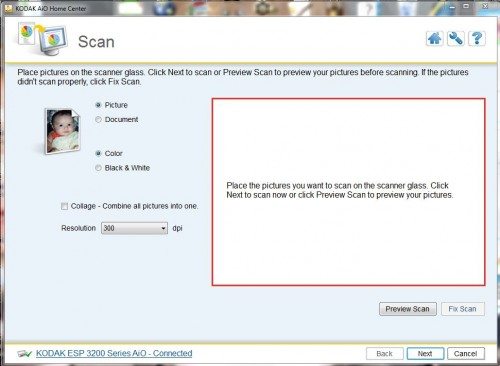 The scan function can be initiated from either the Home Center or from 3250.  The output can be in several formats including PDF and JPG.  One interesting feature of this device is that you can put multiple photos/documents on the scanner and it will differentiate between them and provide individual outputs.  The scanner was recognized by other software on my system, such as PaperPort, so it is not necessary to use the Home Center for the scanning function.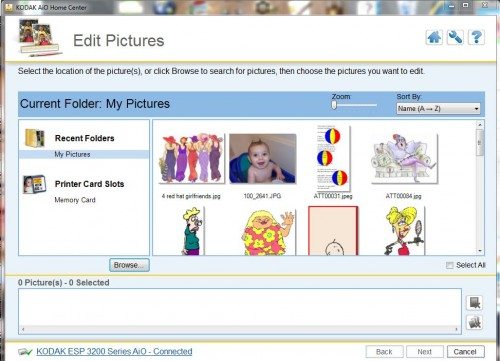 With the edit utility, simple edits can be made on photos before printing, but I would guess most people would use a more advanced application.  The only 2 options available are red eye reduction and something called Kodak Perfect Touch.
The Print Pictures screen provides more options to edit the output including tone changes.  From this utility you can email a photo, link to another photo editor, save it to a file and preview the output before committing it to print on paper.  Speaking of printing, if you use Kodak photo paper the printer recognizes this and sets the print quality accordingly.
Kodak promotes their line of ink jet printers as money savers because of the price of their ink.  I usually don't buy into marketing hype, having been in the field for a good part of my career, but I can say that a pair of ink tanks for the ESP3250 cost about half what it costs for my Canon.  Of course this assumes the tanks are of the same size and you can print the same number of pages per tank.  I have no scientific results to show, but it appears to me that I am getting the same number of pages per tank on the Kodak vs my Canon iP1800.
The wildcard for the cost of consumables  is how long the print head lasts and its cost.  It does have a one year warranty, but after that you're on your own to buy a new one.  I've checked their web site and can't find a part number or price for a replacement print head.
I must admit that I have not been a fan of Kodak in the past.  I've never seen them as a high-tech outfit, but they may be on to something with this All-in-One.  By using it I've freed up real estate on the desktop and now use one less USB port.  My only complaint is that it's noisier than the Canon when printing.  Looks like I have an excess  printer and scanner.
Product Information
| | |
| --- | --- |
| Price: | $129.99 MSRP |
| Manufacturer: | Kodak |
| Requirements: | |
| Pros: | Ink price, print quality, footprint, ease of use |
| Cons: | |