We use affiliate links. If you buy something through the links on this page, we may earn a commission at no cost to you. Learn more.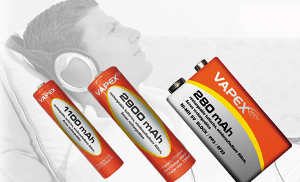 You don't use alkaline batteries anymore do you? Rechargeable batteries are definitely the way to go. Sanyo Eneloop batteries are very popular, but are only offered in AA and AAA sizes. If you need C, D, and 9V sizes as well, another brand worth considering is Vapex. Unlike the Eneloops, Vapex batteries can be charged in any NiMH charger. You can find these batteries at Electronics Warehouse. What is our favorite brand?

FOR IMMEDIATE RELEASE
Vapex Instant Rechargeable Batteries Offer Better Value, Flexibility Than Competitor Sanyo Eneloop.
Australia — February 1, 2010 — Electronics Warehouse (EW), a leading online retailer of electronics accessories and rechargeable batteries for mobile devices, announced today that they now carry the full line of Vapex Instant NiMH rechargeable batteries, and believes that the emerging Vapex brand offers consumers better value and flexibility over the Sanyo Eneloop brand, while matching Sanyo's level of quality and reliability.
Vapex Instant Rechargeable Batteries Come in a Variety of Sizes.
The vast majority of NiMH rechargeable battery brands – including Sanyo Eneloops – only offer AA and AAA sized batteries. Vapex, however, is one of the few companies who have developed reliable NiMH rechargeable battery designs for C, D, and 9V sizes as well. The advantage is that consumers can use Vapex Instant rechargeable batteries not only on small electronics such as digital cameras and mp3 players, but also for larger electronic devices, such as flashlights, children's toys, electronic scales, smoke detectors, and other devices that require large-sized batteries.
"Instant" Rechargeable Batteries Give You the Convenience of a Disposable Battery
Early rechargeable battery designs, such as the NiCad, had to be charged when first purchased. This design drawback led many people to shy away from using rechargeable batteries, since they were not able to be used right out of the package. Instant rechargeable batteries, however, can be used right out of the package as needed, due to their very low self-discharge rate, which allows them to be charged at any time and hold their charge until needed. Both Vapex and Sanyo Eneloop feature "instant" rechargeable battery designs, however, the Vapex brand is considerably more affordable than Sanyo while still offering the same level of quality and reliability.
Vapex Batteries Can Be Charged in Any Type of Reliable NiMH Battery Charger
While Sanyo Eneloop NiMH rechargeable batteries are quite popular among consumers, they can only be charged using a proprietary Sanyo Eneloop NiMH charger. Because of this, consumers have very limited options for the type of NiMH battery charger they can use. Vapex rechargeable batteries, on the other hand, can be charged with any reliable NiMH battery charger, allowing people to purchase a wide range of chargers for home, car, and computer use.
For more information, feel free to contact Mike Nace, Public Relations Representative, at [email protected]
An Obvious Choice for a Leading Australian Rechargeable Battery Retailer
It is for all of these reasons that Electronics Warehouse has chosen to exclusively sell Vapex Instant rechargeable batteries over Sanyo Eneloop. Because of this, EW is able to offer its customers the full line of Vapex batteries at factory direct prices, which is half the suggested retail price of Sanyo Eneloops. Combined with EW's fast, free shipping Australia-wide, no other retailer of rechargeable batteries can offer such a value on Vapex's high-quality NiMH rechargeable batteries.
About Electronics Warehouse
Electronics Warehouse is a family-owned and operated online retailer of high-quality electronics accessories, specialising in Vapextech rechargeable batteries and chargers; cordless phone batteries; iPod, Nintendo Wii, PSP, PS2 and PS3 accessories; and PC accessories such as HDMI, VGA, and DVI cables. Started in 2002 on Ebay, Electronics Warehouse has quickly grown to one of the top online Australian retailers of electronics accessories, offering generic product brands that provide the same quality as the big brand names but at half the price. Now at www.electronicswarehouse.com.au, we offer customers a wide selection of products at unbeatable prices, together with personalised customer service and fast, free shipping for Australian customers.
We invite you to follow us at the following websites:
Twitter: http://twitter.com/ElectronicsAUS
Facebook: http://www.facebook.com/pages/Moonah-Australia/Electronics-Warehouse/260853095499
Blog: www.electronicswarehouse.com.au/blog