We use affiliate links. If you buy something through the links on this page, we may earn a commission at no cost to you. Learn more.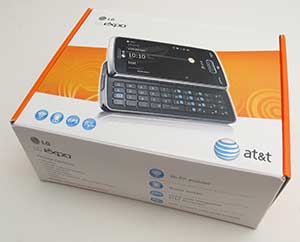 It's been nearly a year since I've carried a Windows Mobile device as my everyday phone. Back then it was the Pantech Matrix Pro. Today it's the LG eXpo for AT&T. Like the Pantech, the eXpo has a slide out qwerty keyboard. But the eXpo has some other surprises as well. I'm going to use it exclusively for a week and at the end of that time, I'll decide if this phone has what it takes to dethrone my current fave (the iPhone 3GS).
Let's call this Day 0, and we'll start with a quick introduction / overview of the hardware.
Hardware Specifications
Processor: 1 GHz Qualcomm QSD8650
OS: Window Mobile 6.5
Wireless Technology: GSM/GPRS 850/900/1800/1900 MHz, 3G UMTS/HSDPA (850/1900/2100 MHz)
Bluetooth 2.1
Display: 3.2 inches, Resolution 480 x 800, 16 Million colors
Memory: Internal memory storage 512 MB, expandable memory storage supports up to 16GB microSD Card
Camera: 5.0 MP
Battery: 1500mAh Lithium Ion (Talk time up to 3 hours, Standby time up to 10 days)
Dimensions: 4.50 x 2.16 x .63 inches
Weight: 4.46 ounces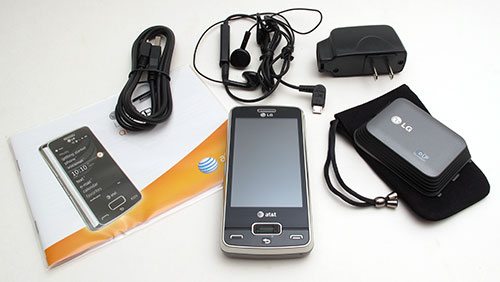 What's in the Box
LG eXpo Smartphone
Battery
USB data / charge cable
Hands-free headset
Stylus
Proprietary hands-free stereo headphone with mic (with 3.5mm adapter)
Power Adapter
Quickstart Guide
Pico Projector (is an optional $179 purchase and is not included with the phone)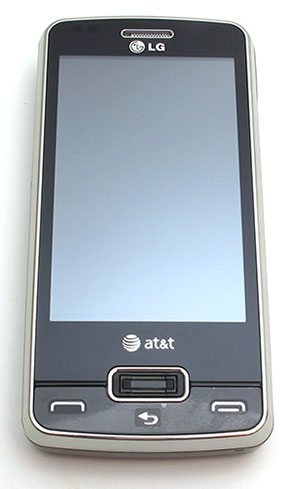 The LG eXpo is being marketed as a business phone and normally that might bring about visions of a boring design that works well, but probably lacks pizazz. In my opinion, the eXpo doesn't look boring at all. It has just the right about of shiny chrome accents to go along with its Black and Pewter colored case. As far as I can tell, the entire case is made of plastic. Don't let that turn you off though as it feels solid and doesn't complain when I perform my patented Gadgeteer creak test. Basically this test consists of me squeezing the phone in one hand while feeling for case flexes and listening for creaks. A quick shake yielded no rattles.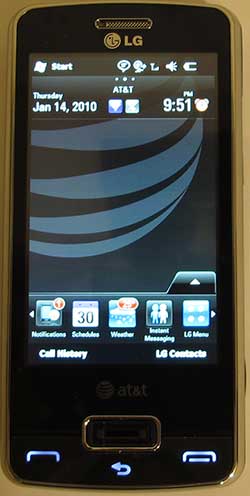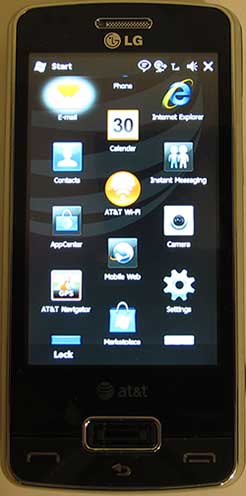 The front of the phone has a large touch screen display that is bright, crisp and vivid. The screen is resistive and not capacitive like the iPhone. That is both good and bad. It's good because you can interact with the phone while wearing gloves and even with a stylus (yes, I guess some people are still using styli even in this age of finger friendly devices). Resistive touch screens can bad because the screen requires pressure to select items and that can mean a less than smooth experience using a finger to scroll and tap. I'm a little worried about this aspect of the phone since I've been using an iPhone for about 7 months now. We'll have to see…
Above the display on the front of the device is the speaker. A small LED to the Left of the speaker provides status for charging and notifications for alarms and missed calls.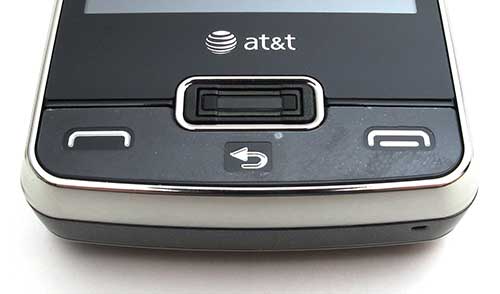 Below the display are your normal Send and End buttons as well as a Back button. The strange looking object in the center is a biometric fingerprint reader and D-pad sensor. Don't worry, I'll be covering that in greater detail later.
You'll notice what looks like a protective film over the bottom section. At least that was what I thought it was until I tried to remove it. So far I've not had any luck trying to get my fingernail under an edge. I didn't want to scratch the the phone, so I've given up for the time being. I think it's just the way it's styled.

The Left side of the phone has a large volume up and down button. It might look like there are individual buttons, but it's just one long rocker. The ends stick up slightly, making the button easy to find with your thumb while you're on a phone call.
You'll also notice a small eyelet in the top corner. That's for the included stylus. That's right, the stylus isn't housed in the phone itself. Weird huh?

The opposite side has the camera application launcher button, a smaller application launcher button and the microSD slot/cover.
The eXpo is slight chunky by today's standards, but you can't really complain too much since it does have a full qwerty keyboard.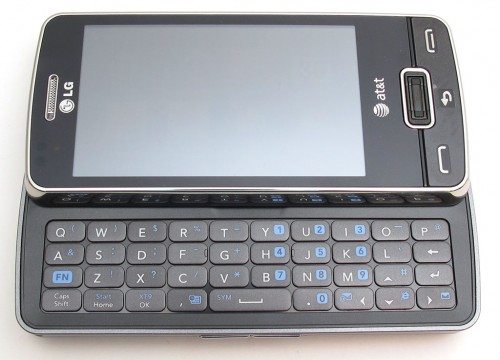 The display slides to the Right to reveal the backlit keyboard. The slider mechanism feels very strong and has a nice 'assist' feature to it that helps it slide open and closed quickly with a nice 'curchunk'. The size of the keys is generous, but they are very flat. They do have good tactile feedback though and I have had no problems typing quick emails.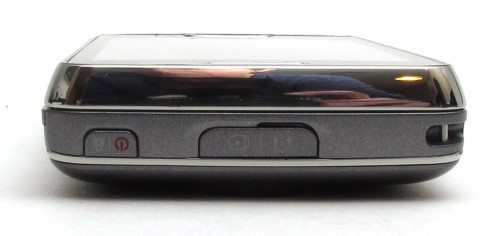 Along the top edge of the phone is the power / lock and the combination microUSB charging / earphone jack connector with a cover. I don't know about you, but I'm not a big fan of those little swivel covers for ports. I'd rather them just be bare.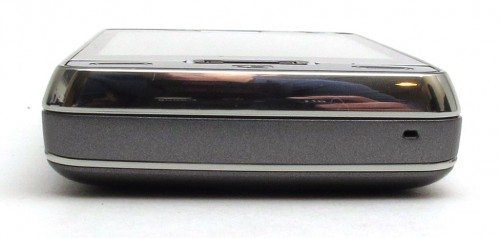 The other end has the microphone.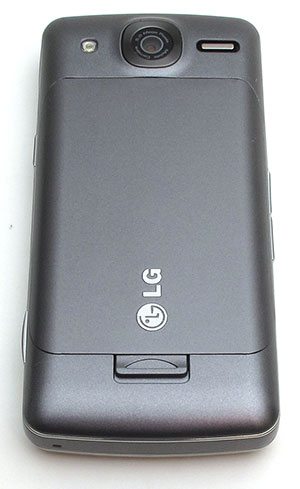 The back of the phone has a really easy to remove battery cover, which is a great feature because this cover has to be removed in order to  attach the optional Pico projector. I'll cover all the details of the projector later in this series.
Also on the back of the phone is the 5mp camera lens (I wish it had a protective cover) and to the Left of the lens is an LED flash.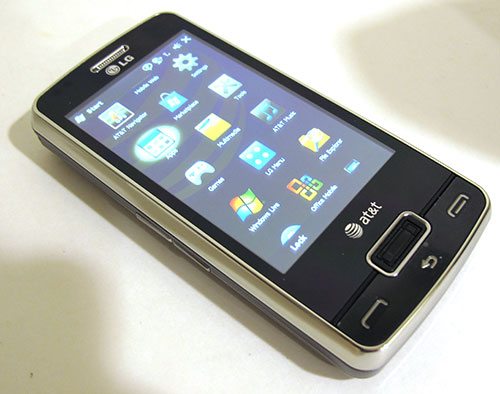 All in all, I like the hardware of the LG eXpo. Even though the phone is a bit chunky, it doesn't feel uncomfortable in my hand. I like that the button layout seems to have been well thought out. The location of the volume button and camera launcher / shutter button work out well and I didn't have any problems using either one. Sometimes using a phone as a camera is hindered by the location of the shutter button, but not with this phone.
These are just my first impressions of the hardware, so it will be interesting to see if anything changes my mind after I spend time using the phone day to day.
In the next part of this series, I'll be covering:
Making and receiving calls
Interaction with the touch screen
Interaction with the touch D-Pad
Using the slide out keyboard