We use affiliate links. If you buy something through the links on this page, we may earn a commission at no cost to you. Learn more.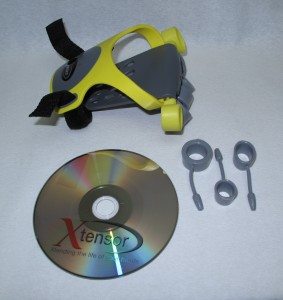 Many people suffer with pain in their hands, wrist and arms due to such things as arthritis, or tendonitis such as tennis elbow, or repetitive motion injuries/ carpal tunnel syndrome. People in some professions,  such as mine, dentistry, experience these problems at a rate higher than most of the rest of society. While I have been fortunate to avoid such problems for the most part, I know many who have suffered from arm, wrist or hand pain to varying degrees.
A new product is now available to help people who suffer from this type of pain, or for those who are willing to do exercises to reduce their chance of developing such pain. The Xtensor is an innovative exercise aid you place on your hand which allows you to do a number of different exercises aimed at strengthening the joints/tendons and muscles of the hands, fingers, and arms.  When I was growing up my Dad always had this spring type device with two handles that you squeezed together to help strengthen the hands.  This provided only one particular excercise, whereas the Xtensor provides a wide array of possibilities.The company provides the following Xtensor Overview:
Xtensor is a core training tool that improves range of motion in your fingers and structural stability in the wrist and elbow.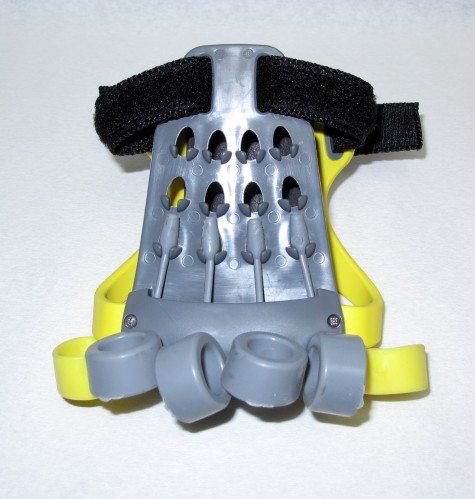 I found the device easy to set up and learn how to use. Included with the package is a short but very good instructional disc showing the use of the device and the various recommended exercises and their purpose.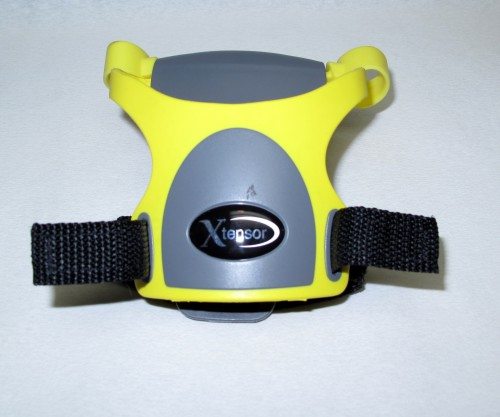 I have a hygienist who works for me who is a much better hygienist than "inner-tuber".  She flew off an inner tube being pulled behind my office manager's boat, but forgot to let go of the tube.  The result was a humerus (upper arm) broken in three places, which was NOT humorous.  As she was going through rehab for the arm I received the device and gave it to her to use for several weeks.  She stated that she definitely noticed a strengthening of her arm from the exercises and plans on purchasing one the devices herself and one for a relative.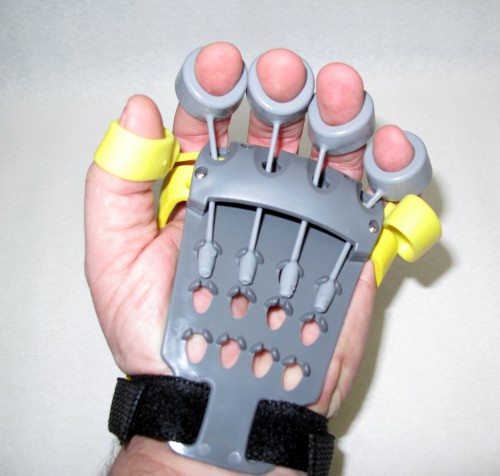 The resistance comes from rubber rings you attach to the unit.  Your fingers slip through as shown in the photos. The exercises involve extending the fingers in various ways; for example, in one exercise you wiggle the fingers only (great for guitar or ukulele players) while in many others you extend your fingers while moving your arm and hand in certain directions.  For tennis elbow sufferers you extend the fingers while moving the arm in a tennis swing motion. The instructional disc shows you how to do the various exercises and I'm sure you could make some of your own up.  The unit has two thumb rings, so you can use the unit on both hands.  The tension provided by the rings can be increased or decreased by attaching the rings to the palm part of the device in one of three positions.  Three sizes of rings are provided so the Xtensor should fit the fingers of most people.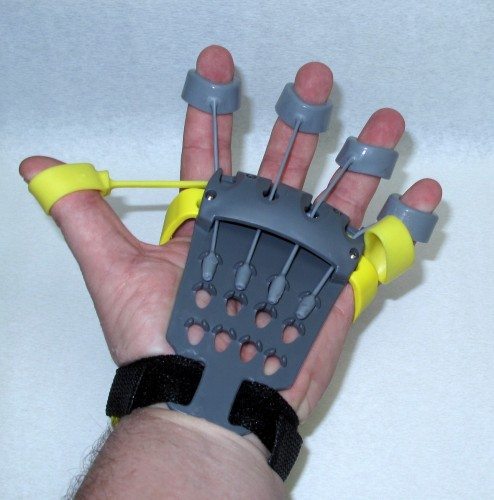 I found the unit very comfortable to use, but it gives you a workout.  You could certainly tell your arm/hand/fingers had been through a workout, but I had no lingering pain at all.  Anyone who works extensively with their hands would find the Xtensor useful at combating elbow/hand/wrist pain and tendonitis as well as an excellent way to try to prevent such problems.  All of this and they charge just $39.95 for it.  Frankly, I think that is a steal, and it doesn't require batteries!!
Product Information
Price:
$39.95
Manufacturer:
Xtensor
Pros:

Easy to use
Provides excellent "workout" for fingers, hands and elbow