We use affiliate links. If you buy something through the links on this page, we may earn a commission at no cost to you. Learn more.

One of the most useful things about my old Palm handhelds was the ability to take notes while on the move and bring them over to my Mac to finish them. I was disappointed in the iPhone for not having serious copy/paste/selection tools until the release of OS 3. It took a few weeks after upgrading to get back into the habit of starting documents on the iPhone, rather than waiting until I was at a real computer. I started moving that way with SyncBook, which I reviewed almost a year ago, but recently, I bought Quickoffice from the iTunes store (regular price, $19.99, current price $9.99), and things are getting a bit more complex. Quickoffice is the newest rewrite of the venerable office suite for Palm. It's now the largest Office suite for handhelds in the category. I'm typing in it now – and I like it!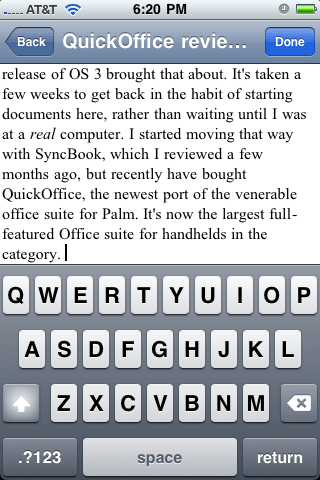 The company lists the following seven features as the main tasks for QuickOffice:
Create, Open & Edit Word documents
Create, Open & Edit Excel spreadsheets
Transfer desktop files via WiFi
Advanced Notepad Editor
Remotely access MobileMe® iDisk® accounts
Email files directly via iPhone
Mount your device as a drive
So, how does it work? Pretty nicely. There have been several recent updates that have fixed things like spelling corrections and the double-space-to-period trick. Cut, copy and paste works with the "real" iPhone tools. You can turn the keyboard on and off (one of my complaints with SyncBook), and you can really, truly, format your document in a way that will end up making your words look how you want them to when they are ink on a page.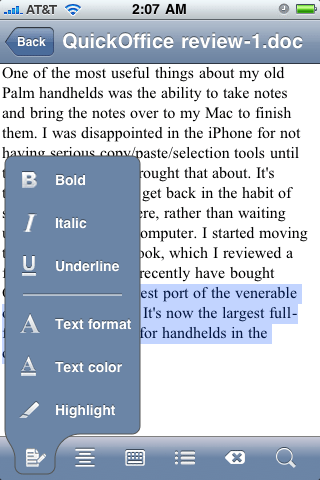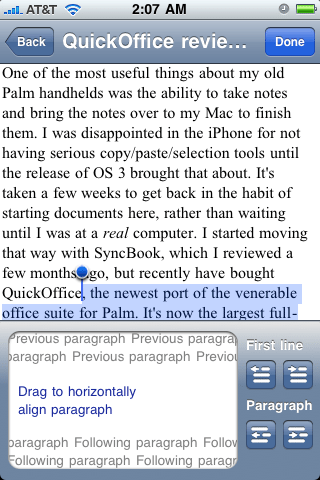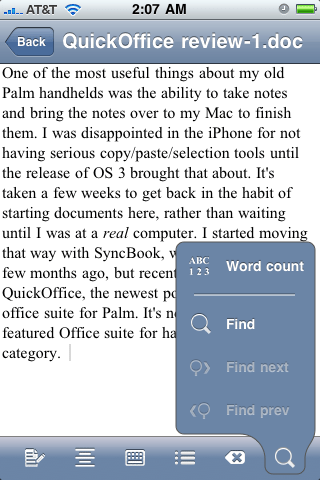 It's difficult, of course, to not compare the iPhone app to the Palm OS version, or one that runs on other systems. There are versions for Symbian, BlackBerry and WindowsMobile. I have not used it extensively on other platforms, but have noted that it seems to mix the UI of standard programs from each platform with QuickOffice's own idea of how apps should work. (For the remainder of this review, I will only be speaking of the iPhone version.)
Before QuickOffice, adding formatting and alignment to documents had not been covered by many apps, least of all any from Apple, so there's no precedent set for the user interface of how to do this. I found that once I played around a little, the icons and menus started to make more sense. There is an auto-save function that kicks in every few minutes, so you never have to worry about an errant phone call, text message, or calendar alert losing your data. You can also "save as" to make a new document with your changes.
Transferring from your computer and back is very seamless, and you can connect to any computer on your network with a simple web browser – even another iPhone or iPod Touch!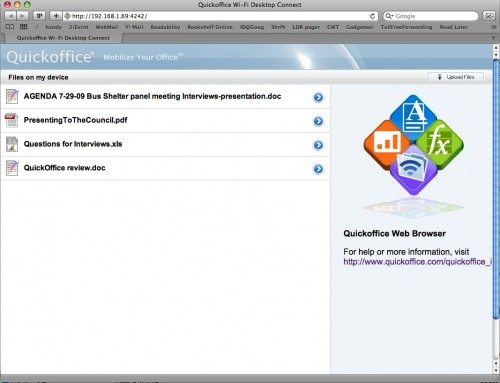 You  just type the IP address and port number of your iPhone into a blank browser page, and you can see the documents on the iPhone. Select one and click the "Download" button that appears, and the document is transferred. You can also upload documents to the handheld. The whole process is controlled from the other device, which makes this a great tool for anyone working from random workstations in the course of their day. No matter where you are, you can download various files, edit or print them, and send them back to your handheld. (For those worrying that their data is going to be stolen, there is authentication that you can use between machines, and the transfer can only take place while your iPhone is in transfer mode. If you're editing a document or talking on the phone, transfers can't happen. That's one of the benefits of limiting multi-tasking.)
Document types supported include Word, Excel, Pages, Numbers, PDF, and basic text files, as well as the same graphic files that mobile OS X supports. Editing of graphics, iWork files and PDFs is not supported, and presentation files (Keynote and PowerPoint) can be moved to the iPhone, but not viewed there. (Edit 2010 Jan 13: I tested the current version after this was posted, and pptx, keynote, and ppt files are now supported. Some of the backgrounds and photos still have issues, but text comes across nicely.) Still, this is a great way to carry a file from one place to another without the use of flash drives.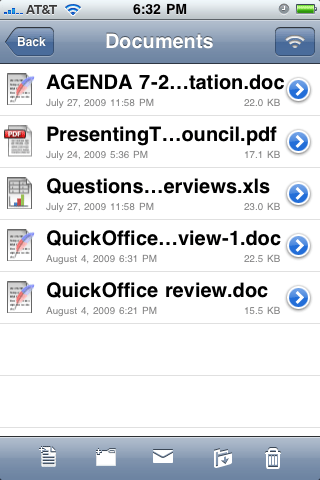 Outer Limits
What are the limitations? First off, all of this data transfer stuff depends on being on the same WiFi segment. In places that limit sharing between peers, direct connections may be prohibited. (I have found this in several hotels. My work-around was to create an ad hoc network on my MacBook Pro and connect to it from the iPhone.) Secondly, there is not yet any true sync, only the transfer of files from one device to another. If there is already a version of the file on that machine in that place, a number will be added (or incremented) at the end of the filename. Thus, while writing this article and moving it back and forth, I have five files on my desktop, all named  "QuickOffice Review" with a number after it. Without your own vigilance, version control will get out of hand quickly.
I salute the QuickOffice folks for their determination. They are moving forward with development, tightening code, and updating on an encouragingly frequent schedule, despite the recent holidays and the Apple approval process (which subjects every minor release to the full review process, delaying updates to releases that may contain actual bugs). With the huge explosion of iPod Touches that were sold during the past Holiday, I'm sure there will be a lot of homework started and edited on this program in the next few years, and improvements to versioning and syncing will surely follow.
I give the current version a solid four stars – they are doing more than most note-taking apps to push the user interface for formatting and text manipulation, and the data transfer over wifi through the browser is fast and painless. There will be some folks who complain about the price. Over the past ten years, I have paid probably on the order of $100 for various versions and upgrades of QuickOffice. Paying $10 or $20 for the iPhone version with free upgrades is a bargain. If you're a business user or a student, this is well worth the few lattes you'll have to do without to finance it.

Product Information
Price:
$9.99
Manufacturer:
Quickoffice
Pros:

Transfer files from handheld to other computers easily
Edit WP and SS documents on your iPhone
WiFi transfer means you don't need a cable

Cons:

No true "sync" capability means no version control for duplicates
Loading the program and documents is quite slow
WiFi required means no moving documents if there's no Wifi