We use affiliate links. If you buy something through the links on this page, we may earn a commission at no cost to you. Learn more.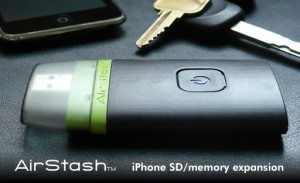 Wearable Inc. has put up a barebones website for their new AirStash device, which is billed as a "wireless media server" for mobile devices (the iPhone is mentioned specifically).  Not much information is given, other than the fact that the AirStash will be officially unveiled at CES 2010 — no price, no availability date, no specs.  It seems safe to presume that the device will use Bluetooth for communications with the iPhone, but it does raise questions around speed and security, not to mention questions of how data stored on an AirStash could be used by the iPhone, or how stability of apps using AirStash data might be affected if the AirStash is suddenly unavailable.
Hopefully we will have answers to some of these questions when the AirStash is unveiled at CES over the coming weekend.