We use affiliate links. If you buy something through the links on this page, we may earn a commission at no cost to you. Learn more.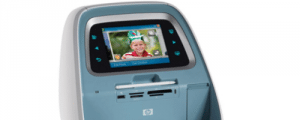 HP's A826 Compact Photo Printer is designed as an easy and fun-to-use, space-saving photo printer. Featuring a nice color touch screen and a housing that looks like something from Wall-E, it at least accomplishes that goal. How is it otherwise?
The basic specs are:
7 Inch Touchscreen
Prints up to 5×7″
100 Sheet Internal Paper Tray
Lab Quality Photos that are Fade and Smudge Resistant
8.46 Lbs (WxLxH) 10.4″ x 14.65″ x 15.12″
The box includes the printer, AC power cord, a stylus, CD, quick-start guide, basic users manual and a handful of other documents.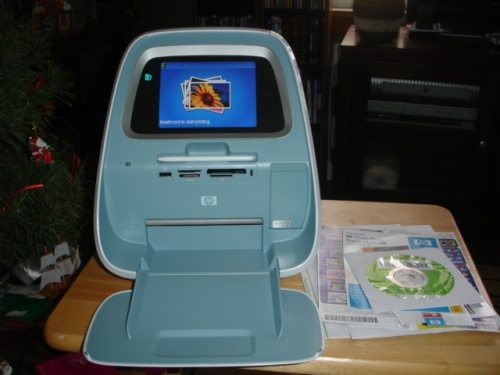 The A826 is a 'stand alone' printer designed to replace the 'kiosk experience'. It is primarily designed to print from memory cards (it takes all of the common formats) and USB drives, but can be connected to a computer as well. It finds images quickly on all of the cards and thumb drives I've tried it with so far- but not on portable hard drive (probably because it did not recognize the folder structure). When it finds images, it presents them as thumbnails for you to select with a touch.
Once an image is selected, you can print it as is with a touch of the print icon on the screen, edit the image, or 'get creative' with it. When you are done, you hit the print icon and the image will print in 30 to 90 seconds, depending on size. You can also make the image into a slideshow, album, or index sheet.
So much for the basics. Let's look at details.
The A826 is styled in an almost toy-ish way that does not seem to blend in with most other computer gear. It does have a small footprint and is easily moved, almost deserving of the occasional 'portable' label it gets. (Let's clear that up right now. The A826 is tethered to an AC outlet, does not have an easy carry handle, and the stylus tends to drop out when it is moved- so it is 'compact' but not really 'portable'.)
Starting at the top, the paper loader is hidden beneath the top cover. It holds up to 100 sheets of 4×6 or 5×7 sheets and the top covers keeps them clean and safe. Once you figure out the loading, it is quite easy but somehow the graphics provided don't quite explain it well.
The upper front of the unit is dominated by a big, bright full-color 7″ touch screen. The screen is bright, colorful, and fun. The interface is icon-based and easy to figure out. Below the screen is the stylus 'shelf" with the stick stylus. You can just touch the screen, but the stylus makes everything more accurate.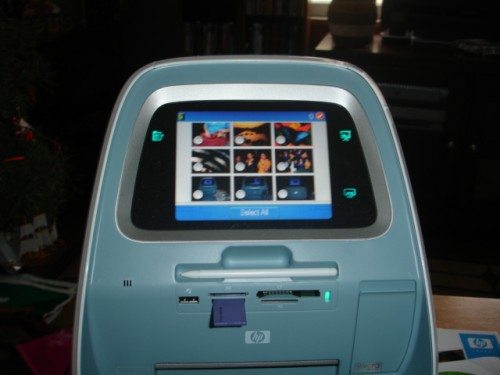 Below the stylus, the unit features several slots and jacks for cards (CF, XD, SD, MS/Duo) and USB. Below this panel is the paper slot and folding tray. Beside the slot is the door to access the #110 three-color cartridge.
The power button is located low on the back of the left side. When turned on, the unit sings a cheerful little tune and flashes a short show.  The power cord plugs in the back, near a USB-B (square) connector for the computer- and that is about it for the layout.
The software in the unit is very user-friendly. Once you select an image, you can edit it (crop, remove red-eye, or adjust brightness) or 'get creative' with it. Under this option you can add frames, captions, and clip art, and/or text or captions. You can also change it to sepia-tone, 'make slender', etc. or make it into an album (photo/scrapbook). You can keep adding effects as long as you want.
Because the clip-art, frames, etc. are pre-loaded, you are pretty much stuck with the options included. While the quality of the clip-art, etc. is good, I felt that many of the choices were better suited to a pre-teen girl than general purpose (even the sound effects, etc.- I really sometimes feel like this is poised to be sold as a Barbie(R) toy by replacing the pale turquoise front panel with a pink one!)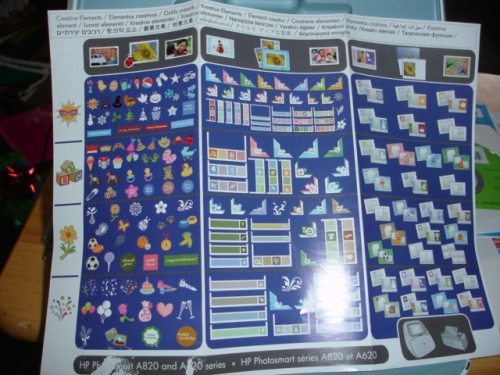 Using the software is very intuitive and kinda fun with the biggest catch I saw being trying to remove effects- you remove an effect by selecting it again and looking for the 'remove last' option.
The print quality is great- it looks like a drug store print. Good colors, quick drying, whats not to love? Overall, this printer is indeed a lot of fun to use- easy, pretty fast, and lots of useful options (especially for young girls). It is also well-designed, compact, and seems well-made and reasonably sturdy.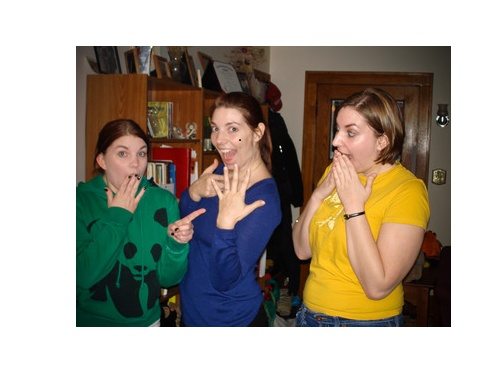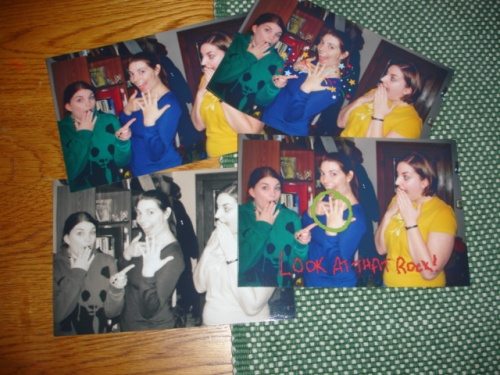 There is a downside. The printer is rather expensive- Amazon.com is selling them at this time for $220. A print cartridge costs about $20 and does about 55 prints per HP's calculations. A pack of 100 sheets of photo paper runs about $10. The average price per print, just paper and ink is 30-40 cents, not including any part of the printer's purchase price. A local chain drug store offers great digital prints with a few more editing options for less than 1/2 that cost. I can even email them in and pick them up in an hour.
You can knock the per print price down with smart shopping and there are definitely reasons you would pay the price for the convenience of quick sharp prints right here and now. One idea I've seen is setting up your own 'print kiosk' at parties and gatherings. I think the oddest thing about this printer is that so much of it, from the start-up sounds to the clip art, reminds me of a toy for pre-teen girls. I can easily imagine it coming with a sticker pack of unicorns and rainbows to decorate the printer with- but at $200+, I cannot imagine giving it to that age group.
Bottom line- other than the costs, this is a great machine!

Product Information
Price:
$228.90 (Amazon.com)
Manufacturer:
HP
Pros:

Compact footprint
Easy to use
Good print quality

Cons: