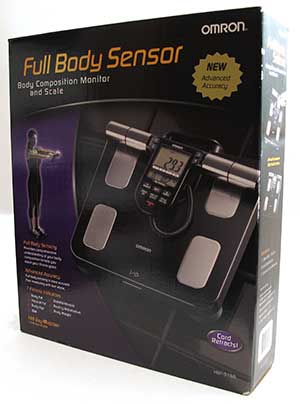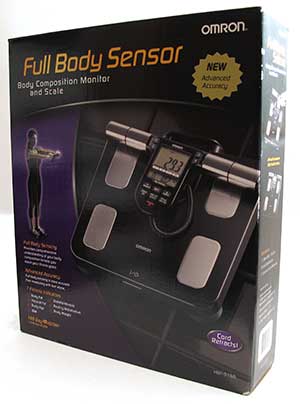 There are only 2 full days left before January 1st, 2010 and we all know what that means. It's new year's resolution time, the time of year when everyone makes promises to themselves to start working out, eating better and losing weight. For the past 5 years, I haven't needed to make that resolution because I was already doing all those things. But I slipped a little in 2009 and stopped working out and put on a few pounds that I'd like to get rid of. I've been looking for a few gadgets to help me with my goals and the first one I've tested is the Omron Full Body Sensor Body Composition Monitor and Scale (model HBF-516B). Wow, that's a mouth full!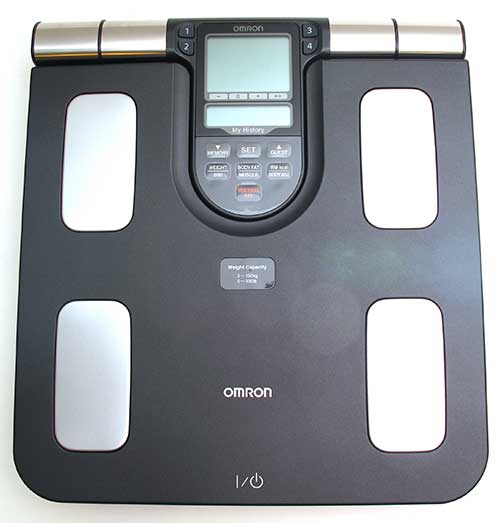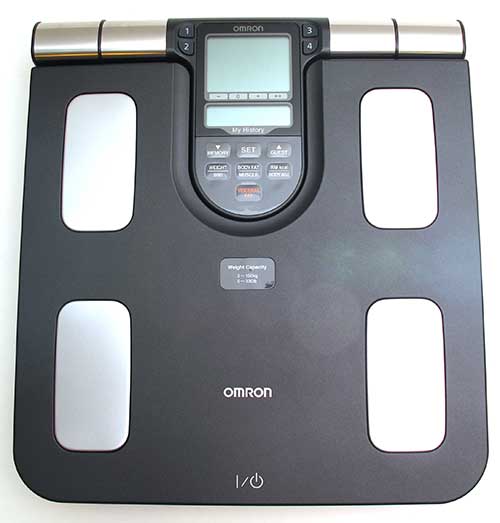 The Omron scale is similar in size to the generic scale that I purchased from Walmart a few years ago. The similarity ends there though as the Omron can measure more than just your body weight. It uses bioelectrical impedance to estimate these fitness indicators:
Body fat percentage
Body mass index (BMI)
Skeletal muscle
Resting metabolism
Visceral fat
Body age
Muscles, blood, bones, and body tissues with high water content conduct electricity easily, while body fat does not. The scale sends a very weak electrical current of 50 kHz and less than 500 μA through your body from your hands to your feet to determine the amount of water in each tissue. You can't feel this current at all.
The scale is mainly constructed of plastic except for the four electrodes on the base that you stand on, and the metal handles for the display unit.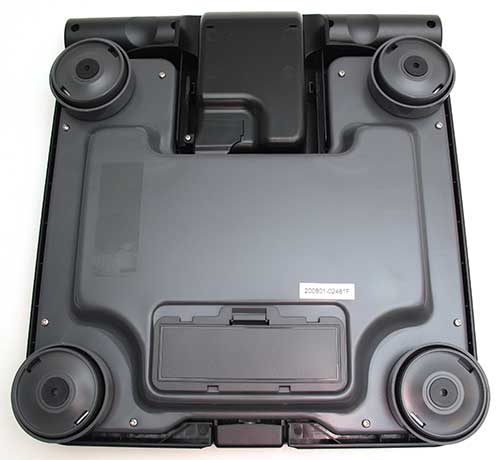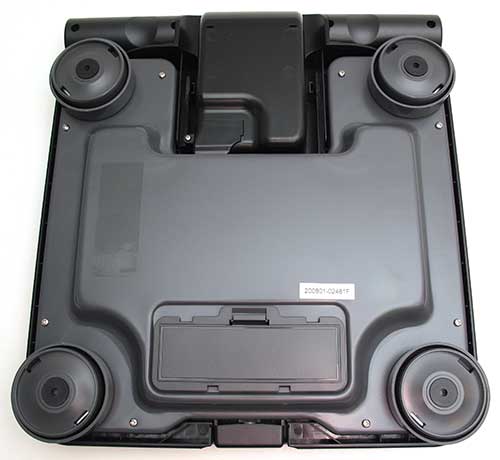 The scale has four stand off feet with a rubber pad in the center to keep the scale from sliding around on the floor. The battery compartment is located on the back of the device. Four AA batteries are included with the unit and should provide power for up to 1 year of typical use (4 uses a day).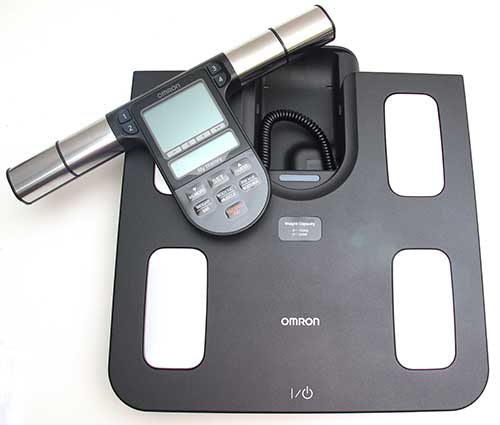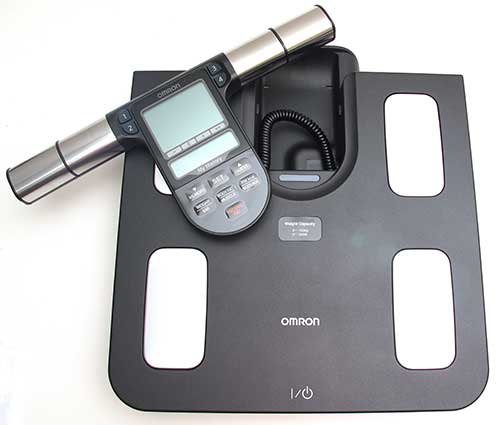 The handheld display unit is connected to the scale by a coiled cord that stores under the display unit when it is not being used. The display unit is used to perform all the measurements except a regular body weight measurement. If all you want to use this scale for is to display your weight, then you could leave the display unit snapped into the base. What fun would that be though?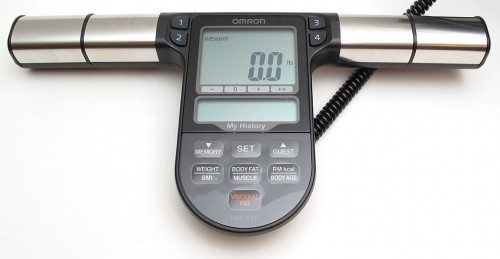 Before you start using the scale, you need to enter your profile info. This is done by using the buttons on the display unit. After the date, time, your weight, age and height have been recorded and stored as a profile (you can store up to 4 profiles), you're ready to see the good (or bad) news about your body. Click the image above for a larger view of the display unit.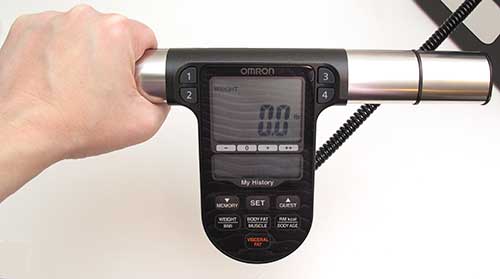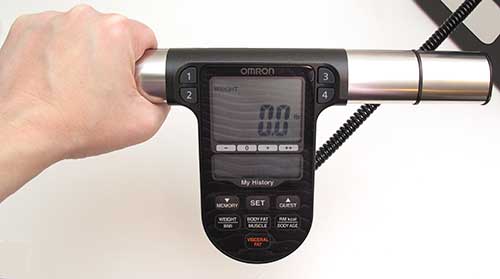 Using the Omron Full Body Sensor is very easy. You just kick off your socks, press the power button on the front edge with your toe, wait for the display to show 0.0 lbs, grab the display unit in both hands, press the number for your stored profile and step on to the base so that your heels and pads of your feet are touching the electrodes. After a few seconds, your body weight will be displayed. The weight will blink two times to let you know that the other measurements will be taken. At this point, you raise your arms straight out in front of you at a 90 degree angle to your body and wait a few seconds for the measurements to be recorded.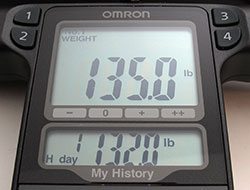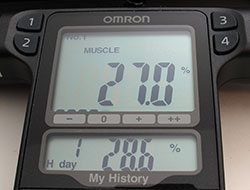 You can then use the buttons on the display unit to view the different measurements. Some of the buttons can be pressed twice to toggle between two measurements. The display unit has two LCD displays. The smaller one shows history, so that you can see low and high measurements as well as measurements from the previous day, 7 days, 30 days, 90 days and even 180 days ago. If you didn't weigh yourself on those exact days, the recorded measurements for the next closest day will be shown.
Graphs in the instruction manual show where you should be for the various measurements based on your age.
I like being able to see changes in my body fat and skeletal muscle measurements as I work out. That is a motivator for me. I also like that it tells me my body age is 11yrs younger than I currently am 😉 The only feature missing on this scale is a way to download the data to a computer (or better yet, my iPhone). But as is, the Omron Full Body Sensor Scale is going to be a tool to help me keep my new year's resolution for 2010.
Some of our links in posts like this one are affiliate links, which means that we may receive a small commission on purchases at no cost to you.
Product Information
Price:
$119.99
Manufacturer:
Omron
Pros:

Can store profiles for 4 people
Keeps up to 180 days of data
Easy to use

Cons:

No way to download data to a computer