We use affiliate links. If you buy something through the links on this page, we may earn a commission at no cost to you. Learn more.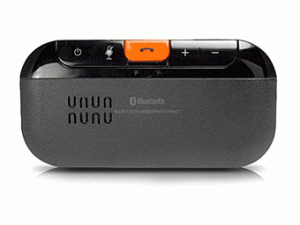 Broadcom is a global leader in semiconductors for wired and wireless communications, and the provider of the leading-edge Bluetooth® technology for in-car product manufacturer ITM's new line of wireless hands-free car kits, made exclusively for Sprint. To celebrate the holidays and at a time when many of us will be traveling, they are offering 20 Gadgeteer readers the chance to win a Sprint Portable Bluetooth Car Speakerphone. Contest details after the jump.
The Sprint Portable Bluetooth Car Speakerphone is valued at $39.99 and is perfect for a mobile lifestyle. Clip it to a car visor and make hands-free calls. No more annoying wires connected to the handset. It can also be used it as a speakerphone for conference calls. A clear conversation is guaranteed at both ends of the call, thanks to Broadcom's innovative SmartAudio® sound and voice enhancement technology, which reduces problematic background noise to deliver a satisfying audio experience.
How to Win
Prize:
1 Sprint Portable Bluetooth Car Speakerphone to be given to 20 winners
Features
· Ultra slim and compact design
· Compatible with most Bluetooth-enabled cell phones *
· Premium audio quality
· Sun visor clip for easy storage
· Dimensions: 117 x 60 x 12 mm
· Weight: 2.5 oz.
· Range: Up to 33 feet
· Talk time: Up to 20 hours
· Standby time: Up to 900 hours
· Bluetooth version: v2.1
How to enter (read carefully – any missed steps and your entry will be disqualified):
1. Between now and Wednesday 01/06/2010 11:59PM EST, sign up with twitter and follow @thegadgeteer
2. Then send the following tweet:
RT Win a Sprint Portable Bluetooth Car Speakerphone @thegadgeteer Full details at http://wp.me/pprwJ-7oa
3. Come back to this post and leave a comment with your twitter name.
4. At some point on 01/07/2010, I'll pick 20 random winners using random.org. The winners will be contacted by email and will have 48 hrs to accept their prize. If I do not receive an answer, I'll do other random.org drawings till the prizes are gone.
Rules:
1. Only one entry per person.
2. Contest is open to anyone with a US shipping address.
3. Contest is not open to writers, family members, close friends of The Gadgeteer.
4. the-gadgeteer.com is not responsible for any lost packages or incorrect shipping addresses.
5. Failure to follow instructions will result in the entry being disqualified.
I want to give a HUGE thank you to Broadcom for sponsoring this contest!
*The car kit is compatible with the following handsets:
8703e™ by BlackBerry®, 8830 by BlackBerry®, A640 by Samsung®, A900M by Samsung®, BlackBerry® 7130e™, BlackBerry® Curve™ 8330, BlackBerry® Pearl™ 8130, BlackBerry® Tour™ 9630 Smartphone, BlackBerry® Tour™ 9630 Smartphone non-camera, Centro™ by Palm®, Centro™ by Palm® , Centro™ by Palm® (Original model closeout), Fusic™ by LG®, HTC Hero™ with Google™, HTC Snap™, HTC Touch PRO™, HTC Touch Pro2, IP-830W by Samsung®, KATANA® Eclipse X by Sanyo®, KATANA® Eclipse by Sanyo®, KATANA® II by Sanyo®, KATANA® LX by Sanyo®, KATANA™ by Sanyo®, KATANA™ by Sanyo® (Blue), KATANA™ by Sanyo® (White), Katana® DLX by Sanyo®, LG LX 290, LG LX370, LG Lotus™, LG Rumor2™, LX150 by LG®, LX160 by LG, LX350 by LG®, LX400 by LG®, M1 by Sanyo®, M220 by Samsung®, M240 by Samsung®, M300 by Samsung®, M320 by Samsung®, M330 by Samsung®, M500 by Samsung®, M510 by Samsung®, M520 by Samsung®, M610 by Samsung®, MOTO Q by Motorola, MOTO Q™ 9c by Motorola, MOTOKRZR™ K1m by Motorola, MOTORAZR² V9m by Motorola, MOTORAZR™ V3m by Motorola, MOTORAZR™ VE20 by Motorola, Mogul™ by HTC, Motorola® Renegade™ V950, Muziq™ by LG®, PPC-6700, PRO-200 by Sanyo®, PRO-700 by Sanyo®, Palm® Pixi™, Palm® Pre™, Palm® Treo™ 800w, Rumor™ by LG®, S1 by Sanyo®, SANYO Incognito™, SANYO SCP-3810, SCP–2400 by Sanyo®, SCP-2400 by Sanyo®, SCP-3200 by Sanyo®, SCP-7050 by Sanyo®, SCP-8400 by Sanyo®, Samsung ACE™, Samsung Exclaim™, Samsung Highnote™, Samsung Instinct® HD, Samsung Instinct® s30™, Samsung Instinct™, Samsung Intrepid™, Samsung Moment™ with Google™, Samsung Rant™, Samsung Reclaim™, The B'Phone™ by Samsung®, Touch Diamond™ by HTC, Touch by HTC™, Treo 650, Treo™ 700p by Palm®, Treo™ 700wx by Palm, Treo™ 755p by Palm, Treo™ PRO by Palm®, Upstage™ by Samsung®, Z400 by Samsung®