We use affiliate links. If you buy something through the links on this page, we may earn a commission at no cost to you. Learn more.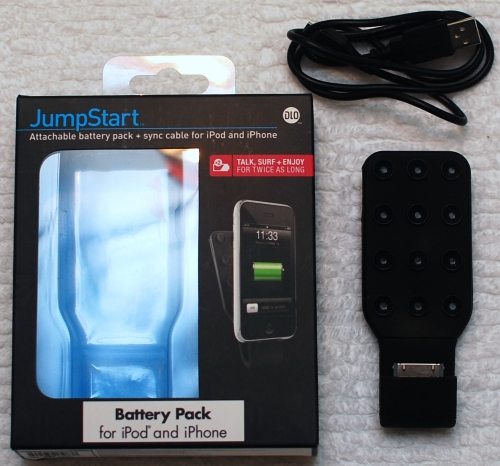 I don't have an iPhone, just an iPod Touch, so having a battery die at an inconvenient time isn't devastating for me.  I still have my phone if I need to make a call, so I can feel free to listen to music, use apps, connect to the internet if I'm near WiFi, even play Bejeweled2 as long as I like.  However, I still don't want my battery to die when I'm out, because I LIKE to play Bejeweled2.  Enter  the DLO Jumpstart, an attachable battery pack  that is designed to ensure I have enough power to play any game I want until I get back to a power cable.  When Julie offered it to me for review, I was happy to give it a try.
The Jumpstart is a battery pack that works with the iPhone 3G and 3GS, the Touch, and several other iPods.   (To make this easier to read, I'm just going to use "Touch" when I talk about the Apple device.  That's what I tried the Jumpstart with, and it's easier than trying constantly to list every device.)   The Jumpstart is a black rectangle with a rubbery skin.  It is about 4.75 X 1.75 X 0.5 inches, and it supplies 1200 mAh to double your battery life.  The Jumpstart has a short, stiff, J-shaped cable that plugs into the dock connector, and it attaches to the back of your device with twelve little suction cups.  You can leave the Jumpstart connected to your Touch so that it continually keeps your battery "topped off".  If you have a case you prefer to keep your Touch in, you can throw the Jumpstart in your gear bag and plug it in to your device only when you need to recharge your battery on the go.

The biggest problem I had with the Jumpstart was the lack of documentation.  There was no insert in the box – just the Jumpstart and a USB to mini-USB cable.  I looked at the DLO web site and found a manual, but it turned out to be nothing but two line drawings that didn't make much clear except how to plug it onto my Touch.   I wasn't sure if I could charge the Jumpstart alone or if it had to be attached to my Touch to charge.  I decided I'd just go by intuition, so I plugged the Jumpstart into my Touch, pushed the suction cups against the back until they stuck, then I flipped open a cover on the upper left corner of the Jumpstart to uncover the mini-USB port.  I connected the Jumpstart/Touch combination to my computer using the included cable.  A red status light on the top of the Jumpstart indicated that something was happening.  Since I had no idea how much charge the Jumpstart may ship with, I decided I'd just leave it plugged in for a few hours while I did other things on the computer.  As soon as I plugged in the cable to my computer, iTunes started up and synched up my Touch.  Being able to synch without having to remove the Jumpstart will work well for those people who elect to leave it attached all the time.
To begin the test, I removed the Jumpstart and used my iPod until I ran the battery completely down.  I used it until the iPod just turned itself off and wouldn't start.  I attached the Jumpstart, and I almost immediately got the charging screen on my Touch.  After about 2.5 hours, my Touch was completely charged.  My battery monitor app showed 100%.  I didn't use it while it was charging, because I wanted to see if the Jumpstart was capable of completely recharging my battery.  In later tests, I found that I could use the iPod while it was charging.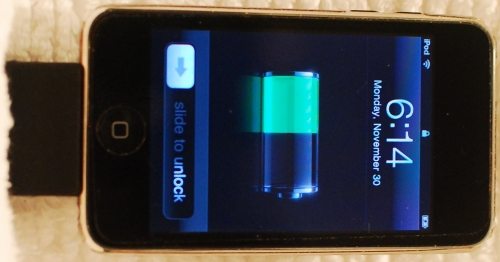 I assumed that after completely recharging a flat battery, the Jumpstart would be ready for a charge itself.  Since I still hadn't found any good instructions, I just left the Jumpstart attached to my now-charged Touch, plugged everything up to my computer, and waited to see how long it took to charge.  In about 2.5-2.75 hours, iTunes showed that my iPod was completely charged, so I assumed the Jumpstart was as well.
There is a status light hidden at the top of the Jumpstart under the black rubber coating.  There is also a hidden button on the back near the status light.  Locate the button by looking or feeling for a dimple in the surface.  Pushing that button turns on LEDs that seem to indicate charging status.  While charging the Jumpstart/Touch, a steady red light was on.  The red light eventually changed to blue, to apparently indicate charging was complete.  Nothing I saw with the status lights seems to match the confusing "manual" diagrams, but then I wasn't sure what the line drawing was trying to tell me anyway.
I have a Zagg invisibleSHIELD skin on my Touch, and the suction cups didn't stick very well.  I didn't remove the Zagg to see if the suction cups stuck better to the metal.  Then again, the lack of suction could have been due to the lint the cups picked up in my bag.  In any event, it stuck well enough while I was recharging on the go.  It probably would become more of a problem if I decided to leave the Jumpstart connected all the time.
The Jumpstart worked great to completely recharge the drained battery in my Touch.  I like the convenience of having it in my purse for a quick recharge when I'm away from home.  I do wish the documentation was better.  It seemed to be rather intuitive to use, but I'd like to be sure!  And remember, it doesn't just work for the iPod Touch.  It also works for iPhones and iPods that use the dock connector.  See the DLO site for a complete list of supported Apple devices.
Product Information
Price:
$59.99
Manufacturer:
DLO
Pros:

Compact size makes it easy to take along in your bag
Can sync your device while the Jumpstart is attached using the included cable
Does deliver a full charge to a completely drained battery

Cons:

No manual!
You can't use a case or any sort of docking station with the Jumpstart attached