We use affiliate links. If you buy something through the links on this page, we may earn a commission at no cost to you. Learn more.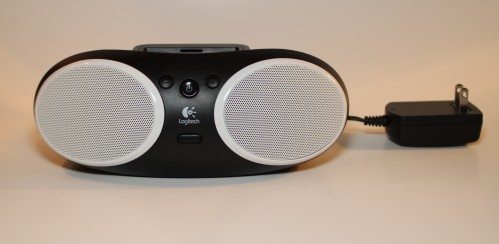 Echoing my recent comment about the cellphone accessory market, I'm not sure if more money is spent on iPods or on accessories to go with them.  The availability of good speakers that you can plug your mp3 player into has undoubtedly contributed to declining sales of stereo systems like some of us had in school.  Remember the stack of equipment; the receiver, equalizer, turntable (Dad, explain to Junior what I mean), cassette deck (ditto Dad) and huge floor speakers all working together to blast out All Along the Watchtower. Now the dormroom or basement is more likely to just have an iPod speaker of some sort and a pair of noise-cancelling headphones as the stereo system to blast Rihanna Montana or whoever it is they're listening to today.
One of the bigger companies dealing in accessories is Logitech.  Their S125i speaker is pretty basic.  Any iPod with a dock connector on it will attach directly to the top of the speaker.  You can attach other mp3 players or older iPods without a dock connector to the speaker using a supplied cord that attaches to the speaker and the your device's 3.5 mm stereo jack.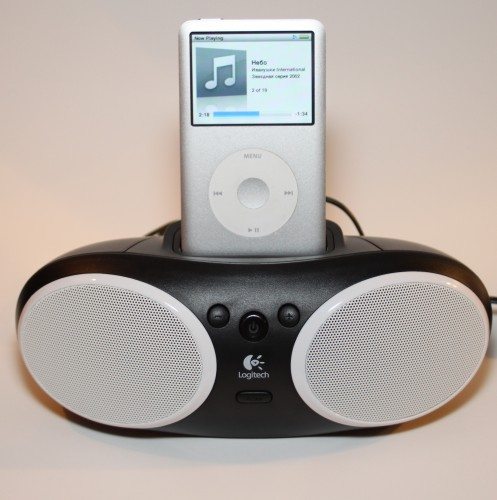 The literature says the speaker will operate for about 10 hours with 4 "aa" batteries.  I'm at over 8 hours with no sign of sound deterioration.  Operation of the unit is simple.  There are only 4 buttons unit; On-off, volume up, volume down and "bass-boost".  I found the sound pretty dull without the bass boost turned on for any type of music I tried.  I would describe the sound as decent, as long as the bass boost is on. The sound is clear and the treble notes are fairly crisp.  For general listening the speaker is fine, but if you use it to listen to an intricate multi-layered symphony you may be a bit disappointed. You certainly don't pick up all the sounds you do with an excellent headphone set, but that is not what this speaker is for.
Sometimes I'm moving around in a room or garage while listening. I have used other iPod speakers that lay flat and have a more even sound around the space I'm in.  This speaker is better suited to be along a wall or somewhere the sound just needs to project out in one direction and is better suited for a smaller space, like a dorm room or office cubicle.
At $70 this is a good value, and the battery life is certainly very good.  For the right setting this is a fine auxiliary speaker for your player and is light and small enough to easily pick up and take with you!
Product Information
Price:
$70
Manufacturer:
Logitech
Pros:

Lightweight
Affordable
Small

Cons:

Sounds good only if in front of the speakers