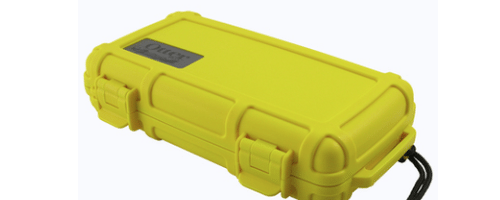 One of the earliest reviews at The-Gadgeteer was an OtterBox PDA case, and the tough little suckers have been a favorite review ever since. Being a long time fan of these colorful, tough, waterproof boxes, I jumped at the chance to do a new review. Besides, I had a project in mind that as right up their alley!
OtterBox offers an incredible array of boxes now- a variety of colors and sizes of the classic waterproof boxes, like the 3000 and 3250 we will look at here, and far more- boxes with 'listen thru' features, hard-shell waterproof cases you can access touch screens through, skins, silicon cases, etc.
The 3000 and 3250 are 'classic' boxes- thick impact-resistant plastic with built-in ribs, a full length molded-in hinge, two strong latches, a silicone seal, and so forth. The clear boxes and the colored boxes have a couple minor differences- the colored boxes are made of tough ABS plastic and have foam padding built-in. The clear boxes are polycarbonate and are not padded.
The toughness of these things is legendary. They are often shown with a car parked on them. I could not replicate that, but my full weight does not cause them to creak, and I can jump on them without worry. Hitting it full-on with a hammer just made the hammer bounce.
They are rated to waterproof to 100 feet, so I loaded the 3250 (7.587″ x 3.648″ x 2.226″ interior dimensions) with heavy metal parts and a piece of colored paper towel that would show any leaks.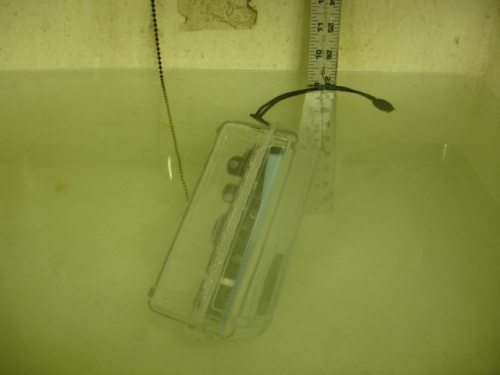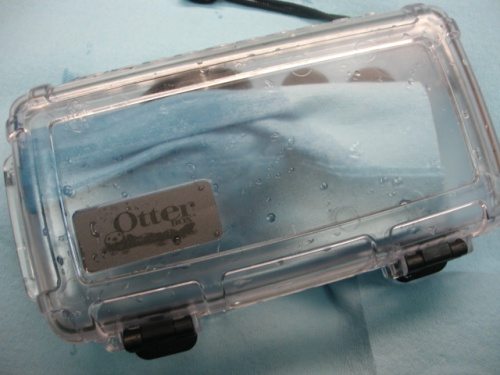 Whaaaa?????? OK, I've owned several of these boxes and none has ever leaked. A quick check shows that the left latch does not take as much effort to lock, and that a piece of paper trapped in the seal near the latch can be easily pulled out. An apparent manufacturing flaw. Well, let's try out their customer service.
An email to the customer service department got me a result within hours and a tracking number for a replacement box within24 hours. No muss, no fuss. This further confirms my long-held theory that the best companies have great customer service- you just rarely need it. As an aside, when we were setting up this review, there was a minor miscommunication on our part, and they stepped up and took care of things without blinking an eye. The shipping has been almost spooky fast.
The other box they sent, the 3000 (7.639″ x 3.723″ x 1.229 inside), passed the test perfectly. OK, they are rough and tough, and waterproof. But… these things seem to challenge me to come up with creative uses, much like Altoids tins do. At work, we use a special TV remote for people with disabilities. It is a great device, but rather fragile- a couple of settings that can get changed, a somewhat fragile jack for a switch, etc. Ours tend to take a lot of abuse. Can Otterbox help?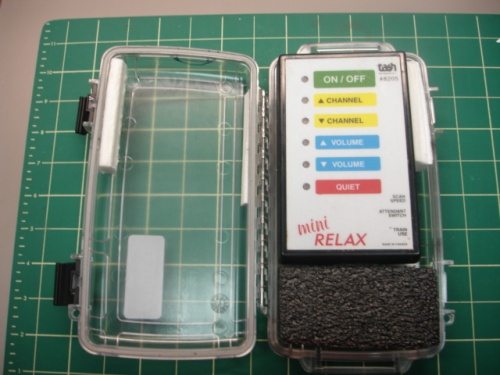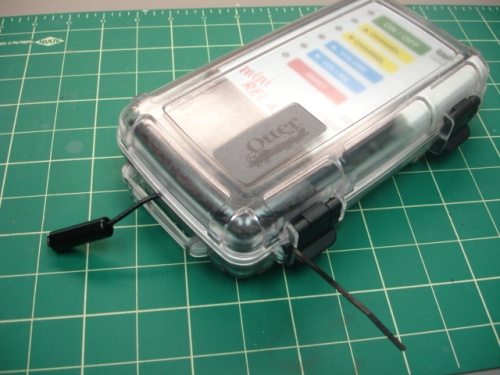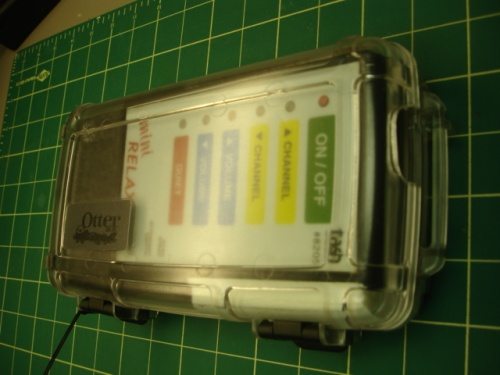 Perfect! The remote works when a user hits the switch (not shown, but it plugs into the jack donagle). That starts a light showing the choices one by one- power, vol. up or down, channel up or down, mute- when it is on your choice, hitting the switch again activates that choice. (If you are interested, this is a TASH Mini-Relax remote)
The remote is now secure from tampering, bumping, dropping, and casual wetting (the IR hole and the cord pass-thru violate the waterproofedness, but most spills, etc. should not bother it. I might not have needed to cut out the IR port, but my informal tests showed that the range was shortened without the hole. By the way, the polycarbonate of the clear box drills and cuts with basic tools wonderfully without chipping or cracking.
The OtterBox makes a great indestructable project box. They are often used for weather-exposed things, like Geocaching caches, and more. These boxes inspire creativity so much they should use a slogan like "OtterBoxes- when you have outgrown mint tins!" For my next project, I am thinking about making a ruggedized power box – batteries, solar cells, and a bunch of jacks and plugs to power cell phones, iPods, my netbook, cameras, and rechargeable batteries in the field. Or maybe a floating music player for the pool- mount the speakers on the inside of the lid, behind some small drilled holes covered with plastic film on the inside. Or maybe a small aquarium so I can take my pet fish on walks with me. Or maybe…
Support The Gadgeteer
:
We may earn a small affiliate commission from purchases made from buying through links on our site. As an Amazon Associate I earn from qualifying purchases. Learn more.
Product Information
Price:
$22.49 - $25.49
Manufacturer:
OtterBox
Pros:

Durable
Waterproof
Great customer service

Cons: