We use affiliate links. If you buy something through the links on this page, we may earn a commission at no cost to you. Learn more.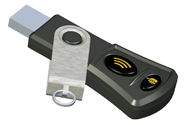 If you are a fan of NPR radio programming, you'll probably want a Radio Bookmark.  Do you find yourself getting to your destination in the middle of a program you really want to hear or in the middle of a song that you want to know more about?   If you have the Radio Bookmark you can resume your programming at your convenience. 
The Radio Bookmark looks like a usb flash drive with a couple of buttons on it.  Simply push the button with the radio-waves icon to record the date and time you were listening.  If it's something you are really interested in, press the button with the thumbs-up icon to mark it as a favorite.  When you have time later, plug the Radio Bookmark in to your computer, and information about the programming on your local participating NPR stations at your bookmarked date and time will display on your personal page.
You will be able to playback programming, see the station's music playlist to find the song title and artist, and sometimes even be able to click through to buy the song and benefit your favorite radio station.  The Radio Bookmark costs $39.95, but some stations offer it as a gift with an NPR station membership.  Check the Radio Bookmark web page for a list of participating NPR stations.