We use affiliate links. If you buy something through the links on this page, we may earn a commission at no cost to you. Learn more.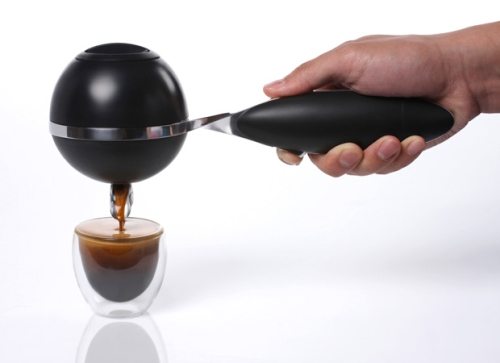 The mypressi TWIST espresso machine puts the hand-held gadgetry in coffee making.  This little 10.5 X 3.5 X 3.5 inch device looks a little like one of those mesh tea infusers on steroids.  It makes a single or double espresso shot, with crema, in about 20-30 seconds.  You don't need electricity, so you can use this unit anywhere you have access to hot water.  You use your own ground coffee or those ESE pods used by many home espresso units.  The TWIST has a "pneumatic engine".  This means that it's powered with those little cans of nitrous oxide that are used in whipped cream machines.  You can find them at most kitchen stores, or you can buy the canisters directly from mypressi for $15.99 for 24 8-gm canisters.  Each canister allows you to make about 8 shots or 4 double shots of espresso.
You do have to pay for all this coolness.  The TWIST is $169.00, directly from mypressi.