We use affiliate links. If you buy something through the links on this page, we may earn a commission at no cost to you. Learn more.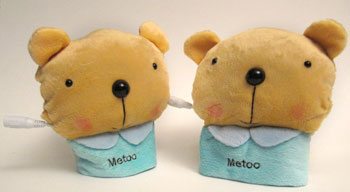 So you look at these and think, "You gotta be kidding."  This is what I have to put up with because my hands are freezing at the office?  Do I really have to sacrifice my dignity with these and subject myself to snickers and snorts just because I'm a wimp and hate cold hands?
My dog, on the other hand thinks "ooooOh!  i kAn haz fuzzeEs??!!".  Well his enthusiasm is partially justified.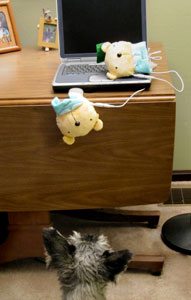 These Bear USB Hand Warmers (Gadget4All,  $22.50 –other animals are also available) are meant for the cold-blooded.  They have a generously long set of USB cables which can be detached from the … uh … heads of the bears.  They are also kind of comfortable and actually make you feel like you feel when you drink cough syrup on a cold day – kind of nice.  They warm up pretty quick and a cold-blooded vampiric hand begins to feel almost human.  The USB cable, as I mentioned, is long and actually requires only a single port to heat up both bears, er gloves, so in other words you do not need to tie up a port for each of the gloves.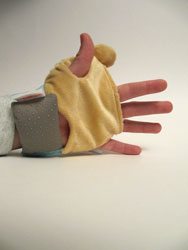 While not uncomfortable, and kind of nice on the hands there are a few draw-backs to this solution.  The first is that the wrist straps that help keep the bears in place are kind of narrow so someone with larger wrists or hands would find these much too small.  The second problem is that it makes typing really klutzy …
Unfortunately the latter problem is more than a nuisance, I found I could not see the keys on a standard keyboard and this was exacerbated on a laptop keyboard.  But I really liked these and decided upon an alteration plan.
I split open the heads, gutted the innards, and de-poofifed the things, making them into little throw rugs.  The result was much more conducive to keyboarding, I could now see the keys and type as well (or as poorly) as normal, and actually the things didn't look as ridiculous.  I wrote this review, in fact, with the gutted out results.  Oddly enough, they actually feel pretty good because the wrist wraps act almost like a moveable keyboard pad and elevate my wrists a little.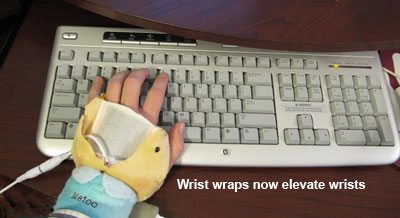 The only issue now, however, is that the heat isn't as intense as it was before the de-poofication.  There is still heat, but just not as much as before.  But I'm still using them and don't find them to be obnoxious.  I like these with the alterations.
Post Mortem
After I had ripped the bears open and had been trying out the carcasses I found that Gadget4All also sells a set of actual  gloves –  "Professional USB Hands Warmer" – these are actually true fingerless gloves rather than animal heads.  Crud.  Wish I had gotten these in the first place.  Course I'd still look ridiculous, but that's a personal problem.

Product Information
| | |
| --- | --- |
| Price: | $22.50 |
| Manufacturer: | Gadget4All |
| Pros: | Heats up well, long USB cord, single USB port required, wrist wraps help elevate hands |
| Cons: | Wrist wrap small; too poofy to see and use keyboard |