We use affiliate links. If you buy something through the links on this page, we may earn a commission at no cost to you. Learn more.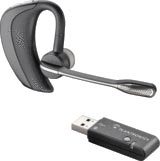 We reviewed the Plantronics Voyager PRO Bluetooth headset back in July. Now Plantronics has just announced a new model called the PRO UC. This headset that works seamlessly with both mobile phones and unified communication applications/softphones like Google Talk and Skype. It comes with a USB dongle to use with your PC and works like any other Bluetooth headset with your mobile phone. It will be priced at $199.95 and will be available next month. Full press release after the jump.
Plantronics Adds Award-Winning Voyager PRO Bluetooth Headset to
Unified Communications Portfolio
New Plantronics Voyager PRO UC Delivers Unparalleled Audio Quality and Ease-of-Use for
Softphones and Mobile Phones
Santa Cruz, Calif. – November 2, 2009 – Plantronics  today expanded its growing portfolio of wireless headsets for Unified Communications (UC) with the new Plantronics Voyager® PRO UC headset. Voyager PRO UC combines Plantronics' award-winning Voyager PRO Bluetooth® headset with a plug-and-play Bluetooth USB adapter to deliver richer wideband audio on softphones along with Voyager PRO's superior noise and wind cancellation on both mobile phones and softphones.
"The Voyager PRO UC headset was designed for the growing number of mobile professionals who rely on unified communications to stay connected," said Gunjan Bhow, vice president and general manager of Unified Communications at Plantronics. "Because the headset works with both UC applications and mobile phones, mobile professionals no longer need to juggle multiple headsets. They can get superior audio quality with one device.
Plug-and-Play Simplicity, Reduced Help Desk Costs
The Plantronics Voyager PRO UC headset features a plug-and-play Bluetooth USB adapter that reduces Help Desk support costs by eliminating cumbersome software setup processes. Users insert the adapter into their PC and can start talking immediately. The headset delivers high-end audio with wideband calling through softphone applications from leading providers, including Avaya, Cisco, IBM, and Microsoft, and other popular services, such as Google Talk and Skype. The Plantronics Voyager PRO UC headset supports multipoint technology that allows users to switch between their mobile phone calls and PC calls with the touch of a button.
Plantronics Voyager PRO UC includes the PerSono® Suite software providing call answer/end, volume and mute with supported softphones and manages PC audio, such as music, unified messaging and webinars. Call alert provides notification of incoming softphone calls while listening to streaming audio and a single button on the headset lets users answer/end calls. PerSono Suite software also includes feature setting capabilities so users can personalize the system with choice of ring tones, volume levels, and media management, such as pausing music when taking a call.
"We predict that the adoption of Unified Communications is set to significantly change the traditional communication landscape and infrastructure within businesses across the globe. Desk telephones for many knowledge workers will become redundant, as laptops with smartphones become the communication tools of choice," comments Steve Blood, Research vice president at Gartner. "Headsets will become essential communication tools for collaborators and could become mandatory, because of health and safety policies."
The Award-Winning Voyager PRO wireless headset: Engineered for Sound Quality
CNET and PC Magazine have bestowed coveted Editors' Choice Awards on the Plantronics Voyager PRO for delivering unparalleled audio quality, comfort and usability. Voyager PRO features AudioIQ2 technology, the next generation of Plantronics' AudioIQ® digital signal processing (DSP) technology that is enhanced by a unique adjustable dual-microphone boom. The boom provides the advantage of capturing your voice close to your mouth so the AudioIQ2 technology can more effectively remove ambient noise, while still maintaining the natural sound of your voice. The Voyager PRO UC headset also uses wideband audio technology to provide richer sound quality for PC audio including softphone applications.
Plantronics Voyager PRO features three layers of WindSmart® technology to minimize wind distortion. Dual external stainless steel microphone screens and acoustic fabrics that surround the microphones provide substantial physical barriers to wind noise. At the same time, AudioIQ2 technology intelligently deciphers your voice from the wind to deliver clear sound to your listener.
The Plantronics Voyager PRO UC headset also delivers unmatched inbound audio quality to ensure every word is heard on both sides of a conversation. It features a custom speaker that delivers full-spectrum audio so conversations are richer and more vibrant. The adaptive 20-band equalizer delivers distortion-free audio and works with AudioIQ2 technology to automatically adjust sound to comfortable levels based on the noise level around you to ensure maximum audibility.
Pricing and Availability
The Plantronics Voyager PRO UC is available in November through authorized resellers and office supply retailers such as Staples.com and OfficeDepot.com.  The Plantronics Voyager PRO UC headset system has a suggested retail price of $199.95.  For a complete list of supported softphone applications, please visit: www.plantronics.com/personosuite. To learn more about Plantronics Voyager PRO UC please visit: www.plantronics.com/voyagerprouc
Plantronics — The Voice of Unified Communications™
Plantronics offers one of the industry's most complete families of corded and wireless products for unified communications. Widely recognized for their sound quality, reliability and comfort, Plantronics' audio solutions help companies extend the benefits of IP communications throughout the extended enterprise, fostering better business communication and efficiency regardless of where professionals are working.
About Plantronics
Plantronics is a world leader in personal audio communications for professionals and consumers. From unified communication solutions to Bluetooth headsets, Plantronics delivers unparalleled audio experiences and quality that reflect our nearly 50 years of innovation and customer commitment. Plantronics is used by every company in the Fortune 100 and is the headset of choice for air traffic control, 911 dispatch and the New York Stock Exchange. For more information, please visit www.plantronics.com or call (800) 544-4660.
AudioIQ, AudioIQ2, PerSono Suite, Plantronics, Plantronics Voyager PRO, Sound Innovation, The Voice of Unified Communications, and WindSmart are trademarks or registered trademarks of Plantronics, Inc. The Bluetooth® word mark and logos are registered trademarks owned by Bluetooth SIG, Inc. and any use of such marks by Plantronics is under license. All other trademarks are the property of the respective owners.