We use affiliate links. If you buy something through the links on this page, we may earn a commission at no cost to you. Learn more.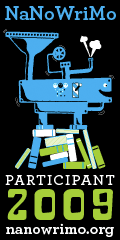 Is it weird that I don't consider myself a writer even though I've written thousands, if not a million words in the 12 years that The Gadgeteer has been in existence? To me a writer is someone who writes stories and books. I don't fit that criteria, but would like to. That's why I've decided to take part in NaNoWriMo this year. If you've not heard of it before, NaNoWriMo is the National Novel Writing Month that takes place every November 1st – 30th. The goal is to write 50,000 words (the equivalent of a 175 page novel) during those 30 days. Rob has talked about NaNoWriMo for years, but it seems like it's only caught my attention now. I think I write about tech stuff pretty well, so I'm ready to try some fiction again. I used to write stories when I was a kid, along with drawing superhero comics and monster magazines. Yes, I was pretty weird 🙂 I'm hoping that this exercise will help me build up the creative and imagination muscles that I've neglected for so long.
This week I've been thinking about the tools I'll be using to write my 1667 words a day. I looked briefly at a few OS X writing applications, but in the end I have decided that I'll probably be using Google Docs. That way I can write at work on my lunch hour and then again at night when I'm back home.

I did find a neat little iPhone app that might come in handy during the event. It's called Writer's Block Buster from Socially Conscience Software. Some of their other apps look a little dicey, but this one seems like it might be helpful. In addition to giving you a place to enter notes about your characters and plot, it gives you all kinds of things to think about by asking you questions like "Have you considered using metaphors?". It then goes on to give you a brief description of what a metaphor is. I do wish that it would also offer some examples in addition to the descriptions. It's priced at $3.99 which seems about $2 too much to me, but it's worth a look.
There are less than 36hrs before NaNoWriMo gets started. For all of the seasoned NaNoWriMo writers out there, can you offer a complete and utter newbie some advice? Are there any nice writing tools that I should be using to aid me in this endeavor? Should I be worried because I only have an opening scene in my mind and absolutely nothing else? Oh boy, what have I gotten myself into? 😉