We use affiliate links. If you buy something through the links on this page, we may earn a commission at no cost to you. Learn more.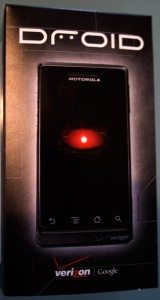 OK, I have got to say it, this is the Droid I didn't know I was looking for. I was very excited to get the opportunity to look at Verizon's new Droid phone. It is the first Android 2.0 device, and is made by Motorola. I hope to post more about this later, but wanted to give you my first impressions.
Sometimes the Little Things are Big Things
This is a Motorola device, and I love the fact that it charges via USB. No need for yet another AC adaptor. This has been the direction of Cell phones (my G1 is like that, and my wife's old Motorola PEBL was like that as well). I wish more consumer devices went this route. I took three Sony devices with me on my recent trip (an Alpha 100, a PRS-700 Reader and a Webbie HD video camera) ALL three required different AC adapters.
It has a standard headphone jack. If your cell phone is doing double duty as a music player, give me a standard headphone jack.
There was also a lot of thought put into the packaging, and materials:
Nice Getting Started guide taking you though setup and common functions.
They labeled the temporary screen protector to identify power, USB, Volume, the camera shutter and the four soft-keys at the bottom.
Packaging is minimalistic. Not a lot of waste in the packaging.
Setup
Words cannot express how easy it was to setup this phone. This is the first time I have moved from one Android to another (however temporary it may be). You log in with your Gmail account. It verifies, syncs, and now all your contact information is stored on your new phone. If you have ever struggled with a move, you will appreciate this.
Eclair
This is the first phone with Android 2.0 (Eclair). I look forward to experimenting with many of the new features, but the first one to catch my eye was contact synchronization across multiple sources.
My first exposure to this is with the new Facebook application that comes loaded on the Droid. When you open it and sign in it gives you the option to:
Sync All
Sync with existing contacts
Don't sync
Going in reverse, the last option keeps the contact information in Facebook away from the contact information on your mobile. The second option matches any contacts on your phone with those in Facebook and syncs that information. And the first will bring all your Facebook friends into your contact list, syncing any matches it finds.
I love the second option. I no longer have to worry when a friend on Facebook changes e-mail or phone information, it will sync my contacts. However, not sure I want ALL my friends on Facebook showing up in my contact list on my phone.
Comparisons
Like I currently have a G1, which I have used for over a year now. So how does this compare? Well first thing, it is sleeker and the screen is noticeably longer: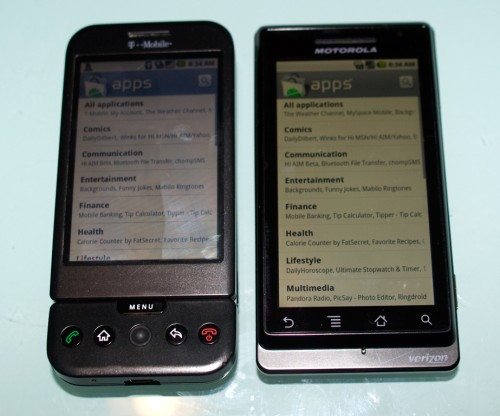 You no longer have the "chin" that the HTC G1 is known for, which in my estimation is a win. It certainly feels quicker than my G1 (and should be). Not sure I like the keyboard as much as the G1, and not sold on the soft buttons at the bottom, but I will explore those later.
I am also embedding my quick unboxing video for your viewing pleasure: