We use affiliate links. If you buy something through the links on this page, we may earn a commission at no cost to you. Learn more.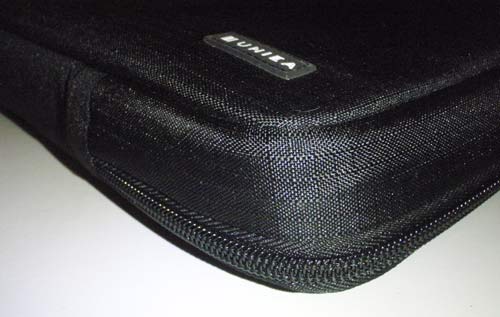 UNIEA manufactures cases of nearly every shape and size, engineered to protect your valuable tech-equipment from the dangers of the daily grind. Their Omniverse 13.3-inch Macbook (or similar sized laptop) Universal Tote (and the matching hard drive case) are no different.

While the Omniverse appears to be very utilitarian in design; it is extremely functional and reasonably professional looking as well. This case is well fitted for the 13″ MacBook but does add a good amount of bulk around the sleek laptop.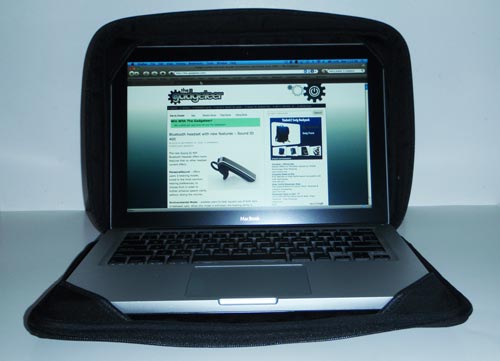 The MacBook (or 13″ laptop) is meant to be inserted into and operated while within the protection of the Omniverse. A definite plus for those airline travelers….nothing is more irritating than when the person in front of you reclines (slams) the back of their seat into the top of your laptop. From an operational standpoint, this case is very similar to Vaja's i-volution leather suits.
Specifications:
Color: Black
Size: W 260 x H 40 x D 360 (mm)
Inner Size: W 230 x H 30 x D 340 (mm)
Weight: 15.7oz (446 gram)
Material: Nylon or Silk
Features:
Interior is both shock and heat-absorbent for total protection of your laptop
Bottom wave-shaped cushion absorbs and dissipates heat from the bottom of your computer
Heat sink allows your laptop's fan to dissipate heat
Full access to ports for easy recharging and data transfer

The laptop's corners (lid and base) slip into four elastic tabs that keep the computer securely in place during transport and while in use.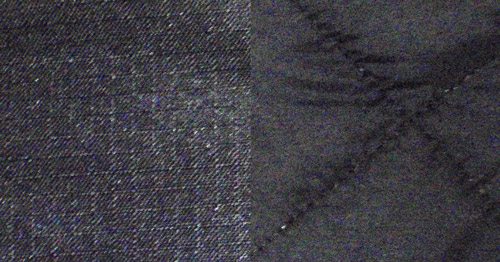 The Omniverse is available in two exterior fabrics; black silk fiber or black nylon. I prefer the nylon material, it seems a bit more hardy than the silk.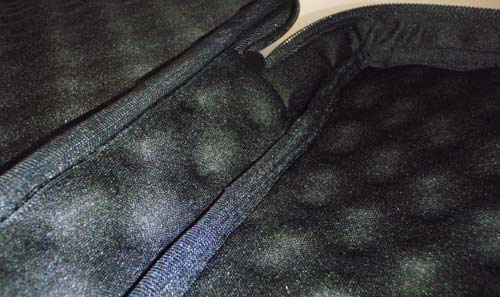 Both iterations' interiors are made of a wavy memory foam cushion/padded material. The wave-shaped interior is designed to absorb and dissipate heat from the bottom of your MacBook/laptop. Overall, the padding does an excellent job of protecting your Macbook from bumps and (heaven forbid) minor drops. The overall build quality and materials of the Omniverse tote are very good.

The case unzips to the back allowing access to all of the Macbook's ports and disk drive.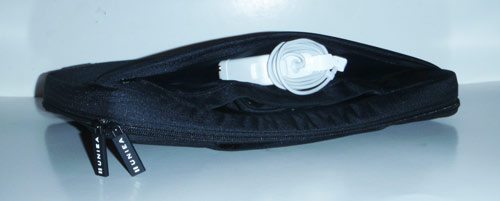 The Omniverse has a decent sized (zippered) front pocket, ideal for storing/transporting your laptop's power-brick with room for a few other miscellaneous (moderately sized) items. The Omniverse case allows you to keep your laptop within it when going through airport security. But if you do carry items in the front pocket all bets are off and you would need to remove the laptop from the case when going through security.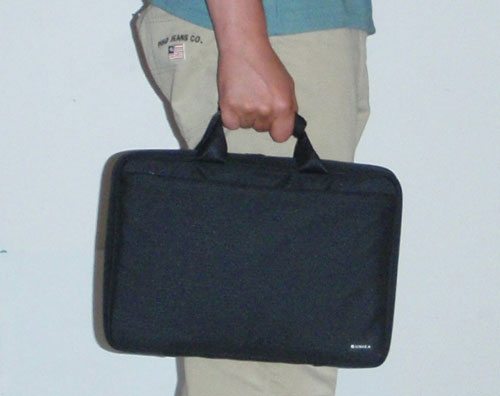 If you do not want to carry the Omniverse like a slipper case, Uniea engineered a set of handles for carrying it more like a briefcase.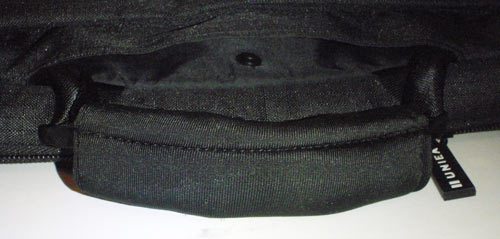 The handles can be hidden away within two small pockets on either side of the laptop case. Sadly, Uniea did not include loops to carry the case on your shoulder. But considering how the case is designed and meant to be used, that would have been difficult to impossible to make happen.
Overall, the Uniea Omniverse 13.3-inch Macbook Universal Tote is well made, functional, and provides a good amount of protection. While the Omniverse case is not as sexy or form-fitting as Vaja's i-volution Leather Suit, being priced at $40 (one seventh the cost) makes it a very nicely priced, functional equivalent.
Omniverse for 2.5 inch Hard Disk or Similar size Cell Phone and MP3/4 Player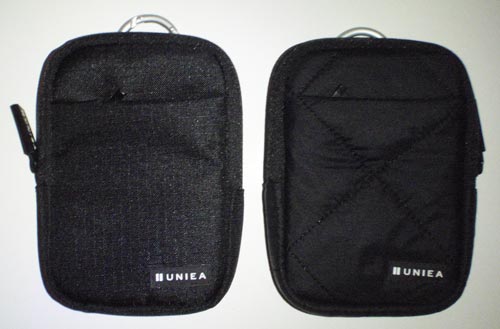 In addition, Uniea sent me several of their small Omniverse universal sleeves 'for 2.5 inch Hard Disk or Similar size Cell Phone and MP3/4 Player'. Uniea makes these small universal totes in four sizes; 10.2 inch netbook, 7 inch DVD player, Large digital camera, Small digital camera, and 2.5 inch hard drive. Most are available in both nylon and silk materials and red or black color selections.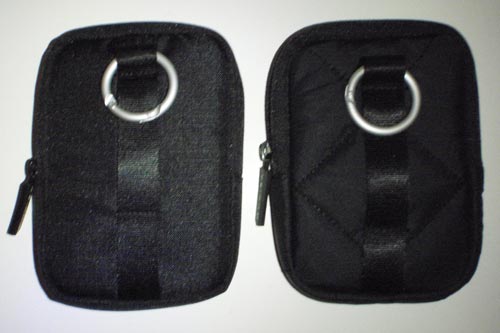 The back has an aluminum, carabiner-style ring to attach the case to your backpack or computer bag and a belt loop, allowing you to carry it at your side.
Specifications:
Color: Black or  Red
Size: W 141.5 x H 102 x D 45(mm)
Inner Size: W 137 x H 95 x D 30 (mm)
Weight: 1.7oz (50 gram)
Material: Nylon or Silk
Features:
Size and dimensions are perfect for 2.5 Hard Drive, iPod, iPhone and similar size devices
Inner material is shock absorbent for total protection
Durable nylon material is light and adds little weight to your hard drive
Front pocket is large enough to hold a long USB or FireWire cable
Belt loop and aluminum, carabiner-style ring for maximum portability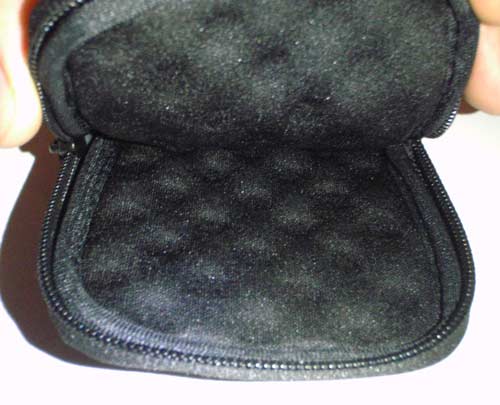 Like its big brother, this Omniverse case has a similarly memory padded interior, providing a good deal of protection to the tech-gadgets within.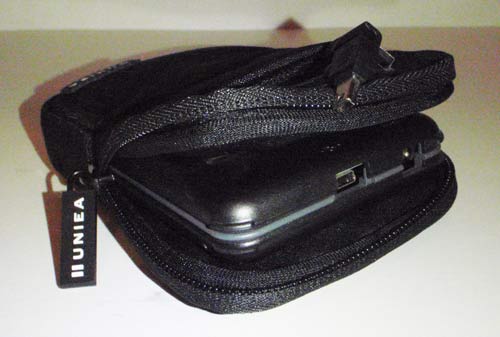 My Buffalo MiniStation Turbo USB hard drive fits within the Uniea's smallest Omniverse universal tote perfectly. The zippered front pocket holds the MiniStation's usb cable very nicely as well.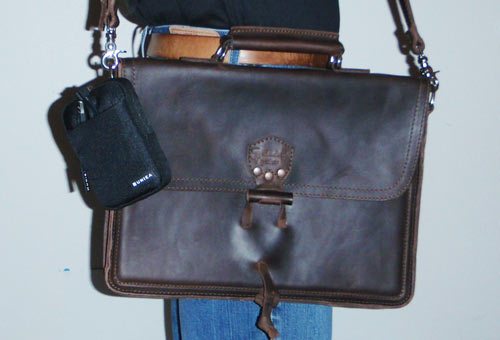 Whether you carry this small Omniverse case within another bag or hung on you backpack or brief; it provides a great way to protect, pad, and organize your small tech equipment.