We use affiliate links. If you buy something through the links on this page, we may earn a commission at no cost to you. Learn more.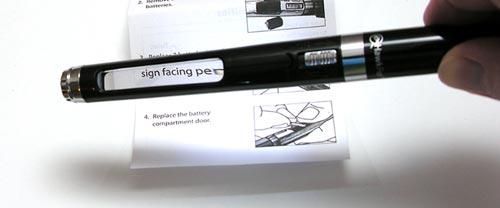 I love finding unique writing instruments and I think that the Knight Hawk Pen certainly qualifies as unique. What is so interesting about this ballpoint pen? It has a built in magnifying glass in the body.

At first glance, the Knight Hawk pen looks like an ordinary ballpoint pen that you might see on anyone's desk.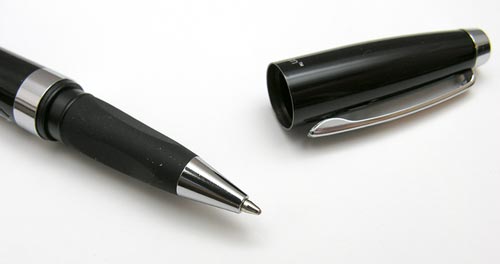 It's made of Black plastic and has a removable cap. The ballpoint pen has a fine line tip that is always extended and there is a soft squishy rubber grip to make it comfortable to use. The pen has a Black ink cartridge that writes smoothly. The ink cartridge is approximately 2.63 inches (6.7 cm) long. It will accept a refill like this one.
The plastic feels a bit light weight and cheap, but during the time I've been using it, it hasn't broken or cracked. I think it would hold up during  normal use.

When you examine the pen a little closer, you quickly notice a switch on the barrel.

Sliding that switch to the ON position causes a bright White LED to illuminate. The LED is powered by 3 LR41 coin cell batteries, which are easy to replace. The Knight Hawk can be used in a pinch as a flashlight if you're in a confined space, but I don't think it would work very well to light your path outside in the woods or anything like that.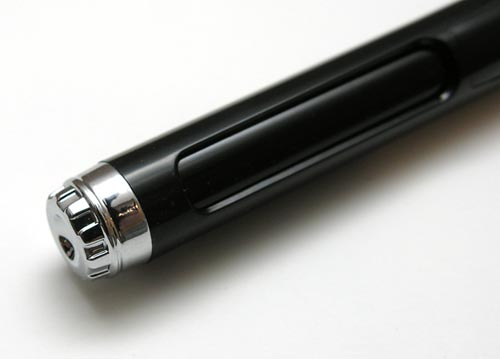 On the barrel end of the pen is a knob. Twisting that knob…

… opens a magnifying window.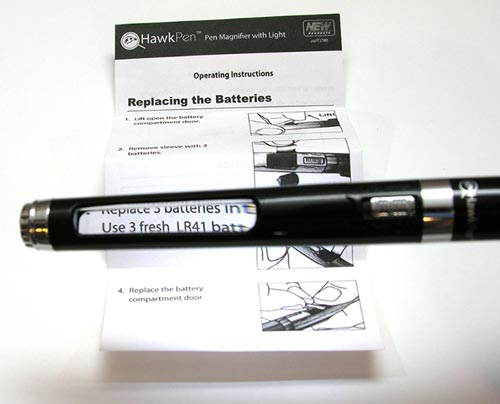 Turn on the LED light and open the window and you can easily illuminate and magnify text up to 3x. I can see how this pen would come in handy in various situations. One that immediately comes to mind is a dimly lit restaurant, where it is difficult to read a menu.
The Knight Hawk Pen works well as a regular pen and also as a small lighted magnifying lens. It would make a nice addition to a gear bag or purse and would also make a nice inexpensive gift.
Product Information
Price:
$19.95
Manufacturer:
Knight Hawk
Pros:

Built in illuminated magnifying lens
Easy to use

Cons:

Plastic feels a bit cheap