We use affiliate links. If you buy something through the links on this page, we may earn a commission at no cost to you. Learn more.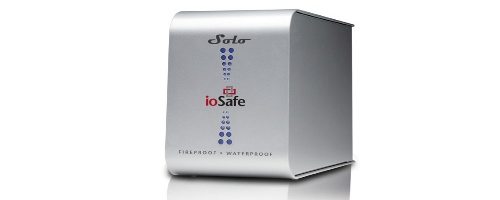 The package from UPS weighed over 15 pounds! I don't get to review a lot of things that go THUD when I put the box down, so I was excited from the start to review this drive that claims to keep your data safe in fires and floods. Plans for barbecuing the hard drive flitted through my mind as I plotted how to best destroy a nearly indestructible hard drive! I was sent the IoSafe Solo 500Gb USB Hard Drive with Disaster Protection to review.
The basic specs are:
Quiet forced air cooling.
Multi-platform compatibility: Windows, Mac and Linux
USB 2.0, 7200 RPM, up to 480Mb/s
Size: 5.0″W x 7.1″H x 11.0″L, weight: 15 lbs
Fire protection — 1550° F, 1/2 hour per ASTM E119
Tested per UL, FCC and CE Standards
Flood / submersion protection — to 10 feet water depth, 3 days.
Proven data protection and recovery. Tested to ASTM E119 standards for fire exposure.
Physical theft protection
Box includes: Drive, USB cable, power cable, instructions
System Requirements are:
Intel Pentium II 350 Mhz-compatible or Mac G3 processor & greater
Microsoft Windows XP/Vista or Mac OS 8.6 & greater
USB equipped system
For USB 2.0 speeds, the system must support USB 2.0 specifications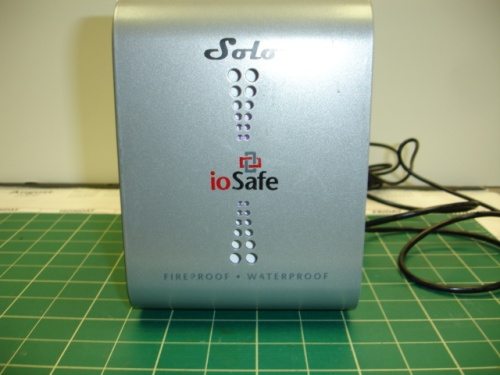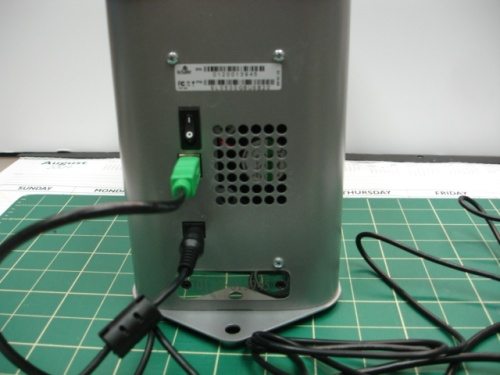 The claims are impressive- 3 feet of fresh or salt water for 10 days, a half an hour at 1,550 degrees F? Solid construction with a bolt hole to allow you to bolt or padlock the unit in place? That's a lot of security for a $150 500Gb hard drive!
My dreams of baking this thing in an oven were squashed when I read the manual, though. It rightly points out that the IoSafe protects your data, but does not promise that you will instantly be able to recover it. We will talk about this aspect more later.
As a hard drive, the IoSafe works perfectly well. It does not come with back-up software, but back-up and sync software is available all over the place to fit your needs. The drive mounted flawlessly for me with XP quickly finding the needed drivers- a great example of 'plug and play'. Backing up data goes quickly on the USB 2.0 cable, if your computer supports 2.0. For the purposes of this demo, I just copied the contents of the My Documents folder from my HP Mini 1000, but with 500Gb to play with, I could copy most of my computers to this thing! The Solo is also available in 1 and 1.5Tb versions.
Disaster protection and recovery- these are the big selling points. IoSafe products are designed to protect your data from physical theft, fire, floods, and similar disasters. While companies are a targeted customer, it makes sense for individuals to protect their data as well.
The plan here is that the IoSafe will protect the drive from many kinds of damage- but the user needs to understand that the data may not be immediately accessible. Cables and connectors can melt, some of the circuitry, like the fan, is outside of the 'vault' and can be damaged, etc.
If you can mount your drive after a disaster, great! If you cannot, IoSafe offers several Disaster Recovery Plans that give you the support you need with a toll-free number. The packages range from 1 year for free to 5 years for $100. They even offer $1,000 of insurance if they canot recover your data.
When you call, you will be assigned a point person to coordinate your recovery, and they will try to do everything possible over the phone first. If needed, you will be directed to ship your drive to the company so they can do their magic.
Is it better to store your data in a system like this, backed up on site, or to back it up elsewhere? Is this a good option for me or my business? How the heck would I know? But- their site has several good articles to help you design a plan for your company based on many variables, including things like how long you can be without key data.
Now for the fun! I backed up several megs of data to the IoSafe Solo. Let's mess it up! Here at the Gadgeteer Test Labs and Lemonade Stand, we have lots of high-tech devices that we can bring to bear on this issue, like a deep sink.
After taping over the connectors to help make it easier to reconnect, I put the drive in 7″ of lukewarm water. I added a little hand soap so it will better infiltrate the drive's guts and to simulate the sort of gunk that would be in flood water. It bubbled a lot! I let it soak for about 30 minutes and drain for a few hours.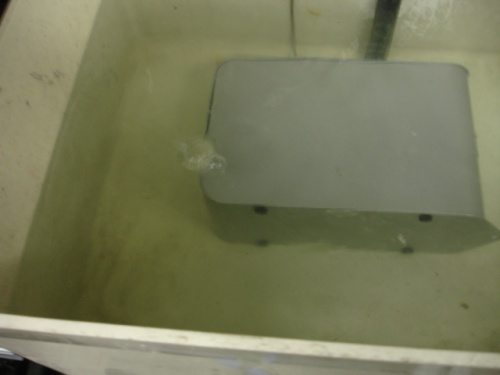 I plugged it in with a little trepidation. The power cable provides 12v at 2A so I was not worried about shocks or anything, but I was a bit concerned that the more exposed circuits might be damaged. When I plugged in the USB cable, the lights on the drive came on and the little chime when you connect things rang, and an hourglass popped up- but nothing loaded for a few minutes.
I left it alone for about fifteen minutes and everything was fine when I returned- drive icon, proper files, everything opened- perfect! While this is not a great test, it does suggest that it will survive worse.
Now for the heat. I'm gonna try to fry an egg on the case! My recipe is to preheat the case with my shop heat gun for as long as I can tolerate the tedium. It goes slowly since the drive has a large mass to help it absorb and dissipate the heat. When the top is warming nicely, I spritzed it a bit with oil, added a couple home-made rings, and fried me some eggs!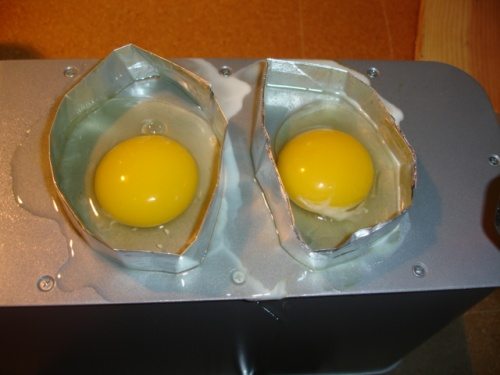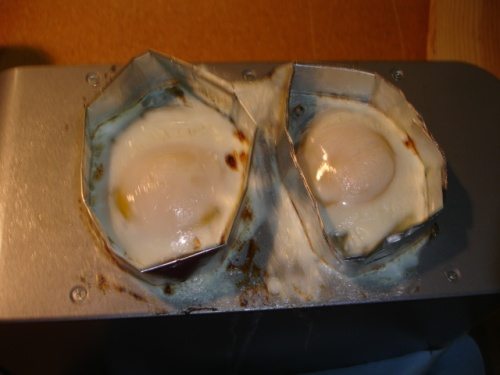 In hindsight, I should have used a torch because the case kept sucking the heat in instead of letting it heat the eggs, but the basic premise worked- I got the case hot enough to fry up a couple sunny-side up eggs! Dang that was fun! And clean up was a breeze- the metal is polished enough that whatever dribbled onto non-lubed areas just wiped right up. (I'm beginning to sound like a pitchman, aren't I?)
I let it cool enough to carry, then plugged it in and was not surprised to see that it just loaded right up.
This is not nearly the same thing as surviving a house fire or flood, but I got the sense that the drive was just laughing at my efforts to test it. Between the tests I ran, the promises on the website, and the specifications it is built to, I would have to say that the ioSafe Solo works exactly as advertised.
If you're interested in buying this product, ioSafe has a rebate page for possible savings.
Product Information
Price:
$149.99 and up, depending on size and coverage plan
Manufacturer:
ioSafe
Pros:

Works as advertised
Protects your data
Easy to use

Cons: